Having a job that pays a living wage is only one aspect of lifting one's self out of poverty. Even when people have jobs, many are just one paycheck—or one medical emergency—from financial disaster. The hand-to-mouth existence of many poor and low-income people keeps them from breaking their cycle of poverty when they have no resources to fall back on.
Building wealth—that is,increasing assets and net worth (the difference between what you own and what you owe)—is a vital link to ending poverty. It's also one of the primary aims of the Foundation of the Mid South.
"Without the ability to save, low-income individuals are unable to move forward and unable to reach the goals that make up the fabric of a self-reliant live—owning a home, running a small business or obtaining an education," the foundation states in "Changing Lives: An Investment in the Mid South." The report highlights its individual development account initiative, which it characterizes as a long-term solution and an alternative to the traditional public-assistance model.
Under the IDA model, educating people to effectively manage even small amounts of money is the first step in the process. After completion of financial management programs, the foundation matches the participants' deposits dollar-for-dollar. The funds can only be used to increase a saver's "allowable assets"—usually education, buying a home or starting a business.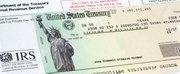 Barriers to Creating Wealth
•Lack of inherited property or assets. One of the most important ways families increase assets generationally is by passing them on to their children.
•Lack of understanding of the importance of saving or investing in liquid and long-term assets over short-term purchasing, especially on "easy" credit plans.
•Lack of competitive, low-interest lending. Predatory lending practices, such as those employed by payday check cashers and rent-to-own establishments, keep low-income people trapped through exorbitant interest rates and over-priced goods.
• Being unaware of programs that allow low-income people to keep more of their money, such as the Earned Income Tax Credit. In Mississippi, 70 percent of those eligible for EITC didn't file for it in 2009.
Communities Can Help Build Wealth
• Introduce age-appropriate financial education in K-12 schools. Make adult financial education a priority; include businesses and other organizations as partners to provide such education in workplaces and community centers.
• Provide options for low-income working people to bank and save money, and provide alternatives to high-cost financial services. Enhance incentives and accountability among banks to provide lending and development opportunities in low-income communities; expand and promote credit unions.
•Strengthen consumer protection legislation by dropping payday lending fees and lowering interest rates on payday loans.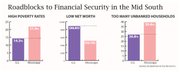 • Adopt a state Earned Income Tax Credit to increase take-home pay for families.
What is EITC?
EITC stands for Earned Income Tax Credit. Under the program, qualifying low and moderate-income working people receive a refund that was originally intended to offset social security taxes and make work pay more. When EITC exceeds the amount of taxes owed, it results in a tax refund to those who claim and qualify for the credit.
For the 2001 tax year, the range of qualifying incomes was between $13,600 (for individuals with no children) and $49,078 (for couples with three or more children).
Because working people get to keep more of the money they earn, the EITC "has become one of the most successful anti-poverty tools in the United States," reports the Foundation of the Mid South in "EITC: Working Hands Getting a Hands Up."
"The boost provided by the EITC and other valuable federal tax credits provide many working families the opportunity to pay their household bills and meet their children's needs even through salary cutbacks or periods of unemployment," states the Center on Budget and Policy Priorities.
"In 2010, the EITC lifted about 6 million people out of poverty, including about
3 million children," the CBPP site continues. "The poverty rate among children would have been nearly one-third higher without the EITC. The EITC lifts more children out of poverty than any other program."
Each year since Congress enacted the EITC in 1975, millions who qualify do not file for it, either because they don't know about it all, or they don't know if they qualify or how to file for it. In 2009, 70 percent of eligible Mississippians did not claim the credit, which averaged $2,600 per return for those who claimed it.
Twenty-two states have enacted state-level EITCs; Mississippi isn't one of them.
More like this story
More stories by this author
Support our reporting -- Become a JFP VIP.
The news business has changed dramatically in the past year, and we need your help more than ever to keep bringing you important stories about Jackson and the Metro. Become a JFP VIP with an annual membership or you can Sign up as a monthly supporter. Thanks for anything you can do to empower our journalism!