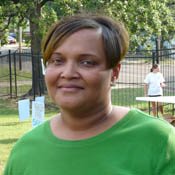 The deadline for Mississippi's school districts to select a sex-education policy is this summer, and several groups are hoping to influence what Jackson Public Schools students learn next year.
Last year, the Legislature signed a bill into law that requires each school district to adopt either an abstinence-only or abstinence-plus sex-education policy by the end of this June. JPS has not yet adopted a policy.
The Centers for Disease Control and Prevention reports that Mississippi's teen birth rate declined by 21 percent from 2007 to 2010, but the state's teen birth rate is still the highest in the nation, followed by New Mexico and Arkansas.
Monica Cannon, mother of a daughter attending a JPS high school, is part of the newly formed nonprofit Mississippi Campaign for Teen Pregnancy Prevention. She is also on a steering committee for Jackson Public Schools that is researching which policy to recommend to the school board.
"There is evidence or information out there to support both methods," she said. "Some may be more effective in one area or another, but there's evidence out there to support both."
Cannon said the committee is still collecting information, including parent surveys, presentations from other groups and research on how different demographic groups respond to different sex-ed policies. She expects the committee to make a recommendation at the May 1 school-board meeting.
Last month, Larry McAdoo and Dr. Freda Bush formed the Mississippi Coalition for Responsible Sexuality, an organization that advocates for abstinence-only policies and operates the website msalert.org.
"We're informing parents and school districts of the new law," he said.
"There seems to be some confusion and misunderstanding as to what is the abstinence-only policy. It is unfortunate that the language is deceptive, because it gives the impression that it's a just-say-no (policy)."
Abstinence-only policies can give broad information about contraceptives and condoms, he said, but with an emphasis on avoiding sex.
McAdoo is president and CEO of Redemption Outreach Ministries International, an organization that conducted abstinence-only programs in Hinds and Rankin counties through a grant from the U.S. Department of Health and Human Services. Now that grant money is gone, however, and the Obama administration has promoted grant funding for comprehensive sex-education programs, like some of those approved for Mississippi school districts that adopt abstinence-plus policies.
The education-policy group Mississippi First has been working to get grant-eligible, abstinence-plus sex-education curricula approved. So far, a Mississippi Department of Education task force has approved two such programs.
The law is so vague about the differences between abstinence-plus and abstinence-only policies that much of the authority for determining what students will actually learn rests with the task force and how it interprets the law.
Cannon said she does not know which policy JPS will adopt, but either way, she and others with the Campaign for Teen Pregnancy Prevention will try to supplement and reinforce what schools are teaching.
"We're kind of watching and waiting—just kind of keeping our eye on them," she said. "... We really focus on abstinence-plus. We want to highlight not only the abstinence message, as far as refraining (from sex); we want to share the research-based information we feel that teens need," including information about contraceptives.
If the district chooses an abstinence-plus curriculum, Cannon said other community groups should make sure their message reinforces what students are learning in schools. If JPS adopts an abstinence-only curriculum, she wants to see the community offering more information about contraceptives that might not be covered in class in addition to encouraging abstinence.
Previous Comments
ID

167648

Comment

If they are well educated on sex, they'll make better choices about having sex. Knowledge is power!

Author

Queen601

Date

2012-04-23T12:10:51-06:00
ID

167651

Comment

I agree that knowledge is power. We need to give them ALL the information to help them make better decisions. I also think that we should try to do a better job of expanding their hopes and dreams. Students who are focused on a future of college and careers are less likely to make decisions that will block their path. My experience with young people has shown me that even when they are informed, they sometimes still do risky things when they feel they have nothing to lose.

Author

News Junkie

Date

2012-04-23T12:47:20-06:00
More like this story
More stories by this author