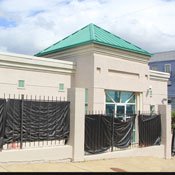 The governor signed the first major piece of anti-abortion legislation into law this year—a measure designed to close the state's only abortion clinic.
Gov. Phil Bryant signed House Bill 1390, which puts restrictions on abortion facilities, into law yesterday.
The new law requires all physicians associated with abortion clinics to have staff and admitting privileges at a local hospital. They must also be board certified or eligible in obstetrics and gynecology, and a staff member trained in CPR must always be present when the facility is open.
Abortion-rights supporters sometimes refer to laws like HB 1390 as Targeted Regulation of Abortion Providers or TRAP laws. Rather than trying to restrict abortion by challenging Roe v. Wade or by adding waiting periods, parental consent laws and bans on late-term abortions, TRAP laws target abortion facilities rather than patients by adding requirements to abortion providers, facilities and clinics that do not apply to physicians who perform other surgeries.
Mississippi is not the only state that requires abortion providers to have local hospital admitting privileges. A law with similar requirements passed in Indiana last year, and Tennessee lawmakers are considering a bill that would require physicians who perform abortions to have hospital privileges in either the home or adjacent county of the woman seeking an abortion.
Supporters of the law, including Lt. Gov. Tate Reeves, have said it will effectively end abortion in Mississippi by closing the state's only abortion clinic. The new regulations only apply to abortion facilities, however.
Under state law and included in HB 1390, clinics are only considered abortion facilities if they are separate from any other health-care facility and if they perform 10 or more abortions in a month or 100 or more abortions in a year.
Diane Derzis, who owns the Jackson Women's Health Organization, the state's only abortion clinic, has told other media outlets that she intended to sue if the bill became law. She was not available for comment at press time. The new abortion law comes months after voters rejected an anti-abortion effort last fall.
More stories by this author
Support our reporting -- Follow the MFP.