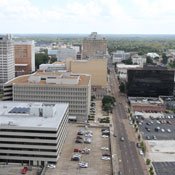 Sept. 30, 2011
Jackson's young people want to be heard and are demanding more ways to have fun, socialize and network, according to a new study the Greater Jackson Chamber Partnership revealed this week. Market Street Services, an Atlanta-based consulting firm that the GJCP chose to oversee its long-range plan, sent representatives to Jackson this week to meet with chamber leaders and local officials.
Earlier this week, GJCP and Market Street conducted focus groups with Jackson-area residents. Paul Moak, chairman of GJCP board, said at a press conference that a focus group of young adults made it clear they want to see certain things in the metro area. That focus group said they wanted places to socialize and recreational options. They also want an opportunity to be heard, Moak said.
"Entertainment districts are key," Moak said about the views of younger residents.
The chamber wants to survey as many Jackson-area residents as possible as it begins work on a long-range plan. The 10-year plan would be a living document updated regularly to adapt with a growing community. In developing this flexible plan, chamber leaders say they want input from a broad base of residents who live in all parts of the metro area.
At a news conference yesterday, Sept. 28, chamber leaders stressed the importance of getting as many people as possible to take the survey. Survey questions range from perceptions of education, recreation and shopping opportunities to thoughts on future employment.
After compiling its findings from the surveys and the focus groups, Market Street plans to have a completed plan ready within seven months.
The GJCP released an executive summary of Market Street's initial "quantitative" profile of Jackson. The seven-page summary compiles data into categories, and then assigns them a plus, minus or neutral rating. For example, higher education in Jackson is a plus, while an average annual wage of $37,700 here is a minus.

The summary gives crime in the metro area a neutral rating. "While the Greater Jackson region is comparatively safer than other communities, the city of Jackson has dramatically high crime rates," the summary reads. "In the 2010-2011 crime rankings published by the Congressional Quarterly, Jackson ranked eighth in crimes of 234 cities with population 100,000 to 499,000, followed by Little Rock at ninth and Baton Rouge at tenth." These "dangerous" rankings are published annually by CQ Press, which purchased the book-selling operation from Morgan Quitno Press.
However, the FBI questions the validity of the company's rankings and warns against this kind of characterization of any community. "These rankings, however, are merely a quick choice made by the data user; they provide no insight into the many variables that mold the crime in a particular town, city, county, state, region or other jurisdiction," the FBI website says. "Consequently, these rankings lead to simplistic and/or incomplete analyses that often create misleading perceptions adversely affecting cities and counties, along with their residents." The rankings have historically lumped non-violent crimes into numbers used to produce the "dangerous" rankings.
Market Street also has developed long-range plans for Austin, Texas; Tulsa, Okla.; and Nashville, Tenn. The firm's website includes testimonials.
"Market Street Services provided the Austin (Texas) community with a very thoughtful, well-researched economic development strategy that was both visionary and pragmatic," Mike Rollins, president of Greater Austin Chamber of Commerce, is quoted.
Also see: Lies, Damn Lies and 'Dangerous' Rankings
Previous Comments
ID

165098

Comment

Is there a link to the seven-page GJCP executive summary?

Author

GeoRoss

Date

2011-09-30T17:40:12-06:00
ID

165099

Comment

There should be, GeoRoss. Valerie must have forgotten to link it. I'll have her get it up as soon as possible. Thanks for the reminder!

Author

DonnaLadd

Date

2011-09-30T18:12:46-06:00
More like this story
More stories by this author