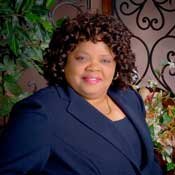 Sept. 28, 2011
Speculation has been running rampant since August, when Gov. Haley Barbour appointed a commission to study the Public Employees' Retirement System.
Barbour's executive order establishing the 12-member commission states it will 
"review the financial, investment and management structure of PERS to ensure its long-term sustainability" and make recommendations for improvement. But lawmakers and retirees alike seem uncertain about what the commission is looking for and what changes it will ultimately recommend.
Brenda Scott, president of the Mississippi Alliance of State Employees, said she is suspicious of the commission because many of its members are businessmen without a vested interest in the system.
"I just don't think it's fair that a group of people who are profit-driven would be the best group of people to advise people who are service driven," she said.
Scott said PERS is transparent and already has a board elected by the system's beneficiaries.
"The fact that the governor felt the need to study the system and to have the report coming out after the elections are over is very suspicious," she said. Scott said she is trying to convince state employees to elect people this November who will protect their retirement.
Scott said she has heard concerns about taxpayers contributing to PERS, "as if these city and municipal workers are not taxpayers." She added that people in the private sector do not realize or appreciate how much they depend on services provided by public servants.
On Sept. 22, during budget hearings for fiscal year 2013, PERS Executive Director Pat Robertson said she has tried to allay the fears of members by reminding them that only the state Legislature has the authority to change their benefits.
"Study is not necessarily a negative," Robertson said.
Rep. Diane Peranich, D-Pass Christian, had a word of warning about making changes to state retirement plans.
"Charlton Heston said it would be very hard to get the gun out of his hand unless he was dead," Peranich said. "That's how it'll be if they come after state retirement."
Rep. George Flaggs, D-Vicksburg, sent a letter to Lt. Gov. Phil Bryant Monday, asking him to schedule a presentation from the commission for the budget committee before Nov. 8. If not, Flaggs asked Bryant to join him in asking the commission to present its findings before the election.
Members of the Joint Legislative Budget Committee tried to calm fears that the commission might recommend changes to the so-called "13th check," or cost-of-living adjustments for retirees.
The "13th check" is money state retirees get each year to account for the rising cost of living. It is called the 13th check because it used to be paid out in a lump sum each year, although retirees can now collect it along with their monthly check. Robertson said the 13th check is intended to maintain an individual's purchasing power once he or she retires.
Sen. Billy Hewes, R-Gulfport, said he doesn't think anyone wants to change the cost-of-living adjustment. "Hopefully after this discussion we can put to rest the fear mongering about the 13th check," he said.
Rep. Cecil Brown, D-Jackson, said he doesn't know why the governor thought a study committee was necessary, but employees have a right to be concerned about the future of their benefits plan. Other states, such as Colorado and Minnesota, have reduced cost-of-living increases for retirees.
"I don't think it's panic; I don't think it's fear mongering," Brown said. "... I think (employees) have every right to be concerned."
Sen. Dean Kirby, R-Pearl, a non-voting member of the study commission, said that at the last commission meeting, Chairman George Schloegel said commissioners have no intention of changing anything about the 13th check.
Kirby did say that in a letter from Schloegel, handed out to the budget committee, the chairman said he would be surprised of the commission made any recommendations that would prohibit an individual from receiving their cost-of-living adjustment as a lump sum payment, but did not address people who receive the 13th check on a monthly basis.
"I look forward to seeing the recommendations," Kirby said. "Recommendations--that's all it is."
In a video from an earlier hearing, Schloegel said the commission should look at the 13th check. Schloegel was not immediately available for comment.
The budget committee voted unanimously to say they would not support any changes to the 13th check.
When Hewes questioned the program's sustainability, Robertson said PERS is sustainable, with more than $20 billion in assets to keep the system stable. The biggest cost contributing to the problems the system faces today, she said, stems from legislation passed more than a decade ago to increase benefits for some people who had already retired.
"Benefit increases were given in 1999 that I would argue weren't sustainable," she said. "... We bought benefits on credit."
In a Sept. 14 letter to commission members summarizing his official opinion regarding the state's ability to make changes to PERS, Mississippi Attorney General Jim Hood wrote that the state cannot after the fact impair contractual rights employees received when they joined PERS.
"I would like to remind you that, whatever changes might be considered or recommended by the PERS Study Commission, the law requires the state to honor the commitment it has made to hundreds of thousands of retirees, employees and their dependents," the letter stated.
The state cannot reduce existing benefits without increasing benefits elsewhere, Hood wrote.
The commission will present its analysis and recommendations Nov. 15.
More like this story
More stories by this author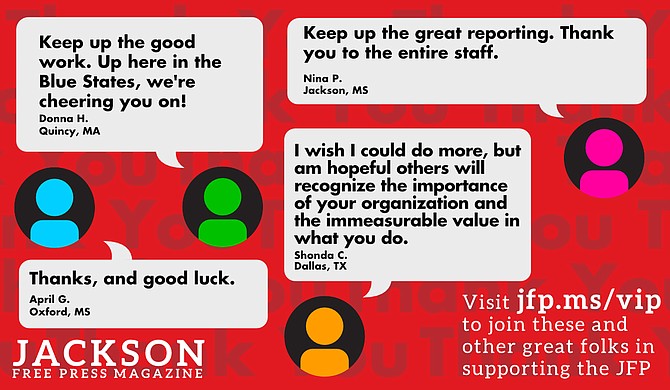 Thanks to all our new JFP VIPs!
COVID-19 has closed down the main sources of the JFP's revenue -- concerts, festivals, fundraisers, restaurants and bars. If everyone reading this article gives $5 or more, we should be able to continue publishing through the crisis. Please pay what you can to keep us reporting and publishing.