My sister Inga was a Diet Coke junkie. She kept spare quart bottles of the stuff in reserve so she wouldn't run out. If you saw her out and about, chances are she had a Diet Coke in her hand; it was a fixture, like "Weeds" Nancy Botwin's ubiquitous Starbucks iced coffee.
Once upon a time, Inga read that sugar is bad, so she stopped drinking sugary soft drinks—a good decision—and substituted drinks sweetened artificially. Then came the bad news: In December 2009, the Journal of the American Medical Association published "Artificially Sweetened Beverages: Cause for Concern." Turns out, sweeteners like aspartame may be worse than sugar, especially for people trying to control their weight.
Constantly changing information on what foods are good or bad is enough to make us crazy (although categorizing soft drinks as "food" is a stretch, I admit). One day, eggs are OK; the next they're devil spawn. Should we stop eating meat or center our diets on bacon? Is it the carbs piling on pounds? Is organic and free-range better, or is it all a hippie conspiracy?
Combine the scientific community's shifting landscape of nutritional research with the American obsession with body image, and we set ourselves up for anxiety, food phobias, and eating disorders such as anorexia, binge eating and yo-yo dieting.
I should know. I have a love/hate relationship with food. I've struggled with weight and self-image forever; my mother put me in a girdle when I was 11. I've tried dozens of diets that left me nauseous or gaseous or worse, including a medically supervised, ultra-low-calorie, zero-carb liquid nightmare. I lost 50 pounds in six months on that one, only to watch in helpless horror as my weight steadily crept back up, despite obsessing over every bite and every drop of sweat that dripped off the end of my nose in daily yoga classes. Eighteen months later, I was limber, stronger—and fat.
Wanting to improve our eating habits is a good thing—after all, obesity is a huge health problem in America. The weight-loss market is enormous: Estimates are that it's worth between $55 billion and $60 billion annually. With a third of Americans overweight or obese, companies like Medifast, Weight Watchers and NutriSystem are raking it in.
Lately, I've been reading about alternatives to dieting based on mindfulness, which derives from Buddhist teachings. These approaches emphasize that as long as food is the enemy, it will be a problem.
Mindful eating suggests that it's not food (or not all of it, anyway) that's the issue. It's how we think about it, or as in my case, how we don't think about it at all. I rarely take the time to really taste and enjoy food, I notice, and I certainly don't allow my body to guide what and how much I eat.
"Learn to eat slowly, consciously," writes Barbara L. Holtzman, a Rhode Island psychotherapist and author of "Conscious Eating, Conscious Living: A Practical Guide to Making Peace with Food & Your Body" (http://www.barbaraholtzman.net, $29.95). "Let yourself enjoy every bite. Learn to eat from physical hunger, not emotional hunger."
Intuitive Eating, developed by dietician Evelyn Tribole and nutrition therapist Elyse Resch, takes a similar approach: Eat when you're hungry; stop eating when full; know that food isn't an adversary. "Once you make peace with food, you will feel more in control of your choices," writes IE counselor Christie Inge on her website.
"When we eat small amounts slowly, with mindful attention, we experience increased pleasure and satisfaction," wrote Dr. Jan Chozen Bays, Zen master, physician and author of "Mindful Eating: A Guide to Rediscovering a Healthy and Joyful Relationship with Food" (Shambhala, 2009, $18.95) in the February 2010 issue of Psychology Today. "... It's as if mindfulness makes a small amount of food 'larger' and very filling."
Dr. Harvey V. Fineberg, in his introduction to "Savor: Mindful Eating, Mindful Life" (HarperCollins, 2011, $15.99) by Zen master Thich Nhat Hanh and Dr. Lilian Cheung, writes, "Many distractions in daily life reinforce the mindless ingestion of food, and mindless eating is a strong driver of weight gain and obesity." Fineberg, president of the Institute of Medicine at the National Academies in Washington, D.C., adds, "With awareness and practice, it is possible to become more mindful in our eating—and in our lives."
Mindful eating is, at its heart, a practice to uncover our authentic selves. "Spiritually, your wanting to lose weight is not a desire to become less of yourself, but rather a desire to become more of your true self," writes Marianne Williamson in "A Course in Weight Loss: 21 Spiritual Lessons for Surrendering Your Weight Forever" (Hay House, 2010, $24.95).
Instead of fighting battles with food, the authors of "Savor" tell us that mindful approaches to weight management train us to "make friends with our hardships and challenges. ... They are natural opportunities for deeper understanding and transformation, bringing us more joy and peace as we learn to work with them."
After a lifetime of waging war with food, I'm ready to call a truce. I'll let you know how it goes.
Previous Comments
ID

165114

Comment

I enjoyed reading your informative well written article. I Agree with everything. I also try to stay away from trans fats, high fructose corn syrup, and msg. Oh, and also antibiotics, added hormones, and pesticides on thin skin foods.

Author

dano_usd

Date

2011-10-04T18:44:59-06:00
More like this story
More stories by this author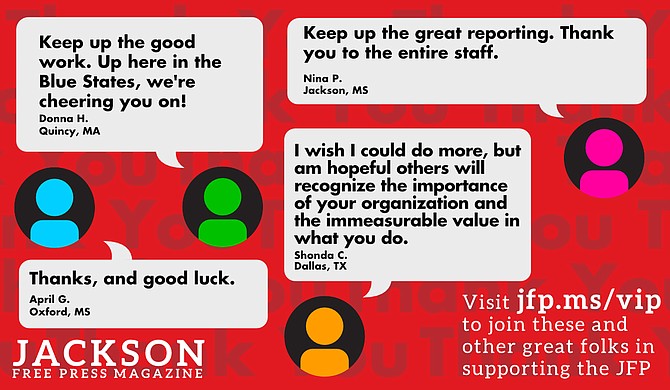 Thanks to all our new JFP VIPs!
COVID-19 has closed down the main sources of the JFP's revenue -- concerts, festivals, fundraisers, restaurants and bars. If everyone reading this article gives $5 or more, we should be able to continue publishing through the crisis. Please pay what you can to keep us reporting and publishing.