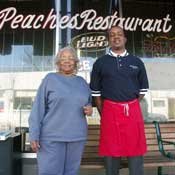 Cowboy boots, straw hats, a couple of purses and a pair of high-heeled shoes fill the front window at Dennis Brothers Shoe Repair (325 N. Farish St., 601-354-9125). Men's boots sit on top of the glass counter inside. On the side, rows of men's and women's shoes are for sale.
"Do they need new heels?" Frank Dennis asked a customer who stopped by to find our how much it might cost to fix a pair of cracked leather boots.
Dennis Brothers has been in business on Farish Street since 1938. Like several other businesses nearby, it's not an
entertainment destination and isn't waiting for a big name. The shop keeps replacing heels and soles like it has for more than 60 years.
"We fix ladies' shoes, too," Dennis said. " And purses—straps, zippers, luggage, too." He has to see the bag first, but estimates it costs around $20 to repair a strap. He has to get a deposit on his work, too. He asks for half upfront, so he can afford to buy the supplies. The fancy shoes and boots for sale are abandoned property that owners didn't come back to pay for.
Between the shoe repair shop and the Alamo Theater is Peaches Café (327 N. Farish St., 601-354-9267). The restaurant recently celebrated 50 years in business, long before the new sidewalks and lampposts emerged.
Eating breakfast at Peaches Café is like visiting your grandmother's kitchen. It's not a living museum, it's not even going back in time. It simply feels like home. The worn countertop is almost striped where elbows and plates made history or just passed time. The buttered toast on a glass plate isn't cut into cute triangles. A spoonful of Bama grape jelly straight from the jar sits on the plate. Thick slabs of bacon sizzle as CNN broadcasters talk about what Sept. 11 means to people. Someone turns the jukebox on, and it drowns out the television.
As soon as she sees four men walk into the restaurant, Stella Thurman puts bacon strips, sausage links and sausage patties on the grill. She has a habit of knowing what the regulars order.
"Roger, you have to sit in the amen corner this morning," she calls out. "He's got religious music playing."
The gospel music is loud from the jukebox at the front of the high-ceilinged restaurant. The tunes fill the whole 300 block of Farish Street, and a good part of others as well. Bars on the front glass panels cast early morning shadows on the mismatched stools. Posters of Mohammed Ali, Martin Luther King Jr. and various blues festivals from around the state are tacked up high. Framed photos of family and local celebrities are at eye level.
"You got some Tylenol?" Thurman asks a customer wearing a cook's uniform from another restaurant. "My fingers are hurting."
The customer, who didn't have any Tylenol, looked at a thin appointment book and held her cell phone to her ear. The woman looked at the grill full of breakfast meats, then slowly walks down to the cash register and opens a drawer underneath. She found a bottle of pain relievers and took a couple.
"Do you need more coffee?" Thurman asked on her return visit. She pulled out a plastic bowl full of batter and ladled a big dollop of it on the grill. When she gets ready for the lunch crowd, she makes cornbread the same way, spooning the batter on the hot grill and flipping the pieces like pancakes.
The Farish Street diner got a reputation for feeding the front line of the Civil Rights Movement. Representatives with the National Association for the Advancement of Colored People ate at this counter during the strife of the 1960s. Barack Obama made a stop here during his presidential campaign swing through Mississippi.
Wilora "Peaches" Ephram opened Peaches Café in 1961. Her son, Roderick Ephram, helps run the place now. "Jackson's original soul food restaurant," a sign swinging out front says.
Thurman flipped a couple of eggs over easy, peppered them, then put them on a plate with grits and bacon drained on paper towels. Three strips bacon, two eggs, grits, two pieces of toast and all the coffee you want costs $6.
Peaches Café serves more than breakfast. For lunch and dinner, diners can order greens, macaroni and cheese, cornbread, fried chicken, smothered pork chops, peach cobbler.
In the next block, Big Apple Inn (509 N. Farish St., 601-354-4549) serves hamburgers, hot dogs, split sausage and tamales. The menu is posted with plastic letters on a sign on the wall. You can get your soft drink from the vending machine. A small television on the end of the counter played a documentary about Farish Street's history.
An old newspaper article posted on the wall describes attempts to renovate the building. Upstairs is where Medgar Evers worked in an office as a field secretary with the NAACP before he was assassinated. The blues artist Sonny Boy Williamson II lived in this building, too.
Next door to the Big Apple Inn is Collins Funeral Home, right across the street from Central United Methodist Church. On an early September Saturday, the 500 block was busy with lawn blowers and mowers, walkers, church volunteers and people stopping to say hello just wanting to get some lunch.
More stories by this author
Support our reporting -- Follow the MFP.