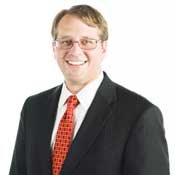 Sept. 14, 2011
Dorsey Carson, 40, has lived in northeast Jackson most of his life. He calls himself one of the "floodplain kids," youngsters who lived there during the Easter Flood of 1979. Carson graduated from Mississippi State University in 1993 and got his law degree from the University of Georgia in 1996. He has spent time in Atlanta and London, but returned in 2002 to Jackson where he lives with his wife, Susan Hays Carson, and 15-month-old daughter, Hays Elizabeth Carson. He is a Democrat challenging Republican incumbent Bill Denny in the Nov. 8 election for the District 64 House seat.
What made you decide to run for office?
I've always thought about public service and the timing for me seems to be right. ... The deciding factor was after the second time our house was burglarized. We decided we weren't moving. Our neighbor did. ... I decided it was time to get the next generation of leaders in there to do something about it.
When you have a 40 percent drop-out rate, you're going to have a crime problem. ... My opponent has voted consistently against funding education. He was one of a handful of legislators who voted against the Mississippi Adequate Education Program, and I don't think his views reflect the views of our district anymore. The Parents' Campaign gave him a 0 percent rating last year and a 46 percent overall. That's one of the major issues--education.
Have you worked in politics before?
I've worked on campaigns over the years--(former Gov.) Ray Mabus, who has been a mentor of mine for a long time, as well as (former Gov.) William Winter. I worked on his campaign while I was in college. Through those two and also Dick Molpus and Mike Moore--all of them were strong proponents of education. If you look at surveys and polls, the No. 1 reason companies locate in one place over another is an educated work force.
What do you think of the Democratic Party today?
There's a lot that needs to be changed with the Democratic Party. The people who know me know that I'm not a very partisan guy. I believe in ideas, and I believe in solutions. Sometimes you have people in both parties who simply will vote along party lines regardless of whether it's good for the people they represent or not. ... I think there are some leadership voids in the Democratic Party.
A lot of people on both sides of the aisle get in office and stay in office as if it's their office, when in reality it's the people's office, and every elected official is just keeping the chair warm. ... I think there are a lot of people in both parties who have simply been there too long, and they don't have any fire in their belly or sense of urgency to find solutions for problems. ... As far as I'm concerned, Jackson can't stand another four years of heading in the same direction as it's been going. A part of the problem is that my opponent breaks with the Jackson delegation on some pro-Jackson legislation, like payment in lieu of taxes. ... We (in Jackson) are all happy to be the seat of government, but there's no reason we should be paying for those services that are state services and pay for the infrastructure that is used only by the state. ... If you can't have a united Jackson delegation, you certainly can't get some representative from Booneville or Gulfport to vote for your capital city.
Something that is kind of a hot topic this year is the "Personhood Amendment." What do you think about it?
I think everyone has to vote their own conscience on that. I expect it to pass overwhelmingly. I do have concerns about the wording of it. I have concerns about the impact it could have on fertility. I'm concerned about the impact it may have on our community ... about what it could do in terms of a really negative impact on reproductive services for doctors who help couples who are having trouble having babies. We have doctors that help in those services. They generally, in order to do so, take about eight different eggs and they fertilize them. What happens if then there are some fertilized eggs left over? I think there are some real issues in how that is being termed in that referendum vote.
OK, this is another controversial topic. What do you think about voter ID?
Is my opponent even going to answer these? I'm going to tell you he's not. You're asking me about two things I have no control over. ... Those two issues are going to be decided by the voters, and everyone's going to have to vote their own conscience. Those will be taken off the legislative agenda, because they're already going to be decided. For me, I want to focus on things I can do.
You talk a lot about education. What do you think are some specific things you can do to improve education?
No. 1 is that we need early childhood education. We are the only state in the South that doesn't have some form of early childhood education. Studies show that 75 percent of cognitive development occurs between the ages of 3 and 5. ... We can't afford to have a whole generation of 3- and 4-year-olds that are glued to the TV instead of developing their skills at an early age. ...
Another one that is specific is that we need vocational training. We have gotten so centered on college preparatory education that we are losing a number of students whose talents and interests are not in that area--that are not good in math or not good in science--but they do have interests in construction or auto mechanics. We've got to put them on a career path.
You mentioned crime earlier. What can you do to reduce crime rates?
Education is the most important thing, and keeping teenagers in your school system instead of dropping out. But yes, there are other things we can do. ... Hinds County has (high-tech DNA equipment), whereas with JPD they do not run (fingerprints) through the system for property crimes. Those are things that need to be addressed and even to the extent that we need to set up a commission to study ... consolidating JPD into the Hinds County Sheriff's Department. ... Those are things that we need to look at and study carefully, and see if it makes sense in our community. I think everybody wants a more efficient and more effective police force.
More like this story
More stories by this author
Support our reporting -- Become a JFP VIP.
The news business has changed dramatically in the past year, and we need your help more than ever to keep bringing you important stories about Jackson and the Metro. Become a JFP VIP with an annual membership or you can Sign up as a monthly supporter. Thanks for anything you can do to empower our journalism!