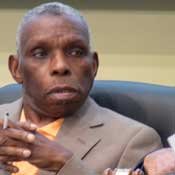 Sept. 9, 2011
Some members of the Jackson Public School board said the district is spending too much money on its strings program at a board meeting Tuesday night. The program will get a funding increase of almost $33,000 this year.
Board Member Timothy Collins said he thinks the Mississippi Symphony Orchestra has been doing a great job leading the strings program, but he is concerned about budget shortfalls.
"I think we need to get in our minds at some point there are going to be some cuts," he said. "I'm not necessarily advocating cutting the symphony, but we've got to be realistic as we move forward. ... I've said before as we have those types of discussions there can be no sacred cows."
In 2009, the board split 2-2 over whether or not to renew the symphony's contract, effectively ending its 40-year collaboration with the school district. At that time, Board Member Ivory Phillips voted against renewing the symphony's contract. After outcry from parents, the board voted 4-0 to renew the contract, this time with Phillips voting in favor of renewal.
This year, the strings program requested a budget increase to add instruction at Siwell Middle School and to add different levels of instruction for more advanced students. The symphony's contract this year is for almost $360,000. Michael Beattie, president and executive director of the symphony, said 99 percent of the cost increase is for adding higher levels of instruction. He said the program would diminish if advanced and beginner students had to be taught in the same classes.
Phillips said he is concerned about the "non-instructional" components of the program, which include demonstrations of the instruments by symphony members and student performances. He said non-instructional components are too expensive at this time.
"So you're suggesting we just teach them but never let them perform?" Board President Kisiah Nolan asked.
Phillips replied that students should be allowed to perform, but JPS could manage performances instead of the symphony.
Beattie said other non-instructional components include 12 full orchestra concerts and 110 visits to schools with small ensembles, as well as the All-City Orchestra Festival, when students perform at Thalia Mara Hall.
Collins said that if the district decides to form a long-term relationship with the symphony, it will need help from the symphony to control costs.
Phillips said the board needs more time to consider the cost, especially how much the program would cost if more students participated.
"I'm quite a connoisseur of music, I think ... but I would really like us to think now about the non-instructional component," he said.
Phillips made a motion to delay the vote for a week while the board studied the symphony's contract, but the motion died for lack of a second. The board voted 6-1 to renew JPS's contract with the symphony, with Phillips voting in opposition.
Superintendent Search
The board also voted to send out a request for proposals from consulting firms to help JPS find a new superintendent. They also voted to form a Community Advisory Committee of about 28 members to help them determine qualifications for the next superintendent.
The board will invite members from community organizations to serve on the committee, and each board member will recruit two people from his or her ward. The committee should be formed by the end of the month.
Phillips said he did not think a consultant was necessary to find a superintendent, and he voted against hiring one, citing budgetary concerns. The board voted unanimously in favor of forming the Community Advisory Committee.
Previous Comments
ID

164916

Comment

Did Phillips really just propose that the already overburdened JPS staff take over the duties of coordinating and setting up the concerts? What's next? The Mississippi Ballet after school program?

Author

Pilgrim

Date

2011-09-13T09:28:20-06:00
ID

164917

Comment

Dr. Ivory Phillips - all I got to say, if he see's something he doesn't concur with, watch out. I'm not saying that's good or bad, you just have to formulate your own opinion.

Author

Duan C.

Date

2011-09-13T09:44:53-06:00
ID

164929

Comment

Given the controversy two years ago with this contract, everyone involved should have done their homework to ensure that a reasonable and feasible program option was presented to the board. My youngest benefitted from the strings program, so I'm all for that. But I think there were probably other areas in that program where there could have been some significant cuts.. ditto about Dr. Phillips..

Author

833WMaple

Date

2011-09-14T12:16:36-06:00
More like this story
More stories by this author