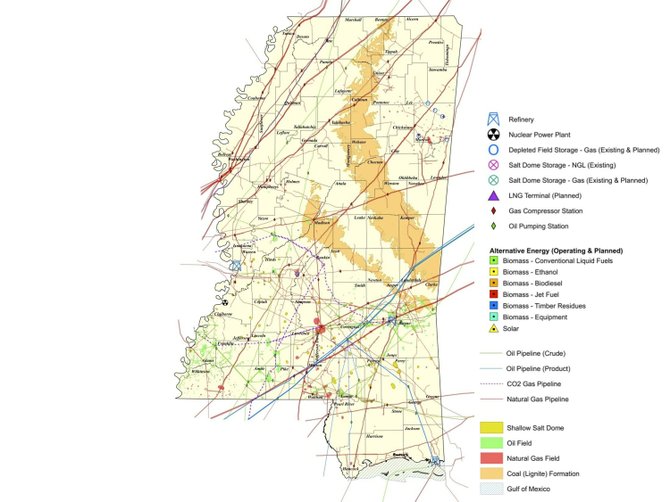 Sept. 9, 2011
Recent, and controversial, advances in drilling technology have put the state in a unique position to attract new industry and create new energy-related jobs, natural-gas industry leaders yesterday told a packed forum at the Jackson Convention Center. The state is prime to benefit from the recent natural-gas boom due to our extensive pipeline system, our potential to store natural gas in underground "salt" domes and even possibly from our own deposits of shale—the drilling industry's new favorite place to find untapped reserves of both natural gas and oil.
The forum, "Unlocking the Value of Natural Gas," brought dozens of natural-gas and energy professionals, state and city economic-development officials and elected officials, and oil and gas drilling experts from BP to local "landmen" together to explore the potential that horizontal drilling and "hydraulic fracturing"—or just "fracking," as critics and environmentalists call it. (It is also referred to as "structural fracturing."
Throughout the morning, officials from the American Gas Association, the American Natural Gas Alliance and Spectra Energy and Encap Investments stirred up excitement about the potential in the state due to recent technological advances that allow companies to drill much deeper wells that then bend horizontally and use a water-chemical mixture to fracture "shale" rock that contains gas, and sometimes oil, that past drilling just couldn't get at.
Mark Burroughs, director of EnCap Investements in Houston, Texas, explained what he called the immense "impact of shale plays." (In drilling talk, a "play" is a geological formation that contains desirable deposits.) In 2005, he said, this kind of horizontal drilling into rock was only 10 percent of the drilling for natural gas; today it comprises 70 percent. The U.S. is currently looking at a 100 years' supply of gas due to the technique. "As technology gets better, the number could increase," he said.
Burroughs and other speakers said that natural gas is good for the United States because it is now abundant, due to the new technology; less expensive than oil and alternative energy (such as wind and solar, he said); and is a good source for transportation needs. Or, it will be when better infrastructure is in place for fueling with natural gas, which is virtually non-existent today in Mississippi.
The first major shale play was called the Barnett, opened in 2002 near Dallas, Texas. The largest yield, to date, according to forum speakers is coming from the Haynesville play, which opened in 2007 in northern Louisiana and east Texas, and could extend into Mississippi and Alabama. There is also the Tuscaloosa Marine Shale, which stretches across southern Louisiana and into southwestern Mississippi.
Burroughs said mostly oil has been drilled to date in the Tuscaloosa shale; it's been "drilled vertically for decades." Large companies, he said, has been buying up land in that area, and the first horizontal drill is being done there now. "I hope horizontal drilling opens up there …," he said. "But we just don't know.
But it is the Marcellus shale play that has attracted the most attention, and criticism, due to complaints about the "fracking" practice that is at the heart of the recent natural-gas boom. The Marcellus shale is centered over Pennsylvania and spreads into surrounding states, and south into West Virginia. The problems with fracking there, as captured in an HBO documentary, "Gasland," as well as in The New York Times and other sources, is that the practice can, and has, contaminated water supplies. The process involves injecting a mixture of water, sand and chemicals into the well under high pressure in order to fracture the rock formations—the "shale"—and release the trapped oil and gas. The film criticized the industry for not wanting to identify the chemicals, but a recent congressional report revealed that the chemicals used to date have contained up to 29 carcinogenic and toxic substances.
In 1987, the Environmental Protection Agency investigated early efforts at fracking and found a high risk of water contamination. Incidents reported in recent years in shale plays around the country, from Pennsylvania to the Niobrara Shale in Colorado, have even included sparks flying from water taps in people's homes. These reports have brought intense scrutiny to the practice of horizontal drilling and structural fracking and put the industry on the constant defensive.
Chris McGill, the managing director of policy analysis for the American Gas Association, downplayed those reports at the Thursday forum. Due to its northeastern location, McGill says "you can pick up a rock and hit the New York Times building" from the Marcellus shale—that it is "close to information and disinformation centers." He also said the EPA can "be scary when you're trying to understand what your business is going to be in the future."
When asked by an audience member how to respond to people spooked by the "Gasland" documentary, McGill assured him that science would show that fracking is a safe practice. "I have not come across, based on my experience in the business for over 30 years now, anything that can't be resolved. Technically, politically, socially, that can't be resolved. There are some places and some instances where we will not drill. I will be the first person to put a flag in the ground and stand in front of the first drilling rig that tries to get into Yellowstone Park. There are just some places we don't have to go, OK. But there are other places you can go. You can do it right. … You can develop that resource. … You can engage the stakeholders. You don't have to leave people out. …"
"It doesn't come without a price," McGill added. "There is nothing that is zero impact. But it can be done correctly. That's my speech," he ended to applause.
A woman in the audience warned about an instance of a "Joe Blow" operator dumping in a stream, adding that "mom-and-pop" drilling companies were probably more likely to cut corners on fracking concerns. McGill agreed, saying the industry is "only as good as our worst operator." However, he and other speakers assured her that because the practice is so expensive, larger companies are buying up the mom-and-pops in order to get access to the shale. And the larger companies, they said, are more likely to ensure that safety practices were in place, despite what "Gasland" and others have reported.
During his presentation, David Shammo, general manager for southeast business development at Spectra Energy in Atlanta, said that natural gas is "bullish" today compared to 2001, saying that it provides 25 percent of U.S. energy use and 3 million jobs. He said fracking concerns are overblown: "Hydraulic fracking is well-regulated and an environmentally sound practice."
Shammo emphasized that Mississippi is "uniquely positioned" to take advantage of the natural-gas boom due because natural-gas companies can use our already-extensive pipeline system to import and export the gas around the country, as well the shallow salt domes peppered underground around the state for storage, and our easy access to shale plays.
In a panel discussion, Kathy Gelston, chief financial officer of the Mississippi Development Authority, and others discussed what they had learned during their morning sessions and what actions Mississippi should take to prepare to profit from natural gas. Gelton warned that companies looking to work in Mississippi expect to have infrastructure in place for utilities and other basics. She suggested that the state work in partnership with gas companies to develop incentives to get the industry kickstarted in the state, and then "get the city and county out of the oil business."
Lynn Arnold, president and CEO of the Tunica (Miss.) Chamber and Economic Development Council, said that she had learned a tremendous amount about what she needed to do back home. "I have to be able to provide (the infrastructure) or get eliminated," she said.
Previous Comments
ID

164878

Comment

Sadly, this practice is not only causing people's tap water to be polluted and able to be lit on fire as it comes out of the faucet, people and animals drinking this water are getting sick and dieing. No matter how much the gas, oil and power companies want to spin the lies with their TV commercials and "public forums", it's only common sense that when you're putting chemicals into the ground, it's going somewhere and it's not all recovered. This is just one more reason why I hate the human race and what we've done to destroy our planet, and continue to do, all in the name of the dollar.

Author

LambdaRisen

Date

2011-09-09T15:06:01-06:00
ID

164880

Comment

"Hydraulic fracking is well-regulated and an environmentally sound practice." We all should realize by now that "well-regulated" and "environmentally sound" are slippery terms depending on who's using them. Personally, I would not use either term for any industry excluded from hard-won environmental standards for clean water or standards for disposal of hazardous waste. Exploration for oil and gas—specifically fracking—is excluded from almost all of the safeguards put into place over the years to ensure we have clean water, safe from former and potentially polluting industries. (Thanks Pres. Bush for the Energy Policy Act of 2005, and Halliburton for the technology—and some say, the exclusion.) Thus, if the "up to 29 carcinogenic and toxic substances" used in the fracking process poison Mississippi's groundwater, we have no recourse. Bully for the frackers; maybe not so good for other living things.

Author

Ronni_Mott

Date

2011-09-09T18:51:49-06:00
ID

164881

Comment

Footnote: It is remarkable to me that The Clarion-Ledger reporter who attended the forum yesterday wrote an entire story without ever mentioning fracking or fracturing, considering how much the panelists talked about it. I will never understand that newspaper. (Well, I assume he attended the forum.)

Author

DonnaLadd

Date

2011-09-09T18:55:43-06:00
ID

164882

Comment

Well, when our water is too foul to drink or bathe in or water our gardens, guess who will be selling us clean, arctic water, perhaps at "filling stations" for, oh, I don't know, about four fifty per gallon. Unless there is a shortage. He who controls the water, controls.... And why is the press so mellow about this? And our representatives? I hope it's not the huge amounts of money being handed out. Clinton's mayor, in a giddy moment, let slip on the local t.v. news that mayors are indeed getting money from these companies. You know, to help out with extra police hours, etc. Oh, and search the web for the words "gas bullish fracking" and see how many states and Canada are "uniquely poised to benefit".

Author

ScoutandBoo

Date

2011-09-10T01:06:40-06:00
ID

164890

Comment

This is what I've been waiting for. The natural gas companies to discover that Mississippi is still one of the cleanest states for air and water. If this happens, we won't be for long. This business is dangerous, it destabilizes land, and it poisons water.

Author

Lori G

Date

2011-09-12T10:18:29-06:00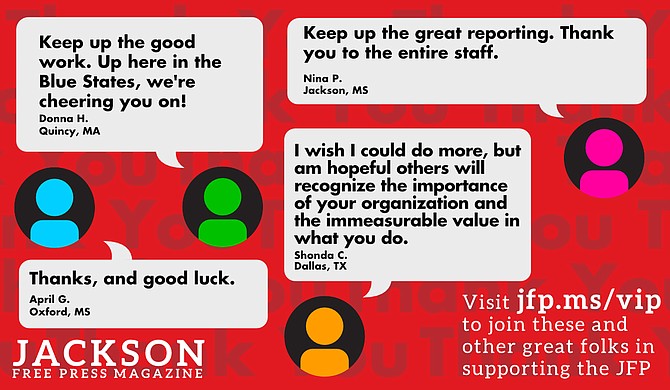 Thanks to all our new JFP VIPs!
COVID-19 has closed down the main sources of the JFP's revenue -- concerts, festivals, fundraisers, restaurants and bars. If everyone reading this article gives $5 or more, we should be able to continue publishing through the crisis. Please pay what you can to keep us reporting and publishing.