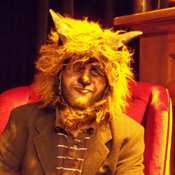 The Wolfman makes a Halloween appearance in Jackson tonight. He'll be howling in Belhaven for the last performance of "The Monster Monologues." He has a few things he needs to get off his chest, such as recalling what he did the night before. It's complicated having two lives inside one body.
Inside the Wolfman is writer, actor, comic and musician Brent Hearn, 34. He grew up in Pearl and lives in Brandon now. "I've bounced around the metro," he said.
Hearn is a 2011-2012 Mississippi Arts Commission fellowship in playwriting and screenwriting. He had a hand in writing this popular play, born in the Fondren Theatre Workshop.
"The Monster Monologues" is a homegrown comedy and horror play from the Fondren Theatre Workshop that runs Oct. 23 through 31 at The Cedars. Thirteen monsters gather at the funeral of the Fly, all desperate for publicity and jealous of younger, hipper monsters. While they examine their inner demons and ponder career miscues, they also begin to wonder who killed the Fly. They often look at the audience with frightening hunger. The show is a fusion of theater and haunted-house horrors.
"Everyone should support local theater," Hearn said. "This show is locally written, produced and acted."
Seven Jackson playwrights wrote "The Monster Monologues," including Hearn, Beth Kander, Brad Bishop, Opie Cooper, Danny Dauphin, John Howell and Bret Kenyon. Danny Dauphin wrote the Wolfman's monologue, and Hearn credits Dauphin with the laughs he gets acting the part. As a group, the playwrights brainstormed a general outline for the plot, then divided up the writing. FTW premiered this Mississippi Theatre Association award-winning show in 2009.
The play depicts the Fly's funeral as an opportunity for the monsters to tell their side of the story and air out grievances. It features monsters with everyday problems and human frailty. The Blob attempts to make visitors comfortable. A vain Dracula worries about keeping up with younger women. The Creature from the Black Lagoon is one environmentalist not to upset. Frankenstein's Monster doesn't want to be seen as an idiot, but then again he doesn't mean to come off pretentious.
Besides Hearn, tonight's cast includes Whitney Barkley, Mandy Myers, Erin Read, Kyle Henderson, Clif Hogan, Michael Kinslow, Clif Kirkland, Michael McNally, Chris Roebuck, Darrell Troth, and Wayne Thomas.
Over the past 12 years, Hearn has appeared in productions throughout the metro area, with his most recent role being Sam Byck in Fondren Theatre Workshop's production of "Assassins," and Brendan in "The Weir" (New Stage Unframed Series).
Fondren Theater Workshop presents "The Monster Monolouges" tonight at the Warehouse Theatre (1000 Monroe St.). The show begins at 7:30 p.m. General admission is $13. Tickets for students with ID and seniors older than 60 are $10. FTW rates the play PG13 for mild adult humor and language. For tickets or information, call 601-301-ACT1.
More like this story
More stories by this author