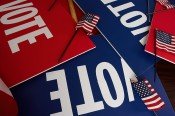 A little more than a week before Election Day, various political and advocacy groups are lobbying voters in hopes of swaying their votes on three ballot initiatives.
One of the most hotly contested issues is Initiative 26, to define when "personhood" begins.
The initiative will ask voters, "Should the term 'person' be defined to include every human being from the moment of fertilization, cloning, or the equivalent thereof?" Abortion opponents have praised the initiative as a way to end abortion in Mississippi, or even take a case to the U.S. Supreme Court to challenge Roe v. Wade.
Yes on 26, one of the groups advocating in favor of Initiative 26, will hold a press conference today at 4 p.m. in the Capitol, and promises to unveil "Live Action audio evidence of deception."
Rep. Gregg Harper, R-Miss., is scheduled to appear at the press conference, along with Tim Wildmon, president of the American Family Association, Jimmy Porter, president of the Christian Action Commission, the political arm of the Mississippi Baptist Convention, and others.
A group of people against the initiative will be outside the Capitol's High Street entrance to respond to the press conference beginning at about 3:45 p.m.
Mississippians for Healthy Families' No on 26 campaign has released a video of a Jackson-area doctor talking about potential negative effects of the initiative. The Mississippi Unity Caucus, a coalition of progressive organizations in the state, has a press conference planned for tomorrow. Kathy Sykes, convener of the caucus, said her organization is encouraging people to vote against Initiative 26.
"It is too much of an intrusion of government into the personal lives of women," she said. "It would limit the scope of the doctors' decisions on matters that affect their patients."
The American Family Association held a VIP screening of the anti-abortion film "October Baby" at Tinseltown Saturday night. The movie is about a woman who discovers she was adopted after a failed abortion. "October Baby" is now playing at the Tinseltown and Malco Grandview theaters.
Sykes said her organization is also against initiative 27. That initiative will ask voters, "Should the Mississippi Constitution be amended to require a person to submit government-issued photo identification in order to vote?" Sykes said the voter ID initiative is a "modern-day poll tax."
"Many people fought and died for the right to vote, and anything that limits and restricts the right to vote, I'm against," she said. While proponents of voter ID have said the measure will prevent people from voting using the names of dead people, Sykes said the answer to that problem is removing the names of dead people from the voter rolls.
The caucus is supporting an initiative to limit eminent domain.
Initiative 31 asks, "Should government be prohibited from taking private property by eminent domain and then transferring it to other persons?" The initiative is a reaction to a U.S. Supreme Court case that allowed a Connecticut town to take private property by eminent domain and transfer it to a developer. The Farm Bureau Federation is sponsoring the initiative, which would prevent the state from selling private land to other private entities for 10 years. Supporters of the initiative say the measure will make taking private property for developments less attractive, while opponents say the potential benefits of economic development projects are worth taking private property.
The Farm Bureau will hold a press conference tomorrow at 1:30 p.m. on the Capitol steps to encourage people to vote in favor of the initiative.
Greg Gibson, spokesman for the Farm Bureau, said his organization hopes to get back to using eminent domain for traditional public uses, such as building schools and roads, instead of private economic development projects.
"We have high hopes," Gibson said. "It's an issue that's close to a lot of ... landowners' hearts."
Also on Tuesday, Mt. Helm Baptist Church (300 E. Church St.) will hold a voter education forum from 6 to 8 p.m. to discuss the three ballot initiatives.
The Mississippi Tea Party will announce its endorsement in the governor's race today, also at the Capitol.
This Thursday at 5 p.m. Phil Bryant will hold a get-out-the-vote rally for his campaign at the Cyde Muse Center at Hinds Community College's Rankin Campus. The doors will open at 3:30 p.m., and the event is free and open to the public. Gov. Haley Barbour will attend, along with New Jersey Gov. Chris Christie.
More stories by this author
Support our reporting -- Become a JFP VIP.
The news business has changed dramatically in the past two years, and we need your help more than ever to keep bringing you important stories about Jackson and the Metro. Become a JFP VIP with an annual membership or you can Sign up as a monthly supporter. Thanks for anything you can do to empower our journalism!