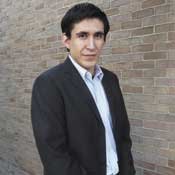 Growing up in Guadalajara, Mexico, Cesar Vazquez never thought he'd be working in the United States. The 25-year-old traveled a lot as a child, living for short amounts of time in Esfahan, Iran and Frankfurt, Germany. Vazquez has always liked to travel and experience different cultures, and that interest brought him to Mississippi two years ago.
Due to his enjoyment of people and his interest in human rights, Vazquez decided he wanted to be an attorney. He graduated from the University of Nuevo Leon in Monterrey in 2009 where he specialized in labor law and international human rights. Vazquez is a licensed attorney in Mexico; however, he has lived in Jackson since graduating, and is employed as a legal assistant and translator at Elmore & Associates P.A. law firm downtown.
Vazquez works to bridge the language gap between Mississippians and Hispanic immigrants. He speaks fluent English as well as his native Spanish and caters to Mississippi's growing Hispanic population, helping clients with limited English skills navigate the legal system.
"Many of the people I work with have very little money or means to get the help they need," he says.
Some of Vazquez's duties include assisting immigrants in the naturalization process, translating in courts, handling criminal chargesand fighting for workers' compensation. He also helps clients with day-to-day concerns such as doctor's appointments, jail visits and meetings with attorneys.
Vazquez is involved in a number of outreach programs through the Hispanic Chamber of Commerce, headed by his sister Karla Elmore Vazquez, who also holds a law degree from Mexico though she can't practice law here, yet. Cesar Vazquez publicizes Elmore & Associates in the Hispanic community and explains laws in Spanish-speaking churches.
The transition from Mexico hasn't been easy for him. "At first, I worried that I couldn't be an attorney here," he says. "But then I started understanding that I can help my people, anyway."
Vazquez says he loves it here in Mississippi: "Jackson is a smaller town than Monterrey, much calmer. Most people are very friendly."
He says he enjoys experiencing a culture different from his own, while helping the Hispanic population of Mississippi. He hopes to study law in Jackson soon.
Vazquez also realizes that some people have negative perceptions of Hispanics, and he wants to change that. "I am an immigrant," he says, "so I know how hard it is to transition between cultures. I know how the people feel alone and helpless. I am here to help them, and they need all they can get."
More stories by this author
Support our reporting -- Follow the MFP.