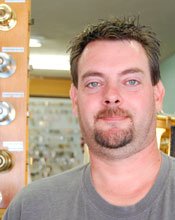 For a locksmith like Jason Meeks, security is everything. His work's purpose is to keep people, their belongings and their 
property safe.
The 36-year-old Memphis native has been working full time since he was 14 years old and has been in hardware service most of his life. Meeks moved to Jackson when he was 2 years old and has lived here ever since.
He started out at the Ace Hardware store in Madison, where he quickly rose to a management position. Next, Meeks took a position at the Montgomery Ace Hardware in Fondren, working exclusively with locks for the first time. In 1997, Meeks joined Fondren's Blackstocks Safe and Lock and worked there for five years. He and his wife, Kim, bought the business in 2001 and renamed it SE Lock & Key.
SE Lock & Key works for neighborhood businesses, responding to local crime. A large part of his work is going out to houses that have been broken into, ensuring future security with his locks and systems. He also does commercial work for hospitals and prisons, setting up master-key systems. He offers everything from exact house-key replication to complete access-control solutions 
for businesses.
Meeks says that when people think "locksmith," they don't always know exactly what the job entails. Many people think a locksmith's sole purpose is to unlock car doors. Meeks says it's a diverse line of work. "One minute you can be in a hospital, the next in a dark warehouse, then in a bulldozer or a plane," he says. "It's a lot of fun."
Meeks' business is neighborhood-oriented, though he enjoys the commercial end of work, too. People in the area know and trust him to keep their houses and 
offices safe.
"It gives me great satisfaction to help protect people," he says, "especially when they need to feel a sense of security."
Meeks says he tries to keep watch on neighborhoods, attend local cops' meetings, and be as knowledgeable as possible about rules and regulations. He helps to teach people break-in prevention and safety habits, such as not leaving purses in cars.
"You can't be easily distracted, because that's when criminals take advantage," he warns. "I want to help people be safe."
Meeks lives in Brandon with his wife, Kim, and his two daughters, Tyler and Jordan, 18 and 15. He hopes to some day move into Fondren, where he can keep an even closer eye on the neighborhood.
More stories by this author
Support our reporting -- Follow the MFP.