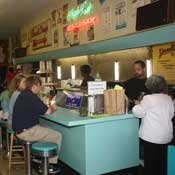 When you step through the glass double doors of Brent's Drugs (655 Duling Ave., 601-366-3427), you walk into history. The tinkle of a doorbell announces your entrance into the oldest soda fountain in Mississippi. Located in the historic Fondren District, in the shopping strip known today as Woodland Hills Shopping Center, Brent's recently celebrated its 65th birthday.
In 1946, University of Mississippi pharmacist Alvin Brent established Brent's Drugs as a soda fountain and pharmacy in the state's first shopping center, then known as the Morgan Center. The business changed hands three times, passed down from pharmacist to pharmacist. In 2009, the pharmacy was sold to CVS and removed from the original building.
Today, Fondren resident and attorney Brad Reeves operates Brent's.
Though Brent's is now "drug-free," it continues to brighten lives with its delicious Brent Burgers, milkshakes and malts. Brent's also serves as a retail gift shop, maintaining its original turquoise-and-chrome seating and charming old-school décor, 65 years later.
For more information, visit brentsdrugs.com, find Brent's on Facebook, or follow them on Twitter @BrentsDrugs.
More stories by this author
Support our reporting -- Follow the MFP.