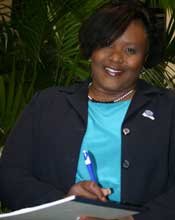 Francine Brookins thinks education and salvation are the most important institutions in young lives. Brookins believes that it is important to reach out to youth in increasing religious awareness. "When you are a kid," she says, "you don't think about your relationship with God."
The 45-year-old Meridian native moved to Jackson in 1995, and has since moved to Clinton where she's lived for four years. She lives with her 13-year-old son, Phillip, and her husband, Jason. A deeply spiritual woman, Brookins is a member at Christ Covenant Church International in Clinton.
Brookins encourages her son to be involved in the church.
"I think it is important for kids to learn about the word of God, and it is our job, as adults, to set the foundation," she says.
This year, Brookins decided to use her hobby, writing, to spread her ideas on teenage salvation. She has always been artistic, and loves to write plays.
"What About the Children" was Brookins' first stage play. She wrote the play last May, and it debuted in the same month at Forest Hill High School. The story centers on teenage womanizer Ricky Bobby, whose failed relationships with several girls help shape his moral character, bringing him to God. Ricky Bobby also learns many truths about himself with the guidance of his mother.
Brookins hopes to reach young people through entertainment, teaching important lessons about abstinence, moral behavior and their relationship with God.
In her work, Brookins emphasizes the role of parents as guides. She is looking forward to staging the play in Meridian sometime in the coming months.
Her second play, "Searching," will premiere this coming spring at Tabernacle Missionary Baptist Church in D'Iberville. "Searching" is about a young lady seeking the attributes of a godly woman.
The third, "Rebecca's Eyes" will hit the Jackson stage at a yet undecided church next fall. The play centers on the lives of a brother and sister who live with a physically and verbally abusive father, who is a pastor, making them doubt their faith.
Brookins received her bachelor's degree in broadcast journalism at the University of Southern Mississippi in 1989. Today, Brookins works for the Magnolia Health Plan Medicaid program where she is a member connections representative. She loves the face-to-face business she does with members and answering questions about benefits.
Writing is still her favorite pastime. "I just walked this thing out in faith," she says. "As long as the kids get something from it, I'm happy."
More stories by this author
Support our reporting -- Follow the MFP.