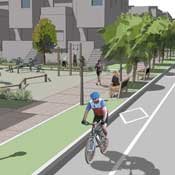 Related: Defensible Space Reduces Crime
Also see: JFP Crime Blog
Rebuilding a neighborhood with the challenges of midtown north into a stronger, more prosperous, safer neighborhood is "complicated," says architect Roy Decker of Duvall Decker Architects.
Before the firm made any decisions, or a single shovel broke dirt, Duvall Decker led an effort to assess the liabilities of the area, which has about 2,600 residents. And the problems are numerous, Decker says: vacancies, empty lots, declining population, not enough density, transient residents. This scenario, typical to challenged inner-city neighborhoods, "makes security a complicated thing," Decker says.
Even a quick drive through midtown north shows specific challenges: not enough street lights, few sidewalks, no exercise "circuits," dilapidated houses. And, of course, the most important crime deterrent is missing: Not enough people out on the streets doing positive things (like exercising and pushing strollers). In addition, the area has a lot of shotgun-type houses that can have limited "eyes on the street," with perhaps one smallish window facing out.
The firm, working with various partners including the Jackson Housing Authority and North Midtown CDC, came up with an action plan: long-term strategic recommendations of how to turn Midtown North around and make it into an area that can grow and prosper, as well as project safer perceptions (which, in turn, make an area safer).
On a tour of blocks of new homes under construction this month, Decker showed some of the best "defensible space" ideas coming to fruition: mod-looking housing with large windows looking out on shared spaces. Shared yards and play areas where parents have a direct view, and kids don't have to play in the streets. Cars and pedestrians kept separate. Secure yards and parking with court entries. Un-obscured backyards. Front doors, stoops and stairs to the street: no anonymous (and dangerous) corridors. Residents are invited to garden and beautify their front yards. The rebuilding includes outdoor exercise circuits for any resident to use.
This approach to design establishes what Decker calls a "sense of special territoriality," which isn't available in typical apartment complexes (that tend to attract high crime).
Ironically, efforts to tear down abandoned homes can leave a new pernicious problem: empty, depressing, dangerous lots and too little resident density. Thus, there are fewer people to build community, share control of territory, and watch out for each other and their children. The new midtown north, which currently has 2.6 houses per acre, is designed for more density in residents as well, with smart infill, community gardens and playgrounds taking the place of those scary lots.
Decker is adamant about density, warning that one of the worst ways to deal with crime is to run from it, making the city even less dense and inviting crime to follow into less dense areas.
"The revival of Jackson is not going to be made on single-family housing," he warns.
On the subject of police—where many folks' view of security begins and ends—Decker says the word "complicated" once again. He stresses that better-designed neighborhoods cannot take the place of a strong police presence in a neighborhood like Midtown North—at least not initially.
The police's role, he says, is to help maintain an area's peace and prosperity, and to make people feel safe enough to fulfill their own vital role in security.
Thus, he says, it takes two steps: First, the police must be clearly present for an area's turnaround, responding quickly and seriously to crime reports, providing follow-through. But police must get that Jackson's inner-city areas have a long, distrustful history with law enforcement ("We're not far away from the civil-rights era," he says). Still, the police need to be there strongly at first to help build the perception that the area is safe enough for neighbors to come outside their homes and become the vital eyes on the street."
But police can't be in complete control and should start moving more into the background as the community takes more control, building neighborhood watch programs and community networks. "Then, police are secondary," Decker says.
Previous Comments
ID

165532

Comment

I appreciate this article, thanks for posting this.

Author

Izzy

Date

2011-12-07T11:19:56-06:00
ID

165536

Comment

Thanks, Izzy. I really like Roy's comments near the end: Decker is adamant about density, warning that one of the worst ways to deal with crime is to run from it, making the city even less dense and inviting crime to follow into less dense areas. "The revival of Jackson is not going to be made on single-family housing," he warns. On the subject of police—where many folks' view of security begins and ends—Decker says the word "complicated" once again. He stresses that better-designed neighborhoods cannot take the place of a strong police presence in a neighborhood like Midtown North—at least not initially. The police's role, he says, is to help maintain an area's peace and prosperity, and to make people feel safe enough to fulfill their own vital role in security. Thus, he says, it takes two steps: First, the police must be clearly present for an area's turnaround, responding quickly and seriously to crime reports, providing follow-through. But police must get that Jackson's inner-city areas have a long, distrustful history with law enforcement ("We're not far away from the civil-rights era," he says). Still, the police need to be there strongly at first to help build the perception that the area is safe enough for neighbors to come outside their homes and become the vital eyes on the street." But police can't be in complete control and should start moving more into the background as the community takes more control, building neighborhood watch programs and community networks. "Then, police are secondary," Decker says. There is so much good research and reading out there about designing for safety. I urge people to dip into it.

Author

DonnaLadd

Date

2011-12-07T13:24:59-06:00
ID

165537

Comment

I have had the weirdest experience in the past month, which is why I was thinking about it. I moved to Belhaven Heights, an area I would consider to be somewhat "transitional," hopefully transitioning to a neighborhood with more walkers, more safety and less crime. There are several developments helping that including a new biking and walking trail going in and a New Stage Theater building now being used with regularity. But what happened to me that was weird, is twice now I have seen a man walking on the street, once from my window and once when I was going to my car. Due to my cautionary stance, I thought I saw someone "shady," only to look again and see a neighbor, both guys I know and was happy to see because we are friends. The perception of them as "Dangerous" before I truly looked and saw them was so strange. Almost like I have come to expect the worst. Caution is important to have, but when caution turns to suspicion that clouds reality, that is a problem. I think community identity can help a lot and is probably as important as police presence. I think the midtown area will be a new place to learn from and especially I care about keeping places where middle and low income people can live and work rather than forcing them out as so many gentrification projects do.

Author

Izzy

Date

2011-12-07T13:31:47-06:00
More like this story