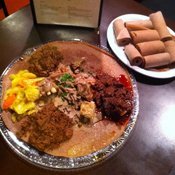 Jackson will get to taste a new cuisine with the first Ethiopian restaurant now open in the area.
Yoseph Ali, who also owns Aladdin Mediterranean Grill, opened Abeba Ethiopian Restaurant (pronounced "ah-buh-bah") last weekend at 3716 Interstate 55 N. The restaurant features a lunch buffet for $9.95 in addition to its regular menu, and also offers catering services.
For those who have never tried Ethiopian food, Ali said the taste falls somewhere between Indian and Lebanese food. Ethiopian food is different from many other cuisines in that diners eat with their hands and pieces of bread instead of using silverware.
"There are definitely a lot of vegetarian dishes that we serve ... a lot of fresh food," he said. "We've got pretty much all the selection you need."
Ali is from Ethiopia, and Abeba is his mother's name. "For me, being from Ethiopia, I guess it's home away from home," he said.
Abeba is open 11 a.m. to 11 p.m. Monday through Friday, 11 a.m. to midnight Saturday and 11 a.m. to 3 p.m. Sunday. Check out the Abebe Ethiopian Restaurant page on Facebook or call 601-713-1500 for more details.
Workshop for Business Leaders
The Greater Jackson Chamber Partnership is offering a workshop tomorrow on "Thriving in Times of Great Change."
Michael Harbaugh, founder and president of the Center for Continuous Improvement, will speak about how businesses can adapt to new ways of doing things in a changing business landscape.
The workshop is from 11 a.m. to 1 p.m. Wednesday, and costs $10, which includes lunch. Registration is required; email [e-mail missing] to reserve a seat.
Jackson Wins Tourism Awards
The Governor's Conference on Tourism recognized three Jackson attractions for their contribution to promoting Mississippi yesterday.
The Mississippi Children's Museum won the Mississippi Travel Attraction of the Year Award for portraying the best the state has to offer to the youngest generations and people of all ages, a statement from the Jackson Mississippi Convention and Visitors Bureau said.
The Chimneyville Crafts Festival won the Large Festival/Event of the Year Award for bringing more than 10,000 people to the two-day festival each year for more than 35 years.
The Mississippi Craft Center's "Expose Yourself to Craft Reveal" won the Tourism Promotion of the Year Award for a sold-out party to promote the craft center.
Pop-up Shop
Dillard's Department Store will bring a "pop-up" store to the Iupe's Building on Canton Square Oct. 13-14 during the popular Canton Flea Market.
The Canton Chamber Main Street Association, which is helping to organize the pop-up store, said in a statement that the store will help increase traffic on the Canton Square during those two days. A pop-up store in Canton can help other downtown businesses attract customers while allowing Dillard's test a new market, the statement said.
Dillard's will sell a selection of merchandise, including handbags, fragrances, jewelry, accessories, shoes, sportswear and cosmetics. Instead of paying rent, Dillard's will donate 10 percent of its sales to MadCAAP, a nonprofit organization that helps the disadvantaged in Madison County, the statement said.
The Iupe's building, on the corner of Peace and Union streets, is listed on the National Register of Historic Places.
LifeWay Relocating
LifeWay Christian store will host events after relocating to the County Line Plaza shopping center, next to Office Depot (1057 E. County Line Plaza).
Author Dave Ramsey will sign his newest book, "EntreLeadership," from 6 to 8 p.m. this evening. Author Terri Blackstock will sign her latest book, "Shadow in Serenity," from 11 a.m. to 1 p.m. Oct. 22.
Characters from children's shows will be on hand to greet customers as well. VeggieTales' LarryBoy will visit the store from 11 a.m. to 1 p.m. Oct. 15, and Bob and Larry will make an appearance from 11 a.m. to 1 p.m. on Nov. 12. Bob and Larry will help pack shoeboxes with gifts for Operation Christmas Child to send to children in impoverished countries. Hermie the Caterpillar, a character created by Max Lucado, will visit from 11 a.m. to 1 p.m. Oct. 29.
For details, call the store at 601-952-1934.
More stories by this author