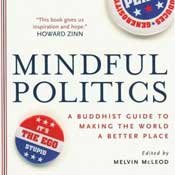 Sadly, I didn't discover the power of being mindful until I was nearly 40. I picked up a book on Buddhism in a quaint bed-and-breakfast in Woodstock, N.Y. (seriously). Until then, I had thought of Buddhism as a rather mysterious, probably weird kind of religion where you sit in the lotus position and worship a statue.
I was wrong, of course.
When I opened that book, I was decades into an unfocused-if-interesting life filled with stressful grasping and a near-constant sense that I should be doing something I wasn't doing or living somewhere else. Happiness was always "over there" somewhere. I was too unsettled to be content, and my mind raced constantly about all the things I needed to do, or hadn't done—not allowing me to fully focus on what I was doing. I was a multi-tasking fool, beating the hell out of myself.
When I read about the concept of mindfulness—thinking fully about one thing at a time—my tired brain seemed to rejoice. It wanted to think about one thing at a time and stop the doomed task of trying to deal with several things at once. I know now that humans cannot multi-task, so no wonder my brain and I were always so exhausted.
Since that time, I've become a buddhist with a little b. I'm not a fan of organized religion—Buddha wasn't, either—and I don't want to give up what is inspiring about my Christian heritage (even while trashing the hateful parts). I've become a fan of Jewish social-justice practice (tikkun olam), tapped into the beliefs of my Quaker ancestry (read Parker J. Palmer) and discovered rich components of Islam, especially from mystics such as Rumi.
What I've learned from Buddhism is more spiritual than religious. I discovered a way to train my mind to calm down and rest, at least sometimes. I figured out that to do meaningful work, and have rich conversations and relationships, I must take the time and be nowhere else. There is only here and now.
Mindfulness has helped my work and enabled me to help start this paper. It helped me to help put a Klansman in prison. It helped me give up meat. It helps me let go of petty drama and ignore fools. It taught me to look at those who want to hurt me and others with compassion, while focusing on ways to make sure that they can't. Forgiveness is perhaps the hardest, and most important, lesson. (Note that the Bible has something to say about forgiving and loving your enemies, too.)
I've been thrilled to discover that mindfulness isn't only spiritual; it is also science. Neuroscientists have studied the minds of meditative monks to unlock brain mysteries, learning that the brain can and will grow through life if we treat it well. How? By learning to focus and training ourselves to be mindful. No need to give up other faiths; mindfulness can help you learn to focus better on your beliefs. These books will help you learn how and why.
"Buddha's Brain: The Practical Neuroscience of Happiness, Love & Wisdom," Rick Hanson Ph.D. with Richard Mendius, MD (New Harbinger, 2009, $17.95)
If you want to know why mindfulness and meditation work on your brain, this is your book. You will learn many techniques for controlling your reactions and negativity and how to engage in loving-kindness. It also has a great list of the nutrients your brain needs to thrive.
"The Best Buddhist Writing 2011," edited by Melvin McLeod (Shambala, 2011, $17.95)
If you're new to the Buddhist approach to life, a collection of writings is a good place to start (and if you're not new, a reading a day can help keep you centered). You can also decide which writers you prefer: Some such as Jack Kornfield and Thich Nhat Hanh are more readable then some others.
"The Power of an Open Question," Elizabeth Mattis-Namgyel (Shambala, 2010, $23.95)
This shouldn't be your first Buddhist reading, as it deals largely with the need for and meaning of striving for "emptiness"—or gaps, as many call it—rather than the over-fullness many of us feel too often. This book urges you to catch how you're reacting to circumstances and then choose a different way—the Middle Way. She teaches that serving others is not just a way to feel good; it's a "science" that literally changes your brain.
"This is Getting Old: Zen Thoughts on Aging with Humor and Dignity (Shambala, 2010, $14.95)
I've never been one to be ashamed of my age, but mindfulness practically dictates that age should not, and cannot, matter to an enlightened and focused mind. If you're struggling with turning 40, or 60, or 80, maybe this book will help you get past something you can't control.
"Rebel Buddha: On the Road to Freedom," Dzogchen Ponlop (Shambala, 2010, $21.95)
Ponlop urges you toward an "inner revolution in a voice that makes the teachings relevant to younger generations: "Buddhism is primarily a study of mind and a system for training the mind. It is spiritual in nature, not religious. Its goal is self-knowledge, not salvation; freedom, not heaven." Like a good revolutionary, he urges you to bring doubt and skepticism to your practice.
"Buddha Is As Buddha Does: The Ten Original Practices for Enlightened Living," Lama Surya Das (HarperCollins, 2007, $23.95)
This book breaks down the basic principles behind mindful living—and my copy has a plethora of stickies showing how much I rely on it. This book shows that a focused life is not without challenge: the practices include ethical self-discipline, real generosity, enlightened leadership and more.
"Right Here With You: Bringing Mindful Awareness into our Relationships," edited by Andrea Miller (Shambala, 2011, $16.95)
This collection focuses on the single most vital component of Buddhism: love. Not just romantic love; this is about how to cultivate the real thing for yourself and others. You'll also read about how to mindfully recover from heartache and to learn to forgive.
Read These, Too:
"Work, Sex, Money: Real Life on the Path of Mindfulness," Chogyam Trungpa (Shambala, 2011, $15.95)
"The Mindful Leader: Ten Principles for Bringing Out the Best in Ourselves and Others" Michael Carroll (Trumpeter, 2007, $23.95)
"Mindful Politics: A Buddhist Guide to Making the World a Better Place," Edited by Melvin McLeod (Wisdom Publications, 2006, $16.95)
"The Buddha Walks into a Bar: A Guide to Life for a New Generation," Lodro Rinzler (Shambala, coming January 2012, $14.95)
Support our reporting -- Become a JFP VIP.
The news business has changed dramatically in the past year, and we need your help more than ever to keep bringing you important stories about Jackson and the Metro. Become a JFP VIP with an annual membership or you can Sign up as a monthly supporter. Thanks for anything you can do to empower our journalism!