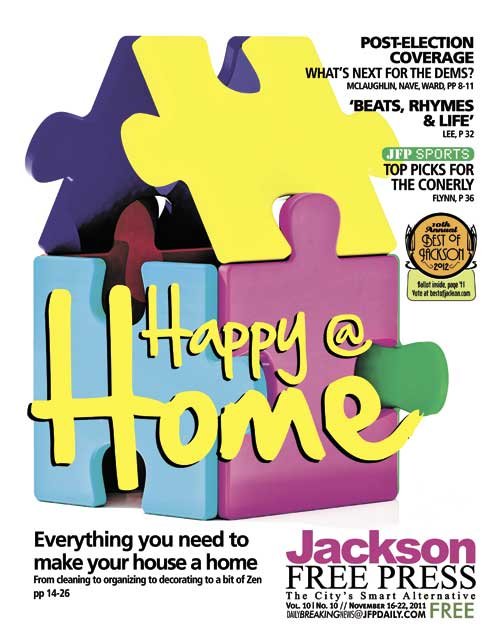 "To be happy at home is the ultimate result of all ambition, the end to which every enterprise and labor tends, and of which every desire prompts the prosecution."
— Samuel Johnson
You could call me an armchair decorator. No, I don't mean that I spend my spare time decorating armchairs; I mean I like little more than plopping into a big comfy chair, or propping up in bed, and reading about domestic bliss. I love funky and colorful home-décor books (Jonathan Adler's are among my favorites) and magazines (may Domino rest in peace; I'm still in mourning).
I used to take home care fairly seriously: puttering and organizing and traipsing from flea market to thrift store to home stores. Since I've become a busy newspaper woman though, I don't spend nearly as much time on my home, though, and tend to entertain in other venues.
It also means my home isn't as visitor-ready as I'd like it to be. I admit it: I have some really cool local art I haven't hung, yet; and a backlog of organizing projects—which I love more than you'd believe.
I used to spend my Sundays—my only day at home—exhausting myself, trying to read, organize, decorate, and tackle a long list of projects. And if I wasn't doing them, I was fretting about not doing them. I clearly needed a bit of home therapy.
Turns out, "Apartment Therapy" is one of my favorite home-porn websites. So Todd went looking for Maxwell Gillingham-Ryan's décor book for me for Christmas (I always get at least one new décor book; delicious). He found two, though, and bought them both to be sure he got the right one. The smaller paperback, "Apartment Therapy: The Eight-Step Home Cure" (Bantam Dell, 2006, $15) was just the shot of domestic Zen I needed. Call it a therapeutic kick in the butt.
It really is therapy. You have to start out answering questions about what you really want out of your home—Todd and I both did it—and he also asks you to consider your favorite actors, music, TV shows, clothing and more. Then you have to get honest about the problems with your home, including needed repairs and organization. And you must ask what your home would say back to you: "When will Nancy pay attention to me?" (Ours would say: "Why don't you spend more time with me?")
Done mindfully, this exercise was actually fun and enlightening. Once it's done, Gillingham-Ryan sends you on a gradual eight-week journey—which he promises will be good for the spirit—to get your home (a) cleaned up, (b) repaired and (c) meeting your needs.
Be ready: This isn't all about hanging pictures and buying flowers (although that's included, too, even for you dudes). Each week includes a "deep treatment," cleaning and de-cluttering. You start with a complete list of repairs and must get rid of at least one item. You get to focus on one room and take it slowly. By the eighth week, you will have purged all your clutter and be throwing a party.
I've always liked the chunk theory; you know, do a chunk at a time. Maybe a whole shelf is too much commitment; maybe just do a corner of it. Then another and another.
You can even take a whole year if eight weeks is too daunting and focus on one room of your home at a time. When one is completely finished, move to the next (while keeping the first one organized; this is key and difficult).
If you need longer than eight weeks, just read "One Year to An Organized Life" by Regina Leeds (Da Capo Press, 2008, $16.95). The best part of the book is its focus on "Zen organizing" (talking my language there).
Leeds focuses on "the creation of a calm, peace-filled and joyous environment"—rooms that feel restful and happy, and that's not just about lining items up at right angles.
Zen organizing is also about carving out time to enjoy getting your life in order—and I've found that I truly enjoy the times when I'm in that kind of domestic "flow" (a neuroscience word for being mindful). I just need to schedule more time for it: every month, perhaps?
For now, I'm determined to figure out how to use both books at once. Maybe I'll just go fret about it a little. Namaste.
Check back for more!
Support our reporting -- Become a JFP VIP.
The news business has changed dramatically in the past year, and we need your help more than ever to keep bringing you important stories about Jackson and the Metro. Become a JFP VIP with an annual membership or you can Sign up as a monthly supporter. Thanks for anything you can do to empower our journalism!