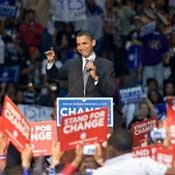 Shortly after Congress passed the Affordable Care Act—known as ACA to supporters and "Obamacare" to detractors—Mississippi Gov. Haley Barbour joined a multi-state lawsuit challenging its constitutionality.
"The legislation would prove disastrous for Mississippi's economy, its budget, and its taxpayers who would see their premiums and taxes increased as a result of it," Barbour said in a release, adding that the law was an "unprecedented expansion of federal power."
Since its passage in March 2010, President Barack Obama's health-care reform initiative—one of the centerpieces of his presidential campaign—has been the subject of intense debate and high dudgeon in and out of the halls of Congress. To date, no fewer than 31 lawsuits have challenged the act, and with a smattering of court rulings that variously bolster detractors and supporters, the act will undoubtedly go before the U.S. Supreme Court for its ultimate legal ruling.
Beyond the legalities, few can successfully argue that America spends too much and gets too little for its health-care dollars. Our per-capita costs and the percentage of our GDP spent on health care are the highest in the world. Our wellness markers—life expectancy, infant mortality, rates of and hospitalization for chronic disease and inequity of care—don't reflect the fact that we spend more than twice as much as the average industrialized nation. In 2010, the World Health Organization ranked our system 37th, behind most "rich" countries, and U.S. health care is steadily losing more ground, with the quality of our care not improving as rapidly as other nations.
If the nation isn't doing particularly well health-wise, Mississippi has the dubious honor of leading the states in poor health. If you live here, you've heard the statistics: more obesity, more heart disease and stroke, more Type 2 Diabetes, more low birth-weight babies, highest poverty rates, and on and on. Still, our governor insists improving health is not about increased availability.
"There's nobody in Mississippi who does not have access to health care," Barbour told The Boston Globe in April, insisting that the uninsured can get charitable care from hospitals and doctors whenever they need it, and the poor have Medicare. He added: "Most of the health disparities in Mississippi are not because of the inability to get access or afford health care. They are because of diet, alcohol, because of drugs, the very high incidence of illegitimacy that leads to high incidence of low-birth weight children."
Despite the governor's vociferous opposition to the Affordable Care Act, Mississippians who daily work in health-care fields—especially those who care for the poor, disabled, children and the elderly—are quietly working to take advantage of the benefits already available on the act's five-year time line.
Who Benefits from the Affordable Care Act?
The following benefits are already in place.
• 1.4 million Mississippians with private insurance are no longer subject to lifetime limits from their providers.
• 150,000 who buy their own insurance can no longer have their coverage rescinded due to a mistake on their application.
• An estimated 16,800 young adults this year can retain their insurance by staying on their parents' plan until they're 26.
• Insurance companies can no longer exclude 181,000 children due to pre-existing conditions.
Medicare Beneficiaries:
• Nearly all the 510,000 people on the plan in the state can now receive preventive care, like mammograms and colonoscopies, plus annual wellness visits without paying coinsurance or deductibles.
• 34,536 people who fell into the "donut hole" prescription coverage gap (for out-of-pocket expenses from $2,840 to $4,550) received $250 tax-free rebates. Seniors receive a 50 percent discount on covered prescriptions in the gap.
Employers:
• Twelve Mississippi employers, including the city of Jackson, have received a total of $12.4 million in reimbursements through the Early Retiree Reinsurance Program, which assists organizations help retirees and their families with insurance coverage.
SOURCE: http://www.HealthCare.gov
ACA Funds for Mississippi
To date, Mississippi has received more than $71 million in federal grants under the Affordable Care Act. Those grants include:
• $333,000 to support a Consumer Assistance Program to protect people from the worst insurance industry practices.
• $4.8 million to crack down on unreasonable insurance rate increases.
• $21 million to research, plan and establish an insurance exchange.
• $2.2 million to prevent illness and promote health. This amount includes community and clinical prevention; public health infrastructure support; and primary care training.
• $1.6 million for community health centers in medically underserved areas.
• $34,000 in Therapeutic Discovery Program Tax Credits and Grants to support research that shows "significant potential to produce new and cost-saving therapies."
• $1.4 million for Maternal, Infant and Early Childhood Home Visiting Programs for at-risk families.
• $2.1 million for school-based health centers.
• $37.1 million for Money Follows the Person demonstration programs that allow people in nursing homes and other institutions to live in the community and still get the services and support they need.
• $540,000 for the Personal Responsibility Education Program to educate young people on prevention of pregnancy and sexually transmitted disease.
• $95,700 for Family-to-Family Health Information Centers for families with special-needs children.
SOURCES: http://www.HealthCare.gov, U.S. Department of Health and Human Services
What's Next?
Provisions of the ACA are scheduled through 2015. Here are some of the most important milestones:
2012
• The Value-Based Purchasing program will offer financial incentives for hospitals to improve their quality of care and will require hospitals to publicly report their results.
• Through Accountable Care Organizations, physicians will be better able to coordinate and improve patient care.
• Beginning in October 2012, the law will institute systematic changes from paper-based medical records to electronic records, reducing costs, paperwork and medical errors, and improving care.
• The law will fight racial and ethnic health disparities by capturing data to help identify and reduce those inequities.
• The law will provide new voluntary options for long-term care insurance for those who become disabled.
2013
• New federal funding to state Medicare programs that choose to offer preventive services at little to no cost.
• Bundling of payments to providers to encourage doctors, hospitals and others to improve coordination and quality of care.
• Increased Medicaid payments to primary care doctors.
• Additional funding for the Children's Health Insurance Program.
2014
• New consumer protections, including: prohibiting discrimination due to pre-existing conditions or gender; eliminating annual limits; coverage for those participating in clinical trials.
• Improving quality and lowering costs by: providing tax credits making insurance more affordable; establishing insurance exchanges; increasing small business tax credits.
• Increasing access to affordable care by: increasing Medicaid access for those who earn 133 percent of the federal poverty level or less; requiring that most individuals who can afford insurance purchase it or pay a fee; ensuring choice of plans through exchanges.
2015
• Paying physicians based on value, not volume.
SOURCE: http://www.HealthCare.gov
More stories by this author