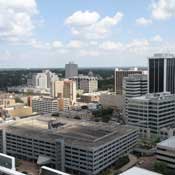 The Downtown Business Improvement District may expand up to the second block of the Farish Street Entertainment District, which includes Peaches Restaurant and the Alamo Theater.
Representatives from Downtown Jackson Partners, which represents the district, will discuss the expansion plans
in a meeting Thursday, giving property owners in the district an opportunity to participate.
The district consists of 66 square blocks, and includes 135 businesses and properties, said John Gomez, DJP associate director.
In 1996, the Mississippi Legislature passed a bill that created business improvement districts and allowed cities to levy an assessment on all taxable property in those districts.
The law allows for the city of Jackson to collect 10 cents on each square foot of buildings and on "unimproved" real estate on properties located within the district.
The Hinds County Tax Collector's office collects the BID fees along with the owner's property taxes. The city of Jackson then distributes those funds to Downtown Jackson Partners. In September 2010, Jackson City Council members renewed the district for the current fiscal year, with $1,028,613 of generated BID fees slated to go to Downtown Jackson Partners. In return, DJP provides security, landscaping, marketing and event services, and economic development assistance to the property owners.
Downtown Jackson Partners also recruits additional businesses and real estate development projects for the city.
City spokesman Chris Mims said the funds collected from property owners for the BID do not qualify as public funds. DJP charges the businesses for the services, and the city collects and distributes those funds.
"All of the businesses pay into this," Mims said. "This is not taxpayer dollars; this is their money. It just funnels through us."
In August, owners will vote on reauthorizing the district through mail-out ballots. A 70 percent majority vote is required for BID reauthorization and expansion.
"On Thursday, we will present a plan on what properties will be included within the Business Improvement District and its boundaries, what the rate assessment will be, how we are funded, and what programs we are going to put the money toward," Gomez said.
"Then that will be submitted to the City Council, and the City Council will set an election."
Gomez added that it is important that downtown property owners attend the meeting.
"This helps shape a plan for the next five years for the Business Improvement District, so we want to hear input from property owners," Gomez said.
Downtown Jackson Partners' BID property owner planning meeting is 5:30 p.m. Thursday, May 26, at the Mississippi Museum of Art (380 S. Lamar St.)
State Hiring Disaster Workers
The Mississippi Department of Employment Security is hiring more than 500 temporary workers to help communities recovering from tornados.
Workers can earn $7.25 per hour to $25 per hour for approximately six months' work clearing debris, aiding social workers, rebuilding homes and businesses, and providing humanitarian aid.
Funds for the jobs come from a $7 million national-emergency grant through the U.S. Department of Labor.
The state will give job priority to storm victims.
For information on applying, visit http://www.mdes.ms.gov.
Market in Fondren Moving
The Market in Fondren is on hiatus for a few weeks in preparation for moving to the green space at the corner of Old Canton Road and Duling Avenue on June 17.
The market features handicrafts, prepared foods and artwork from local vendors. The market will be open in its new space from 9 a.m. to 1 p.m. every Saturday from June 17 through November.
Have a new business or moving to a new location? Send business updates to [e-mail missing].
Downtown Jackson Partners' 66-block Business Improvement District is up for reauthorization.
Jerrick Smith
More like this story
More stories by this author