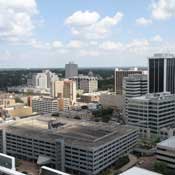 Downtown Jackson Partners will move forward on a plan to increase the downtown Jackson's 66-block business improvement district.
Stories this photo appears in:
CORRECTION: We described circa, a store in Fondren, incorrectly. We should have said it is a lifestyle store.
With little dissent, downtown Jackson property owners approved a plan last night that would expand the Downtown Jackson Partners' Business Improvement District and maintain assessment rates at 10 cents per ...
Business
The Downtown Business Improvement District may expand up to the second block of the Farish Street Entertainment District, which includes Peaches Restaurant and the Alamo Theater.