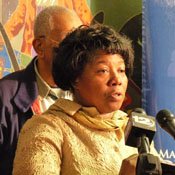 Brenda Carter-Evans said an inconclusive state autopsy on her son, Frederick Jermaine Carter, raised sufficient doubt about his death to require the involvement of federal law enforcement. Speaking at Mississippi NAACP offices, the dead man's family and NAACP representatives called today for a federal investigation into the Greenwood man's hanging death Dec. 2.
"Not knowing what happened is a torment," Carter-Evans said. "I need to know what happened to my son."
The NAACP originally contested Leflore County Sheriff Ricky Banks' assessment that Carter hung himself, which Banks shared with media no more than a day after two workers found Carter's body on Dec. 3. The State Medical Examiner's office performed an autopsy Dec. 5 and shared results with Leflore County Coroner Debra Sanders, who also ruled Carter's death a suicide.
Mississippi NAACP President Derrick Johnson said today, however, that his organization "has lost all confidence in the ability of local law enforcement to investigate (Carter's) case" and called for a "credible investigation" by the U.S. Department of Justice. Johnson pointed to State Medical Examiner Adel Shaker's report from Carter's autopsy, which Shaker did not sign and release until March 21. Shaker ruled that Carter died by hanging but declined to stipulate the manner of his death, citing "[p]ending investigation."
Valerie Hicks-Powe, attorney for Carter's family, said that the family believed there was "insufficient evidence" to rule out the possibility that Carter was the victim of a hate crime, just as there was insufficient evidence for Banks to initially declare Carter's death a suicide.
State Sen. David Jordan, D-Greenwood, went further, alleging that local law enforcement engaged in a "cover-up" by not securing the scene of Carter's death ,allowing contamination of evidence.
Two workers found 26-year-old Frederick Jermaine Carter's body Dec. 3 hanging from a tree limb in predominantly white north Greenwood. Carter, who was African American, worked with his stepfather on a painting job in the area the previous day. He wandered off the site after his stepfather left to pick up more supplies.
Greenwood police responded to the scene first and contacted the FBI. Because Carter's body was found outside Greenwood's city limits, the Leflore County Sheriff's Department took over the investigation.
The sheriff told the Jackson Free Press today that the FBI assisted sheriff's deputies in their investigation of Carter's death, but the federal agency has not launched its own investigation.
Banks also said that he still believes Carter's death was a suicide, based on his department's investigation that found no evidence of foul play. Sheriff's deputies found a portion of the hanging rope in Carter's pocket. In addition, the only DNA found on the rope was Carter's. Deputies found no footprints other than Carter's around the scene of the hanging. Carter suffered from schizophrenia, and family members said he had attempted suicide on two prior occasions, Banks said.
Hicks-Powe contended that Banks was unaware of Carter's mental history when he first described the hanging as a suicide.
"We don't deny Mr. Carter had mental challenges," Hicks-Powe said. "What we're saying is they didn't investigate this to determine whether those had anything to do with his death."
Previous Comments
ID

162948

Comment

"Banks also said that he still believes Carter's death was a suicide, based on his department's investigation that found no evidence of foul play. Sheriff's deputies found a portion of the hanging rope in Carter's pocket. In addition, the only DNA found on the rope was Carter's. Deputies found no footprints other than Carter's around the scene of the hanging. Carter suffered from schizophrenia, and family members said he had attempted suicide on two prior occasions, Banks said." And they still want an investigation?

Author

bill_jackson

Date

2011-03-31T15:51:36-06:00
ID

162955

Comment

I hate to be black and question the NAACP because Lord knows you just don't do that. But, I simply don't understand from this article what indication is given that this was NOT a suicide. Because the dude was black in a white neighborhood? How about this: if there is reason to believe that this was NOT a suicide, those reasons be presented in the article just as the reasons why it was ruled a suicide were. How the hell did the dude get in the tree? Was there time to set up a tree hanging, get in the tree and then attach the rope to hang himself? These are things that should be considered before making a plea for an investigation, IMO. To NOT print these reasons (or to not have these reasons) makes it look like a (to those who are quick to think this way) black folk reaching for a hate crime. Now, I'm not saying it wasn't. It very well could have been. But if this is going to be the claim please folks, have more evidence to proove this claim than they have to disprove it.

Author

Queen601

Date

2011-04-01T07:54:38-06:00
ID

162988

Comment

Makes sense to me; thanks Tom. I can certainly feel the pain of the mother who just simply needs to know.

Author

Queen601

Date

2011-04-04T14:13:19-06:00
ID

162990

Comment

Frankly, I wouldn't be against the idea of having federal investigators come down here every time there's a black man hanging from a tree in Mississippi, just because of what that has historically meant. But in this case, it's the behavior of the law enforcement agency in question that's generating suspicion, and rightly so. Probably just cluelessness on the part of the county sheriff's department, but let's clear the air. Right on, Tom. Makes sense to me; thanks Tom. I can certainly feel the pain of the mother who just simply needs to know. Agreed, Queen. I'll never forget the pain Thomas Moore shared because no official in our state cared enough about who killed this brother, Charles, to do anything about it (until recently), and how he talked about how his mother went to her grave without resolution. We owe families to make sure, especially with our history.

Author

DonnaLadd

Date

2011-04-04T14:22:50-06:00
ID

162992

Comment

Chills ran through me reading that Donna. My goodness, what a horrible feeling that must be. I'll be thinking of her and praying for her comfort....and that they get to the bottom of it.

Author

Queen601

Date

2011-04-04T15:27:21-06:00
ID

162993

Comment

Thanks, Queen. They have had justice now: James Ford Seale is in prison, and his living accomplice turned on him and apologized to the families two years ago. But, still, it illustrates why it's just as important to *not* assume that hangings of black men are suicide as it is to *not* assume that they are lynchings. We must know for sure. There is no room for doubt.

Author

DonnaLadd

Date

2011-04-04T15:41:28-06:00
More stories by this author