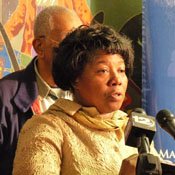 Brenda Carter-Evans wants a federal investigation into the Dec. 2 hanging death of her son.
Stories this photo appears in:
Brenda Carter-Evans said an inconclusive state autopsy on her son, Frederick Jermaine Carter, raised sufficient doubt about his death to require the involvement of federal law enforcement. Speaking at Mississippi ...