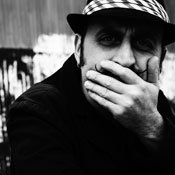 In 2006, National Public Radio's Robin Hilton named David Dondero one of the best living songwriters ever. He shared that distinction with the likes of Bob Dylan, Paul McCartney and Aimee Mann. And Franz Nicolay, who composes music and plays everything from keys to the accordion, will be spending lots of time with him.
The two consummate musicians are going on tour. From their home base in Brooklyn, N.Y., south to Philadelphia, Pa., and all the way over to the West Coast (including SXSW dates) before heading back to perform at the Cake Shop in their native New York City, the duo will travel seven weeks straight, sharing their music with their fans.
Why should you care? Because, by God, you should care. They're stopping in Jackson at Ole Tavern March 11.
"This guy is barely a blip on maps to even the remotest of musical landscapes," Hilton says about Dondero. "But I keep pushing him and hoping he'll be recognized for the brilliant artist he is."
Singer-songwriter Conor Oberst credits Dondero for his sound, and Hilton likes him for the unique narratives he weaves together.
The perfect example is the first single, "Not Everybody Loves Your Doggie Like You," from his Feb. 22 release "Pre-Existing Condition." "Not Everybody" starts off with a kitschy string-instrument ditty before Dondero sings: "Not everybody loves your doggie like you do / it's annoying when you're saying 'hey, look how cute'/ I don't think that the dog is as smart as you think / I think that the dog is smarter than you / it's true."
The quirk has worked for him. Dondero, who played with the hard-rock band Sunbrain before they disbanded in 1995, has 10 albums under his belt, spanning his 30-plus-year career.
Nicolay, who has his own brand of quirk, is most widely known for his work with The Hold Steady and founding Anti-Social Music--a collective of composers and performers--but the musician has also done solo work. In early 2009, he released his first solo project, "Major General," followed by a fall 2009 EP release that included "The Ballad of Hollis Wads-worth Jr.," about a Watchmen comic-book character.
In anticipation of the show, Ole Tavern's Facebook friends are abuzz. One Dondero fan said he knew nothing of the musician but saw him perform live once, and he "knocked my frickin' sox off."
See David Dondero and Franz Nicolay with The Overnight Lows March 11 at Ole Tavern on George Street (416 George St., 601-960-2700). The show starts at 10:30 p.m.
More stories by this author
Support our reporting -- Follow the MFP.