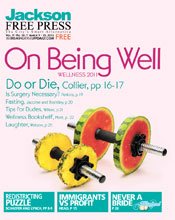 Vicki Mason is starting this morning, as she and most health-cognizant people do, with breakfast.
"This morning, I'm in the mood for squash," she says.
Squash? Yes, squash.
"So I'll have roasted butternut squash and eggs. ... I don't do meat at all for breakfast."
Eggs, of course, have protein. And a serving of squash has about 80 calories—two of which come from fat—and is a good source of vitamin E, A, C, potassium and magnesium. Who knew?
Mason did. She says half the battle on the road to a healthy lifestyle is acquiring knowledge by using the resources that are widely available to all of us. She's serious about that, too. Two of Mason's dearest friends passed away within six months of each other about two years ago. They both had heart attacks. She was 35; they were, at the time, 34 and 36. She decided she had to do something.
"You remember? Back in the day, it was old folks that had heart attacks and strokes. Not your friends, not your mom's friends. It was your grandparents and their friends," she says.
But it was her friends who passed away, and she took on a personal challenge: Help other people not go through what she'd suffered with the loss of her friends. "To help me heal from their deaths, I need to help other people. I can't have their deaths be in vain."
Where Mason has decided to do this work is ironic and fitting. She lives in Arcola in the Mississippi Delta. Statistics about health—including infant-mortality rates, access to medical supplies, instances of diabetes and hypertension—are depressing for Mississippi in and of themselves. The Mississippi Delta's statistics are even more frightening. The Delta had approximately 18,000 excess deaths (infants and adults) in 2004, wrote Arthur G. Cosby and Diana M. Bowser in the Journal of Health and Human Services Administration in 2008. Those are deaths that otherwise would not have occurred had the area been on par with the mortality rate in the rest of the country, including other parts of Mississippi.
So about a year ago, Mason, now 37, started a fitness company called Well and Aware. She started off small, doing workshops at day cares and community centers.
By the time the Mississippi Delta Health Collaborative awarded her a grant, she took her workshops and seminars to the public at large, from Greenville to Indianola and Hollandale, teaching Deltans how to improve their lives.
Most people need some education, but Mason says it's important for her to focus a lot of her attention on young people.
"Kids influence our food choices. Some people are resistant," she says. But if children develop a taste bud for eating berries, Mason believes, they will see making healthy eating choices as natural instead of something forced on them.
Steps Toward Change
Healthy living incorporates two main parts: The first is preventive, and the other is restorative.
In the summer of 2010, Dr. Aaron Shirley, founder and director of the Jackson Medical Mall and a Mississippi medical pioneer, spent time doing hands-on research about what he could do to improve the lives of Delta citizens. Shirley went to a place that may seem unlikely: Iran.
Up until the 1980s, Iran and the Delta looked a lot alike in their impoverished states. Things in Iran got better; things in Mississippi didn't. Health-care professionals in Iran developed community person-run health houses. The individuals running the houses are not medical professionals, but rather community health workers—trained personnel who conduct home visits, screenings and health risk assessments, among other things.
The Medical Mall is collaborating with Jackson State University, Iran's Shiraz University of Medical Sciences and the Oxford International Development Group. Dr. Shirley, who has done work in the Delta for nearly four decades, plans to institute a Health House Network Structure in the area.
The structure includes three levels: Level 1 is the health houses; level 2 uses primary-care clinics or existing medical practices run by physicians and nurse practitioners; and level 3, a community hospital.
If the model works in the rural areas of the Delta, Shirley may transfer it to Jackson's urban setting.
"Why not try this?" Shirley asked the Associated Press June of 2010 when they talked to him about going all the way to Iran to find a program to model.
As citizens look to improve their health, they can do many things on their own, of course. Like, perhaps, attending one of Vicki Mason's boot camps ... or maybe start something not quite as intense.
"The first step toward change," Mason says, "is to start. Make a plan. Make a small goal. Say, 'I'm going to go for a three-minute walk at lunch; I'm going to skip my breakfast meat, and see how it goes. I'm going to cut my juice with a little water.
"Don't sign up for a marathon. Don't get in over your head. I'm not talking about a gym membership or a major commitment that you might beat yourself up about down the road," she says.
Then Mason adds even a little more cushion: "Accept that failure is a part of the process. You learn through your mistakes."
The fitness guru, who has a degree in chemistry and worked for a couple years after graduating as a chemist, says: "I have a couple patents. Three of those are based on a mistake. Falling on your face may turn out to be a blessing."
Food as Energy
But an occasional failure is not an excuse for never trying. In fact, March is an ideal month to incorporate small lifestyle changes. The American Heart Association has deemed it Nutrition Month. Keys to a heart-healthy life, which make for a healthier life in general, are exercising, getting an appropriate amount of rest, reducing stress and eating nutrient-saturated, not nutrient-deficient food.
The healthiest food is unprocessed food, and removing processed foods from your diet is probably one of the most difficult things for many people. Despite the difficulty in giving up or significantly reducing the amount of processed foods one eats, it's a significant step in positively affecting health.
"It's not made with our health in mind. It's just a quick fix with serious long-term affects on our health" Masons says of fiber- and vitamin-deficient processed foods. "Food is an energy source. Processed foods have a long shelf life; they're concentrated in calories, and they zap your energy."
To find the healthiest foods while shopping your local grocery store, stay clear of the center aisles. Almost all the fresh foods—from fruits and vegetables to meats and cheeses—are found on the store's perimeter.
Beyond making the decision to eat fresh, unprocessed foods, the next, equally important step to making a change is to get support from people and other resources.
Nurturing families and communities are important, and a lot of celebrations revolve around food. Instead of bringing in buckets of fried chicken and over-processed sides, as is typical among southerners, Mason suggests starting the celebration off by cooking together and making a connection over homemade food. The American Heart Association even has a cookbook chock full of heart-healthy recipes, many of which you can find on its website (http://www.heart.org).
It's a Process
As you take steps toward a healthier lifestyle, a boost in confidence is inevitable. If you have a willingness to make a change, Mason says, you'll get it done.
"It's so important to keep a track record (of your progress). When you start to see the changes, feel more energized, see the scale, you're not going to want to go back," she says. But again, she warns those who may fall off the proverbial bandwagon that all is not lost after a health relapse.
"If you've been out of shape for two years, it will take 12 weeks to get your body back. The body has a memory. That's what's amazing about our bodies," she says.
Making the decision to change be more healthy doesn't have to be a scary one. It's a process that takes a little effort and will, ultimately, yield big results. And starting now, without being prompted by a physician or health-care professional, will make a great difference for most people. Create your own sense of urgency.
"It's food that got us into this situation, and it's going to be food that's going to get us out of the situation," Mason says. "It's not a pill that's a remedy. That's just to get you through the pain. What's going to heal you is healthy and trying to be active. Whatever your level is right now, start there. We cannot afford to continue doing what we've been doing. ... We've got to get back into the kitchen, raise our awareness and use our resources, libraries and smart phones."
Do or die time is literally in our face.
Contact Vicki Mason at [e-mail missing]. And to learn more about the Mississippi Health House Network, visit http://www.hchaweb.com. And for more stories on improving your health, read up at the JFP BodySoul blog.
Check Your Heart Health
Use the American Health Association's health assessment tool, My Life Check (http://www.mylifecheck.heart.org). It only takes a few minutes to complete the online questionnaire. When you're done, you'll not only know how healthy (or unhealthy) your heart is, but what you need to do to get the old ticker in tip-top condition. You can also find other useful sources at heart.org/nutrition.
Cook Up a Storm
"The New American Heart Association Cookbook, 8th Edition" (Clarkson Potter/Publishers, 2010, $35) offers a cornucopia of tasty, heart-healthy recipes. Try the artichoke-tomato pizza or chocolate crème brûlée. And while you may not choose to eat it for breakfast, there's probably a recipe or two that offers creative ways to fancy up butternut squash. You'll also get information on grocery shopping strategies, healthy cooking methods and much more.
Try one recipe or test them all. One thing is for sure: Your heart will be healthier and waistline smaller for it.
Do You Know Healthy?
Take this five-question fitness quiz to find out what you know and where you need to learn more.
1. What nutritional breakdown is best for fat loss?
a. low carbs, high protein and moderate fat
b. low fat, high carbs and moderate protein
c. moderate protein, moderate fat and moderate carbs
d. no carbs, low fat and high protein
2. Which exercise or activity is best for fat loss?
a. walking
b. aerobics/cardio
c. pilates
d. strength training
3. What type of workout should you do if your goal is muscle toning?
a. pilates
b. yoga
c. aerobics/cardio
d. strength training
4. Which foods should you avoid when trying to lose weight?
a. high fat foods
b. carbs
c. proteins
d. sugars
5. You shouldn't eat after 7 p.m.
a. true
b. false
Answers:
1. C—The best approach to any diet is a balance between carbs, proteins and fats; this offers stable energy levels and greater health benefits;
2. D—strength training uses more calories and causes a larger metabolism increase, depletes muscle glycogen, and helps build and maintain muscle tissue—the key to a fast metabolism—more than just cardio exercise alone;
3. D—to see a noticeable difference in muscle strength, tone and definition, do progressive resistance training; pilates and yoga are wonderful additions to a strength-training regimen but do not replace one;
4. D—the sugars in soda, juice and desserts cause a spike in blood sugar levels, which results in your body's storing excess fat;
5. False—the body burns fuel 24 hours per day, but it's wisest to give it the right types of food in healthy portion sizes to ensure it doesn't stick to you. Eat at least two to three hours before going to bed to give your body time to digest the food, and when you get the midnight munchies, opt for foods with proteins and healthy fats as opposed to carbs, which take the body longer to process.
More stories by this author
Support our reporting -- Follow the MFP.