All across the state, grandmamas are rolling over in their graves at the gross perversion: Kinfolks are cooking heart-healthy Southern food. Traditionally loaded with salt, fat, sugar and pork products galore, Dixie victuals are gettin' lean and mean with some creative cooking. No movie has been made about grilled green tomatoes, but they do make for a happy belly.
Jackson doctors have been known to prescribe their heart patients the lunch buffet at Two Sisters' Kitchen, (707 N. Congress St., 353-1180) Diann Alford's downtown Southern eatery. Alford cooks up a wholesome Southern buffet with signature items such as skinless fried chicken (cooked in veggie oil), chicken and dumplings made with defatted chicken stock and low-fat buttermilk (recipe below) and her award-winning bread pudding prepared with skim milk. Alford does offer your choice of Jack Daniels or chocolate sauce with that "if you want to be bad. That way I can have a clear conscience and everybody's happy."
Although a hog killin' may be good, down-home fellowship for all, porcine products are not (cover your eyes, grandma) de rigueur for lip-smacking Southern dishes. "When I first opened, I didn't put any meat in the greens, but I got lots of complaints," Alford says. "People wanted that ham hock in their greens. I compromised and started using smoked turkey necks, and I haven't had any further complaints." Colorfully seasoned ground chicken or turkey also succeed as scrumptious substitutes. If you must have a little pig in your greens, peas or cabbage, try Canadian bacon, which imparts a hint of smoke and salt without all the fat.
Alabama native Wiley Mullins, a formerly overweight African-American entrepreneur, founded Uncle Wiley's Specialty Foods in 1992. Wiley's boasts an entire line of healthy Southern seasoning and spice blends formulated to help people cut back on fat and cholesterol without sacrificing taste. Mullins eschews flavoring with meat products in favor of his seasonings, which draw out and enhance the natural flavors of the produce. Mullins' desire is to inform people that basic Southern foods such as sweet potatoes and leafy greens are loaded with nutrients, but fat back, marshmallows and butter should be eliminated in their preparation. Uncle Wiley products include potato salad sprinkle, smoked turkey greens seasoning, sweet potato and yam spice, greens seasoning and many more that make you think you're eating right off Grandma's table.
Tahira'h Abubakr, chef of High Noon Café (2807 Old Canton Road, 366-1513) at Rainbow Coop, calls her style of vegetarian cookery "cooking with vibration," which she explains is a deep, spiritual instinct for knowing what ingredients work well together. Tahira'h, an African American from Pocahontas, grew up eating fat and cholesterol-laden Southern food. "I hated vegetables growing up, but I didn't know why. Turns out, I just didn't like overcooked vegetables." Abubakr decided to make health and diet a priority when she witnessed her family members suffering from hypertension, diabetes and other health concerns. "People need to understand, we really are what we eat," Abubakr says. She has replaced meat products with healthier soy protein options, often cooking with textured vegetable protein. She even uses bacon bits (made from soy) when cooking Southern-style vegetables and replaces whole milk or cream with soy milk. Tahira'h's great-grandmother was a herbalist, so it is only natural she employs many fresh herbs in her delicious concoctions.
Grant Nooe's expertly seasoned, tender fresh greens certainly are not your typical, mushy overcooked variety. If you're out at the reservoir, Nooe's new Southern restaurant, Fresh Market Café (1877 Spillway Road, Brandon, 919-8636), has all your favorite traditionally prepared Southern comfort foods, but he also offers some health-conscious choices. Baked chicken and catfish, broccoli, cabbage and many other astonishingly fresh and delicious vegetables are available.
If you're ready to prepare nutritious Southern cuisine at home, try these recipes and tips:
Tips for Healthy Southern Cooking
• Broil, roast or bake on a rack, or use a grill pan so that fat drips off away from food.
• Cook with broth, wine or juice rather than oil or butter (onions sautéed in red wine are rich and sweet … excellent!).
• Cook stocks, broths and soups ahead of time, then refrigerate and skim the fat off the top before serving.
• Replace heavy cream with evaporated skimmed milk.
• Use Splenda when a hint of sweetness is required (as in cooking greens).
• Use light cream cheese, sour cream and mayonnaise in any recipe. Creamed spinach made with light cream cheese is surprisingly flavorsome.
• Never use fat-free cream cheese, sour cream or mayonnaise. They are chalky- tasting abominations.
• Use 2% milk sharp cheddar cheese or Velveeta Light. Seriously. Make macaroni and cheese with whole wheat pasta and Velveeta light. I didn't believe it at first, either.
• 98% fat-free cream of mushroom soup performs brilliantly in all casseroles.
• Low fat buttermilk has the texture of heavy cream with a perky, piquant aftertaste. Use it in mashed potatoes rather than butter and milk, or make exceptionally creamy, buttermilk grits.
• Jazz things up with Tahira'h's favorite seasoning, "Spike," available at Rainbow Cooperative.
• Try Uncle Wiley's healthy Southern seasoning and spice blends, available at Kroger, Winn-Dixie or at his very informative Web site http://www.unclewileys.com
• Avoid overcooking vegetables to prevent leaching of vitamins and minerals.
• Buy fresh produce at the farmer's market, get creative with your veggies and have lots of fun cooking Dixieland delights bursting with health.
Two Sisters' Chicken & Dumplings
For the broth:
1 Hen
Salt, to taste
2 t. Black Pepper
1 Bay Leaf
Boil one hen in lightly salted water with 2 scant teaspoons black pepper and 1 bay leaf. Skin and de-bone chicken, and reserve broth. Refrigerate broth until fat hardens. Lift off the fat. Bring de-fatted broth to rolling boil.
For the dumplings:
1 C. Self-rising Flour
1/4 C. Margarine, melted
1/2 C. Buttermilk
Black pepper, pinch
Stir pepper into flour. Add buttermilk in the middle, then melted margarine. Stir just until moistened. Cover with light coat of flour and let sit. Flour hands and pinch off and drop into boiling broth. Return deboned chicken to dumpling/ broth. Simmer 2-3 minutes. Serve.
Tahira'h's Gourmet Mushroom Nut Loaf with Brown Gravy
Yield: 4 – 6 servings
3 large Portobello mushrooms, chopped
10 oz. White mushrooms, chopped
1/2C. Sunflower Seeds
1/2 C. Walnuts
1/4 C. Wheat Germ
1/4 C. Chopped Parsley
1/2 C. Chopped Celery
2 C. Whole Wheat Bread Crumbs
1 C. Cooked Brown Rice (short or medium grain)
1/4 t. Thyme
1/4 t. marjoram
2 Cloves Garlic
1 C. Broth
4 T. Tamari Sauce
1 Medium Yellow Onion, chopped
2 T. Cooking Oil
Sauté onion, garlic, parsley and celery together until translucent. Add mushrooms, and cook for 5 minutes or until tender. Remove from heat, and cool. Place vegetable mixture in food processor and pulse. Add seasonings, breadcrumbs, sunflower seeds, walnuts, wheat germ, rice, tamari sauce and broth and process. When mixture is thoroughly combined, form into a loaf and bake in oven at 375 for 55 minutes. Serve with baked or mashed potatoes, veggies or salad. It's a wonderful addition to holiday meals.
Vegetarian Brown Gravy
1 T. Unsalted Butter
2 T. Each Celery, Carrot, Yellow Onion, finely chopped
2 T. Unbleached Flour
1-1/2 C. Vegetable Broth or Stock
2 t. Tomato Paste
1/4 t. Dried Thyme, crumbled
1 Small Bay Leaf
1/4 t. Salt
1/8 t. Black Pepper
In a medium saucepan, melt the butter over moderate heat. Add carrot, celery, onion and cook, stirring occasionally, for 5 minutes or until golden. Lower the heat, then add the flour, and cook, stirring for 3 minutes or until golden and bubbling. Stir in stock, tomato paste, thyme and bay leaf, and bring to a boil. Stir until smooth and thickened. Lower heat, and simmer for about 10 more minutes. Stir in salt and pepper, and remove the bay leaf. Makes about 1-1/2 cups.
More like this story
More stories by this author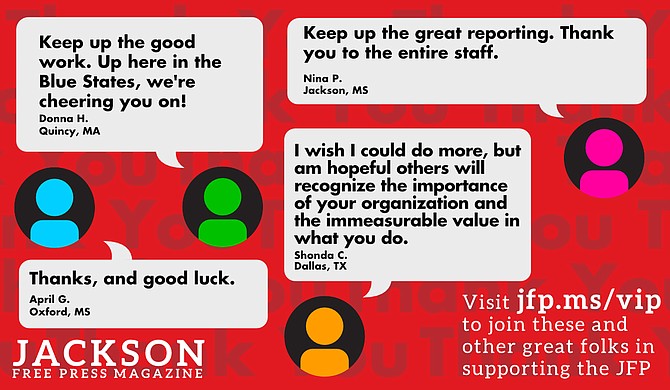 Thanks to all our new JFP VIPs!
COVID-19 has closed down the main sources of the JFP's revenue -- concerts, festivals, fundraisers, restaurants and bars. If everyone reading this article gives $5 or more, we should be able to continue publishing through the crisis. Please pay what you can to keep us reporting and publishing.