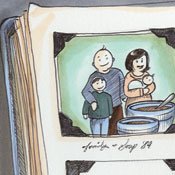 My grandma, may she rest in peace, made the greatest chicken soup I've ever had. Most of the Jewish people I know believe their grandmother's soup is the best, and I believe them. To argue over whose soup is better is an impossible battle because Jewish chicken soup, like all soul food, is not just food. It's everything that makes life come together; it's the stories I was told while eating the soup, the love I felt when my grandmother made the soup specifically for my nourishment. It's the taste of countries far away that hold pieces of my history; it's the immigrant mentality (add a meat bone for flavor, save the chicken fat for another meal) and the words ingrained in Yiddish in the kitchen.
My mother's soup is different from my grandmother's. My grandmother's broth was clear; I could see the bottom of her china bowls when I ate her soup. My grandmother used meat bones and dill for flavor and always long thin noodles. My mother's broth is thick with yellow color, and swirls of orange and white vegetables appear and disappear with each stir of the spoon.
My chicken soup is an attempt to incorporate my mother's written recipe with the memories of my grandmother's soup. When I begin to chop onions and stir in the dill, I relive Saturday afternoons in Brooklyn, sitting in my grandmother's kitchen with the pigeons cooing on her windowsill. Chicken soup brings my grandmother back in the kitchen with me. 
The South is known for its soul food. And in the land of fried chicken, collard greens and grits, I hold strong to my heritage's soul food. Last month, the Beth Israel Sisterhood held its 42nd annual bazaar. Jackson, a place far away from my family and culture, was offering to bring pieces of my tradition to the South. Among the dishes were familiar names I grew up with such as blintz (a thin pancake stuffed with cheeses); kugel (a sweet noodle casserole); knishes (fried dough stuffed with potato or kasha); tzimmes (cooked vegetables or fruits often simmered with meat); and of course chicken soup with matzo balls.
Everyone at my table had an opinion of the food: "The brisket is so tender"; "I never thought to make tzimmes with cherries"; "My mother makes a better matzo ball"; "My grandmother loved stuffed cabbage." Most of the people at the bazaar were not Jewish, and everyone wanted the chance to share their own narratives with the food we were enjoying.
Watching people outside my culture enjoy foods I grew up eating made me want to share my stories. It made me want to talk about my grandmother Claira and her kitchen so small only one person could stand between the oven and the sink. It made me want to talk about my mother and how if she heard me developing a cough, her next action would be to take out her sturdy metal pot and begin the process of chopping onions, parsnips, carrots and celery. And it made me want to share the recipe that I use on my stove in Jackson where I carry on this tradition of nourishing the ones I love.
Jewish Chicken Soup
4 pounds of skinless boneless chicken breasts (some use one whole chicken, but I prefer chicken breasts)
2 medium yellow onions, cut into quarters
4-6 carrots, peeled and sliced
2 parsnips, peeled and sliced
3 sticks celery, sliced
1 bunch fresh dill, chopped
1 bag of lentils
3 bouillon cubes
salt and pepper to taste
Place the chicken breasts into a large pot. (If using a whole chicken, place chicken in pot with the breast side down.) Fill with enough cold water to cover the chicken, leave enough room at the top for the soup to boil. Bring to a boil, watching carefully to not let soup boil over. Chicken fat will begin to emerge; skim fat out of broth.
After about 20 minutes or until most fat has been skimmed out, add the onion, carrot, parsnip, celery, garlic, bouillon cups and dill. Cook partially covered over medium heat for 2 hours.
(If using a whole chicken: After an hour, remove the bones and skin, and cut chicken into pieces. Return to the soup, or leave soup as a broth, and reserve the chicken for other uses.)
After removing chicken, pour in lentils. Cook for about an hour or longer (the longer the soup cooks, the greater the taste.)
More stories by this author
Support our reporting -- Follow the MFP.