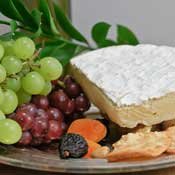 The effort involved in planning a cocktail party is can be daunting. For a small, intimate—and even middle-of-the week—cocktail party for friends and family, consider a simple but impressive wine and cheese gathering.
To cut costs, ask your guests to bring a bottle of their favorite vintage. Perhaps they have a favorite winery or a region.
For the cheese selection, choose carefully from these four different cheese categories: aged, soft, firm and blue.
• A lovely aged cheese is a goat Gouda or Comte.
• Good soft cheeses would be a Camembert, brie or a soft goat.
• Firm cheeses like small squares of Asiago or a small wheel of Manchego topped with honey and toasted walnuts are always popular at wine tastings.
• Finally, a hearty blue cheese, like Valdeon, rounds out the taste spectrum.
Provide an assortment of crackers, bread sticks and baskets of warm, sliced bread. Take care to label each cheese carefully. Including healthy sweets such as dates stuffed with toasted almonds, and savories like nuts and olives are nice additions. Everyone gets a choice.
A more elaborate party requires a little more forethought and planning. Luckily, you can make a lot of cocktail treats ahead of time so that you can enjoy the party as much as the guests. When planning the menu, consider a variety of choices.
The first consideration is, of course, the cocktails. Beyond stocking the favorite wines, beers and liquors your group favors, add a featured drink. Mixing and chilling the drink in advance is a brilliant time-saver. When time comes to serve it, shake the drink over ice and serve into glasses that you have chilled ahead of time.
The appetizer menu is another consideration. It is always good to include cheese-based treats, a few containing seafood or meat, and a vegetarian option or two.
Include a platter of raw vegetable crudités along with a vegetarian dip such as hummus or baba ghanouj (an eggplant puree) as a healthy choice.
Here are a few of my family's favorite recipes. They are easy, beautiful and each packs a tasty bite.
Olive Cheese Puffs
2 cups grated cheddar cheese
1/2 cup softened margarine
1 cup flour
1/2 teaspoon salt (this can be halved if olives are especially salty)
1 teaspoon paprika
48 pimento-stuffed green olives, drained
Blend cheese with margarine and stir in flour, salt and paprika. Mix well.
Pat olives dry with paper towel. Wrap about a teaspoon of mixture around each olive and roll into a ball. Arrange on a cookie sheet and freeze until firm, or about an hour or two.
Take straight from the freezer and bake at 400 degrees for 15 minutes.
Cajun Shrimp
3 quarts water
1 large lemon, sliced
4 pounds large fresh shrimp, unpeeled
For marinade, combine:
2 cups vegetable oil
1/4 cup hot sauce
1 tablespoon minced garlic
1 tablespoon olive oil
1-1/2 teaspoons salt
1-1/2 teaspoons seafood seasoning
1-1/2 teaspoons dried basil
1-1/2 teaspoons dried oregano
1-1/2 teaspoons dried thyme
1-1/2 teaspoons minced fresh parsley
Bring water and lemon to a boil. Add shrimp and cook three to five minutes, until pink. Drain well and rinse with cold water. Chill. Peel and devein shrimp. Place shrimp in large, heavy-duty zip top bag and add marinade. Chill overnight. Serve chilled. Because of the marinade, there is no need to serve with a sauce.
Raspberry Brie En Croute
1 sheet frozen puff pastry, thawed according to package directions
1 round (8 ounces) of brie cheese
1/4 cup raspberry preserves
1/4 to 1/2 cup sliced almonds, toasted
Preheat oven to 350 degrees. Place pastry sheet on a lightly greased baking pan. Place brie in center of pastry, spread with preserves and sprinkle with almonds. Wrap brie in pastry sheet, trimming excess. Seal seams by moistening edges with water and pressing together with fingers. Bake 30 to 40 minutes.
Oyster Artichoke Dip
2 tablespoons butter
2 tablespoons olive oil
1/4 cup flour
2 cloves garlic, minced
1/4 cup chopped celery
1/4 cup chopped green onions
1/2 cup heavy cream
2 cans artichoke hearts, drained and chopped
1 pint raw oysters, drained with their liquor reserved
Dash of Tabasco
Salt, to taste
1 tablespoon chopped parsley
Heat the butter and oil in a heavy saucepan or skillet at medium heat. Add the flour and cook, stirring, for one minute but do not brown. Add the garlic, celery and onions and cook, stirring for five minutes. Whisk in cream. Stir in the artichoke hearts and oyster liquor. Cook, stirring for two to three minutes. Add the oysters and cook just until the edges curl. Add remaining ingredients. Serve in a chafing dish to keep hot. Pita crisps go nicely with this for dipping.
You can make this dish the day before serving it, but do not add the oysters or the oyster liquor until you have reheated the mixture before the party.
Vidalia Onion Dip with Crab
2 cups Vidalia onion, chopped
2 cups Swiss cheese, grated
1 cup mayonnaise (regular or low-fat)
1 cup sour cream (regular or low-fat)
1 can white lump crab meat, drained
Mix all ingredients and put in casserole. Bake 350 degrees for 25 minutes. Sprinkle paprika on top. If there is oil on top, blot with paper towel before adding paprika.
Serve with wheat crackers. Grapes on the side are a nice compliment.
Serve vintage wine and cheese with a variety of sweets and nuts for a savory cocktail party.
Artizone
More stories by this author
Support our reporting -- Become a JFP VIP.
The news business has changed dramatically in the past year, and we need your help more than ever to keep bringing you important stories about Jackson and the Metro. Become a JFP VIP with an annual membership or you can Sign up as a monthly supporter. Thanks for anything you can do to empower our journalism!