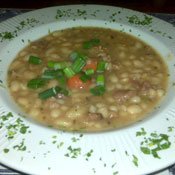 Apri 21, 2010
Eating at a brasserie in New Orleans a few weeks ago got me thinking about what food writers like to call "rustic" cuisine. Food writers tend to shy away from calling this style of cooking what it truly is: poor people food. They seem to think that you have to gloss over the origins of these great dishes and not call attention to the fact that most of these dishes grew out of poverty and necessity.
This reminds me of the way people whisper really terrible things like "cancer," "homeless" or "affair." It's as if folks don't want people suffering from disease, poverty or infidelity to be reminded of their tragic circumstances. Trust me, having been flat-busted broke before, I can tell you that broke people know they are broke and aren't afraid to talk about it.
There was a time in film school when I was so broke that I picked, boiled and ate a decorative cabbage that was growing in front of Southern Hall. Truthfully, I ate more than one (Sorry about that Dr. Lucas and professor McDowell). They weren't the tastiest morsels I ever put in my mouth, but they sustained me until my next paycheck or student-loan disbursement.
What brought me to such culinary adventure? Hunger. I would imagine that the same thing could be said for the first guy who ate an oyster or the first lady who gathered up a basket full of dandelion greens. As my grandfather used to say: "When all you know is how to be a hammer, everything looks like a nail." So it follows that when faced with a rumbling belly, everything looks like food.
Some of the best-tasting foods are combinations of: (a) a small amount of cheap protein; (b) a starch to stretch the protein; (c) a liquid, such as stock or water; and (d) a few inexpensive aromatic vegetables and herbs. Put these few ingredients in a pot and cook 'em all day long (which you can do when you are unemployed), and what you have by dinner time is a hearty meal that will stick with you until you can scrounge up the next one.
To celebrate these food traditions, I present you with two dishes that can feed six to 10 people for under $1 per person. This cost equation takes into consideration that you should have a few things in your pantry and a few herbs growing in pots or in your garden. For taste and quality, I would put them up against most dishes costing many times more.
When it comes time to buy benefit tickets or volunteer your time to a local food pantry, give until it hurts, tighten up your belt and make up for it by eating like you are a starving film student with an eye on a decorative cabbage. You'll feel great in your belly and in your soul.
Week Before Paycheck Pasta
(Serves 8)
1 pound angel hair pasta (or whatever pasta is on sale for $1)
1 tablespoon butter
1 tablespoon flour
1 bag frozen peas
1 pound boneless chicken meat (thighs are always on sale)
1 cup milk
1/2 cup shredded white cheese (parmesan, Romano, whatever is on sale)
1 clove garlic
1/2 teaspoon nutmeg
Olive oil
Water
Salt
Pepper
Finely chop garlic. Slice the chicken into small cubes and season with salt and pepper. Thaw peas in cold water.
In a large stock pot, bring water, a pinch of salt and a teaspoon of olive oil to a rolling boil. Add pasta and cook until al dente. Drain pasta, reserving some of the pasta water. Do not rinse the pasta!
Heat a large saucepan over medium heat and add butter. When the butter sizzles, add garlic and seasoned chicken and cook until well browned on all sides. Add flour and stir until fully incorporated and all chicken is coated with the flour. Slowly add milk and stir until it forms a thick paste. Add nutmeg, cheese, peas and some of the pasta water until the sauce reaches the desired consistency. Combine the pasta and the sauce in a stock pot or a large bowl and toss until all of the pasta is coated with the sauce. Taste the pasta and add salt and pepper as desired.
Serve immediately in a large shallow bowl.
White Beans with Bacon
(Serves 10)
1 pound bag navy beans
1 pound bag great northern beans
1/2 pound bacon
4 stalks celery
1 bunch green onions
4 carrots
2 medium yellow onions
1 whole garlic pod
1 tablespoon oregano
2 tablespoons olive oil
Salt
Pepper
Soak beans overnight in cold water. Chop bacon, celery, carrots and onions. Finely chop green onions. Slice 1/4 inch through the top of the garlic pod, drizzle with olive oil, season with salt and pepper and wrap tightly in foil. Pre-heat oven to 400 degrees.
Place foil-wrapped garlic in the hot oven and roast for at least 20 minutes. Heat a large stock pot over medium heat. Put olive oil and bacon in hot pot and cook until bacon is cooked but not crisp. Add chopped yellow onions and cook until translucent. Add celery, carrots and oregano. Cook until celery begins to soften. Drain and add beans and enough water to cover all ingredients. Bring to a boil. Reduce heat to a simmer. Remove roasted garlic from oven and squeeze pods into simmering liquid. Stir frequently and add liquid as it reduces. Cook for at least two hours. Stir aggressively and taste broth. Add salt and pepper as required. About 10 minutes before serving, add chopped green onions and stir.
Serve with hot bread in a shallow bowl.
Tom Ramsey is a lobbyist who teaches private cooking lessons. He is the host of the radio program "At the Cook's Table," which airs on WLEZ 100.1 FM, Mondays at noon (http://www.tomramsey.com).
Previous Comments
ID

157544

Comment

During past times where my 'money was looking funny' I would purchase cans of tuna, different flavors of Ramen Noodles and a box of Saltine crackers, and never look back!

Author

Don Smith

Date

2010-04-30T05:11:07-06:00
More stories by this author
Support our reporting -- Become a JFP VIP.
The news business has changed dramatically in the past year, and we need your help more than ever to keep bringing you important stories about Jackson and the Metro. Become a JFP VIP with an annual membership or you can Sign up as a monthly supporter. Thanks for anything you can do to empower our journalism!