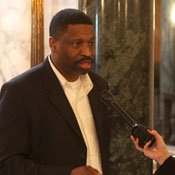 The Hinds County Board of Supervisors may face a lawsuit over its decision to hire Mississippi NAACP President Derrick Johnson to oversee its redistricting process. Hinds County Republican Party Chairman Pete Perry told supervisors at its board meeting today that he plans to sue the county if they do not void Johnson's contract.
Perry told supervisors that he believed Johnson's $40,000 contract was improper because the county did not solicit bids for the contract. State law allows counties to forego a bid process for "professional services," but Perry argued that Johnson's redistricting work did not qualify for the professional services exemption.
Section 19-3-69 of the Mississippi Code allows counties to contract with accountants, engineers, physicians, appraisers, architects and attorneys, among other professions, without soliciting bids. Perry pointed out that Johnson, who has a law degree, could not qualify for the exemption as an attorney because he has not been licensed by the Mississippi Bar. The Mississippi Bar confirmed that Johnson is not licensed in Mississippi.
State law also requires boards of supervisors to publish a finding that professional services are necessary in their minutes. Perry said that the board's minutes from Dec. 20, when it approved Johnson's contract, did not mention any finding of necessity.
Board attorney Crystal Martin said that she had not justified Johnson's hiring by referring to his qualifications as an attorney, but she did not offer another justification.
Martin also asked that she be given time to look into Perry's allegations, at one point cutting him off to say: "The request is well-taken. I would like an opportunity to investigate."
Perry told the Jackson Free Press that he does not expect Martin's investigation to turn up anything and that he plans to file a lawsuit later this week.
Perry, who lives in Jackson's Belhaven neighborhood, owns lobbying firm Paradigm Government Relations and has been a registered lobbyist in Mississippi. He said that the county's redistricting process does not affect any of his current clients. He is also the chairman of the Hinds County Republican Party.
Johnson's contract has been the subject of criticism for weeks, with critics comparing it to cheaper contracts the Central Mississippi Planning and Development District has entered with other counties.
"Let's assume that we had hired CMPDD," Board President George Smith told Perry. "What's the difference?"
Perry replied that he was not asking the board to hire CMPDD instead.
"I'm not questioning your ability to award a contract; it's about how you award the contract," Perry said.
In addition to the manner of Johnson's hiring, Perry also objects to the new district lines that Johnson produced. He said that he expects to join another lawsuit challenging the redistricting map that supervisors approved Feb. 28.
Johnson did not immediately return calls.
Previous Comments
ID

162439

Comment

Welcome to the fray that is Jackson/Hinds politicking... I had wondered how long it would take a reasonable lawyer to challenge this hiring. Looks like the Hinds BOS are in for some forced transparency. Following this, let's examine the hangers-on like Mr. Hargrove and his company supplying walkie talkies to law enforcement.

Author

Darryl

Date

2011-03-07T14:06:10-06:00
ID

162440

Comment

I agree that it is a mess, Darryl, but Mr. Perry isn't the most unbiased, "reasonable" voice in this equation, either. The partisan sniping continues...

Author

DonnaLadd

Date

2011-03-07T15:58:51-06:00
ID

162441

Comment

Good luck Derrick and the BOS. We all know you didn't do anything wrong. In fact, you must have done something very right otherwise the wrong (often mistakingly called the right) wouldn't be crying a river and trying to force their wicked ways upon the good citizens of Jackson, Hinds County and the nation. Don't fret about the G(one) O(ff) P(arty) for it comes like a thief in the night seeking whom it can destroy and devour. Righteousness is with you! You will prevail! If the BOS had picked Jesus whom the GOP profess to love, serve and honor (family values rooted in Biblical principles) it would now be saying Jesus is too liberal and bias toward Democrats. The GOP hates the NAACP like it does equality, fair play and justice.

Author

Walt

Date

2011-03-07T18:47:52-06:00
ID

162442

Comment

Mr. Perry's first mistake was leading this revolt. He should have enlisted someone else as a figurehead and pulled the strings from behind the scenes. Walt, You hit the nammer on the hail. You know they didn't do anything wrong and you can prove it. Honestly, they must be doing something right by upsetting the Off Party. I like how you used the phrase, "thief in the night". Paints the picture perfectly, albeit in a misconstrued way. And don't even get us started on how the GOP would treat our Lord and Savior.

Author

jbreland

Date

2011-03-07T20:14:16-06:00
ID

162444

Comment

Jackson, you're right. I'm surprised that Mr. Perry is doing this. Beyond that, the whole redistricting mess is bringing out the worst in both "sides," reminding me what I don't especially like any particular political party, regardless of whether I agree with any of their current positions. The whole thing is gross from all sides.

Author

DonnaLadd

Date

2011-03-07T20:25:35-06:00
ID

162449

Comment

Y'all cannot be serious. The Hinds BOS, in disregard for its own rules as set down in Mississippi statute, engages in a contract with someone for the purposes of redrawing district lines based on census data. Oh, and at twice the going rate... And, using faulty data draws up a set of plans, actually 3, then hastily redraws another one (none of which were available for public view before the voting before the federal deadline) using theoretically correct data. And, to boot, he is the state president of the NAACP (who would have more than a passing interest in the outcome of his redrawn district lines). Wow, I mean, really...wow! And not one mention of Jesus. Until now, dangit. At least someone is bringing this information to light and showing to all the illegalities that go on, daily, in the management of Hinds County (and, possibly, the City of Jackson). I wonder what would get your ire up should the shoes be on the other feet... What about the fact that the NAACP has sued on behalf of a number of counties to move the deadlines to June so that the district lines could be drawn "accurately?" Is that ok? Apparently, if it involves the GOP, then it's not ok...

Author

Darryl

Date

2011-03-08T06:22:39-06:00
ID

162451

Comment

Darryl, just WHO has said this is OK on any side? (Other than Walt, who sounds like your mirror image on the *other* side.) Methinks your partisanship is showing, and you are gonna need to stop acting like people are saying things they haven't in order to continue posting here. I will say it again: Everything to do with redistricting in this state stinks. I don't have a partisan dog in the hunt, so I can say that without flinching. You? Walt?

Author

DonnaLadd

Date

2011-03-08T09:06:08-06:00
ID

162453

Comment

No partisanship on my part. Though I was born in Jackson, I now reside in Rankin County. Just thoroughly disgusted by how far Jackson and, by extension, Hinds County continues to reinforce my decision to move away. I regret the implication that this was sanctioned and, thus, OK by anyone's standards. That said, there's no reason to accuse one party or another by acting in the best interests or not of the city. Note, I made no mention of voting parties - the only group I mentioned is the NAACP in two instances. Partisanship will always rear its head in these matters, race-related or not. I continue to stand behind the lack of transparency and honesty the BOS operates in.

Author

Darryl

Date

2011-03-08T12:36:37-06:00
ID

162454

Comment

Just thoroughly disgusted by how far Jackson and, by extension, Hinds County continues to reinforce my decision to move away. But somehow, Darryl, Rankin County is the garden district of the state, with pure politics and perfection, eh? What gets me in all this is all of you partisans pointing fingers at each other. It's all the other party's fault, depending on who's squawk is the loudest. Right. Man, I hate blind partisanship, not to mention stupid, mindless attempts to bash Jackson. Nothing to see here. Move along.

Author

DonnaLadd

Date

2011-03-08T12:42:40-06:00
ID

162460

Comment

In my opinion, just because a non-Jacksonian makes note of something negative that either the Hinds BoS or a simliar body does, doesn't necessarily mean he or she's bashing Jackson. Darryl wasn't bashing Jackson, he was bashing the bonehead decision by the BoS who thought they hired a lawyer, who wasn't a lawyer, and on top of that paid double to the head of a very partisan group. Donna, I'm surprised you haven't jumped on this lack of transparency and rush job of the redistricting by the BoS, who in this Jacksonian's opinion, is about as inept and ridiculous as our City Council.

Author

RobbieR

Date

2011-03-08T14:32:14-06:00
ID

162462

Comment

Robbie, please read above. I think it's fine that Darryl criticizes any gov't body; I was responding to his blanket comment about Jackson and Hinds County. I repeat: Just thoroughly disgusted by how far Jackson and, by extension, Hinds County continues to reinforce my decision to move away. I've also said repeatedly that I am disgusted by everything I've heard so far about redistricting in this state, from all partisan points. I'm just back from vacation and haven't had a chance to look closely enough at any specific cases to really address them, and I don't take specific positions until I'm informed enough to. I'll leave that habit to the partisans out there. It seems clear, though, that some of you would like me and others to cherrypick the situation and just blast Hinds (and I'm guessing Democrats) when it seems clear that the whole mess is full of shenanigans and efforts to control districts all directions. The whole thing disgusts me, and I'm sorry if that statement is too egalitarian for you partisans to handle. I don't really care.

Author

DonnaLadd

Date

2011-03-08T14:39:55-06:00
ID

162472

Comment

Tom- I don't think Johnson did anything wrong, but the Board of Supervisors should have bid the work he did out according to the law. Like you said he wasn't providing a professional service as a lawyer and I going to assume he doesn't qualify for the other professional services listed in 19-3-69. http://www.mscode.com/free/statutes/19/003/0069.htm A professional within the meaning of this section SHALL BE LIMITED TO: (a) Attorneys at law, admitted to practice law in this state by the State Board of Bar Admissions; (b) Accountants, certified by the State Board of Public Accountancy; (c) Architects, licensed by the State Board of Architecture; (d) Engineers and Land Surveyors, registered by the State Board of Registration for Professional Engineers and Land Surveyors; (e) Physicians, licensed by the State Board of Medical Licensure; (f) Appraisers, licensed by the Mississippi Real Estate Commission or as otherwise provided by law; (g) Real estate brokers, licensed by the Mississippi Real Estate Commission; So you right Johnson didn't do anything wrong the BoS did, but his contract should be null and voided, his work throw out because with a bogus contract he doesn't have any authority to do the work and BoS should start over again buy calling for bids.

Author

BubbaT

Date

2011-03-09T07:18:43-06:00
ID

162474

Comment

Tom- ah big difference in a publishing company legally hiring you to write a book and the BoS violating the law and not taking bids for the contract to do the redistricting work.

Author

BubbaT

Date

2011-03-09T08:30:38-06:00
ID

162476

Comment

Ah, Bubba: probably not from Johnson's perspective. As long as his company didn't do anything wrong, I'd guess that he could sue the Board if it reneges on this contract. As for the NAACP, Tom is right that it has long been a dirty word to some in this state. I do wonder if the people freaking out about this case care as much about what might be happening with redistricting around the state, regardless of whether a black civil-rights activist is involved. And is it a concern that the person threatening the lawsuits is a major political operative for the "other" side? Anyone serious about the ethics of redistricting will be concerned regardless of party. I await with curiosity to see how that unfolds.

Author

DonnaLadd

Date

2011-03-09T08:51:18-06:00
ID

162479

Comment

Donna- Guess he could sue, but I think he would lose in court, the contract made with him wasn't legal to start with, and he charged twice what CMPDD charged Madison and Rankin counties to do the same work. Sounds like he was screwing Hinds county to start with. IMO.

Author

BubbaT

Date

2011-03-09T09:05:32-06:00
ID

162493

Comment

Bubba, the amount charged would be irrelevant to legality of the contract.

Author

jbreland

Date

2011-03-09T16:49:50-06:00
ID

162497

Comment

Jb- wasn't saying it did, just pointing out he seems to have over charge the county. Wouldn't have happen if they had taken bids.

Author

BubbaT

Date

2011-03-10T00:14:16-06:00
More stories by this author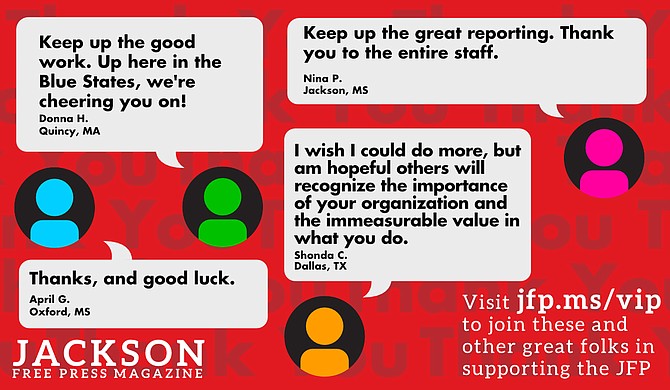 Thanks to all our new JFP VIPs!
COVID-19 has closed down the main sources of the JFP's revenue -- concerts, festivals, fundraisers, restaurants and bars. If everyone reading this article gives $5 or more, we should be able to continue publishing through the crisis. Please pay what you can to keep us reporting and publishing.