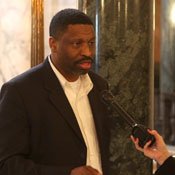 A local Republican official has threatened a lawsuit over NAACP President Derrick Johnson's contract to draw new district lines for Hinds County.
Stories this photo appears in:
Justice
Hinds County's redistricting woes are not over, yet. One week after the county Board of Supervisors voted to approve new district maps, the board faces a possible lawsuit over its ...
The Hinds County Board of Supervisors may face a lawsuit over its decision to hire Mississippi NAACP President Derrick Johnson to oversee its redistricting process. Hinds County Republican Party Chairman ...
See: JFP Immigration Coverage
Mississippi NAACP President Derrick Johnson criticized a panel of legislators today for not giving enough oversight on companies that import and hire immigrant workers to pay low wages and avoid ...
Justice
The Mississippi NAACP is condemning Department of Public Safety Commissioner Steve Simpson's decision to ignore a May 11 finding by the U.S. Equal Employment Opportunity Commission that the department fired ...