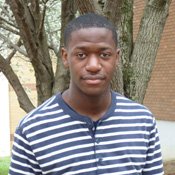 Whatever shape journalism takes in the future, there's a good chance Henry Murphy will be a part of it.
Murphy is editor of The Hoofbeat, Murrah's student newspaper. Now an online-only publication, The Hoofbeat features content updated roughly every other day. Last year, Murphy built the paper's website and served as web editor. This year, he writes opinion pieces and edits other stories.
The 17-year-old senior courted controversy earlier this year with an editorial on Murrah basketball coach Marlon Dorsey, who attracted widespread attention for whipping players with a weightlifting belt.
"I did the first thing on that," Murphy says. "I don't think (Dorsey) actually read it, but there was a little worry about it. It was like the day before Christmas break, and they wouldn't let us do it. And at the last minute (faculty sponsor Lynne Schneider) said, 'OK, go ahead and publish it.' "
This coming fall, Murphy will attend Columbia University in New York City on a full scholarship. He plans to study computer science and film to prepare for work as a multimedia journalist.
The son of a pastor and a day-care center owner, Murphy says that a Dartmouth College summer program aimed at minority students helped him realize that he could attend an Ivy League school.
"I definitely want to use whatever I've gotten at Columbia to help Mississippi, whether it's supporting the school or coming back to speak to people," Murphy says. "I think that one of the problems with public schools, especially inner-city public schools, is that maybe kids don't know they have the opportunities that they do. Going to Mississippi State (University) or another local school is fine, but you actually have the opportunity to go somewhere else. Kids in the younger grades, they think about that, but when they get to senior year, they think, 'Oh, that's too much. I don't want to apply out of state.' "
Today and Tuesday, March 8, The Hoofbeat's staff hosts a fundraiser at McAlister's Deli in Flowood from 5 to 9 p.m. McAlister's will donate 10 percent of its proceeds to The Hoofbeat to help pay for a trip to Washington, D.C., in May. Students will also accept donations during the fundraiser. For more information about The Hoofbeat, visit its website, murrahhoofbeat.com, or contact the paper's faculty sponsor, Murrah journalism teacher Lynne Schneider at [e-mail missing]>.
More stories by this author
Support our reporting -- Follow the MFP.