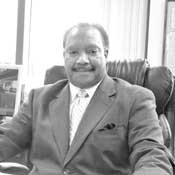 Adam Lynch
Hinds County Supervisor Robert Graham is calling a state auditor's investigation "political."
"I believe they're going after me," Graham told the Jackson Free Press last week. "I'm not finding anything coming out of the state auditor's office on any relevant issue against Republicans, but I see that they're investigating me."
State Auditor Stacey Pickering served a demand in May for $45,736 for wages Graham received from the city between 2004 and 2007 of Jackson while he was conducting dispatcher certification classes. Graham taught the courses, Pickering said, during regular work hours when Graham--then a city employee--indicated on his time sheet that he had been at work as a spokesman for the Jackson Police Department.
Pickering, who did not return calls, said students taking the course paid fees to Professional Dispatch Management, a company that Graham owns, through the National Emergency Communications Institute from 2004 to 2007.
NECI Executive Director Charles Carter instigated the investigation when he sent an October 2007 complaint to Pickering's office, accusing Graham of failing to obtain permission from the Mississippi Board of Emergency Telecommunications Standards and Training to conduct the training.
NECI revoked Graham's certification as an emergency-response trainer after Carter issued the 2007 letter.
Carter said that aside from defrauding the state of Mississippi, Graham also defrauded the city of Jackson by earning extra contract work while on the city's payroll.
State law, particularly Section 25-4-105, states that no public servant shall "be a contractor, subcontractor or vendor with the governmental entity of which he is a member, officer, employee or agent, other than in his contract of employment.
Jackson spokesman Chris Mims said the city was withholding judgment against Graham in the case.
Graham questioned why Pickering, who is Republican, released the results of his investigation during an election year, considering Pickering's office had been working on the case since 2007.
"The timing seems suspect," said Graham, who faces no Democratic opponent in the primary but runs against Republican challenger Roger Davis in November.
Graham's attorney Lisa Ross said Graham will dispute the $45,000 demand from Pickering's office. "We intend to put Pickering to the test. If he says the money is owed, then he should have to convince a jury," Ross said. "Pickering says the $45,000 represents an amount paid to Mr. Graham and others. Where are the others?"
Ross added that Pickering frequently makes demands of officials but rarely releases the news of the demands to the public. She said Pickering would likely turn the case over to Attorney General Jim Hood since Graham disputes the demand.
Previous Comments
ID

163941

Comment

*sigh*...I hope we all look forward to see how he wriggles out of this one. Kind of reminiscent of how Capone got nabbed for the ticky-tack charges of tax evasion when the US Government couldn't pin murder and racketeering on him. Graham has done more to disrupt the proceedings of Hinds County than anyone in my recollections over the last 30 years. And Smith is gunning hard to be #2.

Author

Darryl

Date

2011-06-30T07:00:00-06:00
ID

163944

Comment

Well at least Graham denied he did anything wrong...

Author

jbreland

Date

2011-06-30T08:05:47-06:00
ID

163945

Comment

Of course, as a journalism outlet, we must give him the chance to defend himself. It's too bad he can't come up with something better than: "They're coming after me for political reasons." It doesn't look good for him, no doubt. And the truth is that you don't have to pick one. He may have violated the law AND Pickering might have investigated him for political reasons. The two aren't mutually exclusive. Do I wish every administration would investigate members of their own party as vigorously? Sure. Does that change anything of evidence of wrong-doing is there. Of course not. Then it's just excuse-making.

Author

DonnaLadd

Date

2011-06-30T08:42:55-06:00
ID

163964

Comment

Meh. He's using code language to cover the fact that he did wrong by twisting it into something else.

Author

Jeff Lucas

Date

2011-07-01T11:29:24-06:00
ID

163969

Comment

Is Graham saying that he is innocent of the charges or is he just PO'ed that the investigation revealed illegal double-dipping? Our elected officials should know that they are working in glass houses and it is not hard to spot illegal activity. Just asking? Just saying.

Author

justjess

Date

2011-07-01T20:54:35-06:00
More stories by this author
Support our reporting -- Follow the MFP.