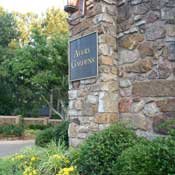 Jackson residents could vote to gate their neighborhoods around city-maintained streets under an ordinance Ward 1 Councilman Quentin Whitwell proposed this week.
Whitwell said at a May 31 Jackson City Council meeting that he wants to make it easier for a majority of a particular city neighborhood to vote to erect a gate to their community, and make it so that they do not have to pay for infrastructure inside the walls.
"We have no ordinance that specifically addresses gates, so the mayor has adopted his own policy on gates, and that's that 100 percent of all citizens (in the neighborhood) must approve of it (before it can be built)," he told the council.
Whitwell's ordinance allows residents to build a gate with only 75 percent approval from residents—the supporters would finance it, he said—and it does not force residents to maintain their own roads as is typical in Jackson gated communities. The councilman called his ordinance a "traffic-calming measure" that would not require a pass code or security clearance.
"It's an automatic gate," the councilman said. "It's still a public neighborhood. You just pull up, and the gate opens automatically. It's just a way to slow people down, and if there is something suspicious going on, it gives the citizens a chance to identify or apprehend (a perpetrator)."
Whitwell is advocating for the new ordinance for residents of north Jackson's high-end Avery Gardens neighborhood, which is already enclosed in a barrier, and only has one ungated entrance on County Line Road. Jackson residents do not use the enclosed neighborhood as a thoroughfare.
Mayor Harvey Johnson Jr. argues that gates delay city firefighters and police access to the sequestered community, and said such a gate could pose an insurance risk to cumbersome city or contracted vehicles, such as garbage trucks. He also said the gate may be a problem for city employees who must visit homes to read water meters.
Whitwell indicated that the gate idea is about more than traffic, however.
"There are neighborhoods all over the city that want this. They're begging for it," Whitwell said. "There are too many people right now just wandering around neighborhoods, or just driving through neighborhoods scoping out (burglary) opportunities, and we've got to be vigilant, and we've got to have our citizens feel safe. Whatever we can do to deter crime to be proactive is a good thing."
Critics argue that gated communities promote an enclave mentality that can result in urban fragmentation and separation. In the classic new-urbanist bible, "Suburban Nation: The Rise of Sprawl and the Decline of the American Dream" (North Point Press, 2000, $18), the authors warn that "gated pods" create "income-segregated housing," which too often contain the people "voting down necessary taxes" for inner-city needs, schools parks and maintenance of the public realm, such as infrastructure and roads.
"Meanwhile," the authors (including über-urbanist Andres Duany) point out, "these people often pay hundreds, sometimes thousands, of dollars a month to their homeowner's association to maintain their personal archipelago. The rest of the world is expected to take care of itself."
The homeowners' costs for construction and maintenance of the barrier could prove a burden to residents with lower incomes and could, therefore, promote a kind of community gentrification that encourages residents with incomes only above a certain level—or means that only the wealthy can afford the perceived luxury of a community gate.
Neighborhood designer and self-professed "New Urbanist" Susan Lunardini, who is also owner of Southern Consultants, said community gates can bring communities together rather than isolate them from the rest of the city.
"When MDOT temporarily blocked off my neighborhood to work on a Frontage Road project, it was the calmest time our neighborhood had. The children played in the street, and there was no fear of traffic causing problems," said Lunardini, who added that a gate without a pass code should adequately reduce both crime and traffic by imposing a delay before departure.
"If somebody knows they have a greater chance of being watched or photographed during their delay, it will act as a crime deterrent," she added.
Lunardini added that she opposes the idea of a homogenized gated neighborhood consisting of people with the same type of income—which critics say the ordinance could help create.
"Even though I think gates make safer neighborhoods, I'll never agree that a gated community should contain the same kind of people. I don't believe in separating young people from old people or rich people from poor. Society that works can't work like that," she said.
"Suburban Nation" warns about just such a "seccession of the successful," and details the harms to a city's sustainability that results from such tactics. "The unity of society is threatened not by the use of gates but by the uniformity and exclusivity of the people behind them," the authors warn.
Ward 2 Councilman Chokwe Lumumba said citizens behind the gates should adopt the costs for maintaining the gated roads, because the territory would no longer have easy public access.
"They're basically cutting off community circulation. The reason why we pave those roads are not just so they'll have good streets, but so that anybody in the city who wants to drive past there will have a good road to drive on," Lumumba said.
Lunardini said citizens should not have to adopt that financial responsibility. "They pay the same taxes they did before the gate went up, so they city should be responsible for the street, in my opinion," she said.
If the ordinance passes, however, it would be open to other neighborhoods on Plantation Boulevard and similar streets, which drivers occasionally use as an alternative route when traffic on County Line Road becomes congested.
Council President Frank Bluntson put the ordinance into the Council's Planning Committee with no discussion.
More stories by this author
Support our reporting -- Follow the MFP.