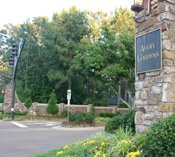 Under a new city ordinance Ward 1 Councilman Quentin Whitwell proposed today, 75 percent of a Jackson neighborhood's residents could vote to gate their community even though the city would continue funding its infrastructure. "This is a traffic-calming measure," Whitwell said at the Jackson City Council meeting this morning.
Whitwell argues that a community should be able to gate itself without providing the infrastructure of the streets within the gates. He said the city has no ordinance that specifically addresses gates, and that "the mayor has adopted his own policy on gates, and that's that 100 percent of all citizens must approve of it ... . "
Whitwell 's ordinance would allow residents to build the gate with only 75 percent approval from residents of a neighborhood, and it does not force residents to maintain their own roads.
The councilman, who represents northeast Jackson, advocates for the new ordinance at the urging of residents of the high-end Avery Gardens neighborhood, which is already enclosed in a barrier, but with an un-gated entrance at County Line Road. However, if the ordinance passes, it could apply to other neighborhoods on Plantation Boulevard and similar streets, which drivers occasionally take as a second route when traffic on County Line Road becomes congested.
Mayor Harvey Johnson Jr. argues that gates delay city firefighters and police access to the community, and said that the gate could pose an insurance risk to cumbersome city or contracted vehicles, such as garbage trucks. He also said the gate may be a problem for city employees who must visit homes to read water meters.
Whitwell said the gate he is promoting does not require a pass code or security clearance.
"It's an automatic gate," Whitwell said. "It's still a public neighborhood. You just pull up, and the gate opens automatically. It's just a way to slow people down, and if there is something suspicious going on, it gives the citizens a chance to identify or apprehend them."
Under Whitwell's ordinance, citizens would present a gate plan to the city's planning department, which must approve the construction.
Ward 2 Councilman Chokwe Lumumba said citizens behind the gates should adopt the costs for maintaining roads behind the gate, because the territory is no longer public access.
"They're basically cutting off community circulation. The reason why we pave those roads are not just so they'll have good streets, but so that anybody in the city who wants to drive past there will have a good road to drive on," Lumumba said.
Council President Frank Bluntson put the ordinance into the Council's Planning Committee without discussion.
Previous Comments
ID

163688

Comment

Since the gates would be automatic it wouldn't cut off any "community circulation." Anyone that wanted to go through these gates would still be able to do so. Sounds like a good idea to me, especially in Precinct 4 where house burglaries are up 32% YTD over last year. Thirty two percent. That number is straight from JPD's crime report, before Donna or someone starts asking me where I pulled that number from.

Author

RobbieR

Date

2011-05-31T12:58:25-06:00
ID

163690

Comment

How would automatic gates cut down on house burglaries? Will they have the same criminal detectors that Mark Sandridge appears poised to use? ;-)

Author

Todd Stauffer

Date

2011-05-31T13:41:29-06:00
ID

163691

Comment

I think the logic goes that if the burglars find it difficult to access the neighborhoods with cars, it will cut down on the burglaries because moving the loot is harder. That or they won't be able to make high speed get-a-ways waiting for the gate to go up (hee!). Personally, I think temporarily deploying video cameras in high crime areas might make more sense. As to the gates themselves - who pays for the initial installation? Who pays for the maintenance issues that _will_ crop up when the gates are damaged?

Author

Pilgrim

Date

2011-05-31T13:47:15-06:00
ID

163692

Comment

I'd be interested to see if there are any before-and-after studies as to how these affect crime. Could be there's a noticeable effect; I'm imagining a transitory one if nothing else is done in terms of crime watches, cameras, etc.

Author

Todd Stauffer

Date

2011-05-31T13:54:55-06:00
ID

163693

Comment

Very interesting comments from Councilman Whitwell. Because on another conservative blog in town Whitwell provided an email statement that the gates were about public safety not traffic calming. Whitwell's statement said in part: "I am introducing this resolution because public safety is the most important issue in Jackson. We do not want to allow for potential criminal activity to fester. We want to be pro-active and we want to send a message that although streets are public, roads are not to be used to scope out potential criminal activity. Jackson is a great place to live and we are going to protect the property values of those people who choose to live here. Other counties and cities in the surrounding area have them. So should we." Whitwell's not-so-subtle message doesn't appear to be that different from the Mark Sandridge campaign ad. I guess when he recently fashioned himself as a "tell-it-like-it-is politician" the Councilman failed to mention the part about pandering "depending-on-the-audience".

Author

GeoRoss

Date

2011-05-31T14:06:04-06:00
ID

163694

Comment

Councilman Chokwe Lumumba - "They're basically cutting off community circulation. The reason why we pave those roads are not just so they'll have good streets, but so that anybody in the city who wants to drive past there will have a good road to drive on," Lumumba said. The reason we pave those roads???? I would be willing to bet the roads in question have not been paved in 20 years. That seems to be the minimum time to pass before a road is even considered to be paved in the city of Jackson. Call it what it is Chokwe.....you just dont want any non white neighborhoods to have gates.

Author

interested observer

Date

2011-05-31T15:00:00-06:00
ID

163695

Comment

After the above story went to press today, Adam reached Whitwell to ask him who would pay for the gates. He said that the people who vote for them would have to pay, that you couldn't make people against them pay for them. My question: What if I owned a house in neighborhood and didn't want it and got outvoted? It sounds like burglars could just casually drive up to the gate and not attract attention -- like most probably do now. Unless, of course, the plan is to profile certain people somehow--which, of course, Whitwell would never support, as his statements about Sandridge certainly proved, right? The whole thing doesn't make a lick of sense to me. This kind of thing works against Jackson becoming a 21st century city where the politics off division have no place. Sad.

Author

DonnaLadd

Date

2011-05-31T15:54:22-06:00
ID

163696

Comment

Also, I've been reading a lot of brain-science books recently. And one thing recent neuroscience really proves is that just because people are trained to think a certain way -- "want to keep criminals out!? Put up a gate!" -- or think something is obvious, it doesn't make it true. The truth is often the exact opposite (so true for so many of our safety fears.) Does it really not cross some people's minds that many people -- usually the most interesting, active, engaged, lovin-diversity-kinds-of-folks -- have no interest in being sequestered away from "the other." City living is about just the opposite. And the real fun part is that this does not make communities safer. It's mixing it up and getting out onto the streets and engaging with "the other" that makes our neighborhoods safer. Of course, many have been indoctrinated by these excuses for prejudice since they were children, so they haven't thought it through. Of course, if you want gates, go build them yourself and take care of everything behind them yourself. It's a free country, but don't ask the government to pay for your gated community life.

Author

DonnaLadd

Date

2011-05-31T15:58:11-06:00
ID

163697

Comment

I wonder if Whitwell lobbies for fence & gate associations. I want to see his client list! Also how many Cash Advance and Check Cashing locations are in his Ward? That would be a good story.

Author

thabian

Date

2011-05-31T16:33:19-06:00
ID

163698

Comment

In my neighborhood in Ridgeland our back gate closes at 10pm and we have live security at the front gate from 10pm until 6am. My friends and relatives laugh about how easy it is to come thru the live security gate without any questioning or license plates being taken down. I have personally driven up and found the security officer asleep or not caring who enters. We paid for all of it ourselves through our homeowners association. The appearance of security has kept the criminals out. Moreover though we all have security systems and multiple guns. If a criminals comes into our neighborhood with ill intentions he will leave with more holes in him that Fortification Street has. Oh yeah, we have the Castle law too, but we had it long before it was put on the books.

Author

Walt

Date

2011-05-31T16:41:24-06:00
ID

163699

Comment

I wonder if Whitwell lobbies for fence & gate associations. Lord, I hope not! Also how many Cash Advance and Check Cashing locations are in his Ward? We did mention that he's a lobbyist for payday lenders in our editorial last week. In case you missed it: [Editorial] Chamber, Work With the Mayor

Author

DonnaLadd

Date

2011-05-31T16:42:42-06:00
ID

163700

Comment

Isn't it obvious at this early point in his service that Whitwell's agenda is to pepper the Council with legislation in order to "manage" Harvey Johnson?

Author

GeoRoss

Date

2011-05-31T16:45:10-06:00
ID

163703

Comment

Trying to quickly help you out, thabian, but on deadline. Here, for instance, is a link to his Cash in a Flash form -- filed shortly before he took council office. Here, I think, is his client list as of 2010. The link to the 2011 list doesn't seem to be working. (Am I doing something wrong?) I haven't found a full list of his 2011 clients; if someone else does, please post. I don't have time to dig around now. Y'all take it from here.

Author

DonnaLadd

Date

2011-05-31T17:02:06-06:00
ID

163705

Comment

More on problems with gated communities, in Duany et al's Smart Growth Manual, a book I haven't read, yet, but will very soon. Good quote from the book: "[T]he gates are provided less for internal safety than as a marketing ploy that serves only to reinforce the socioeconomic segregation." Of course, there are plenty of people happy to do that. But it is certainly no role for city government or the taxpayers to play.

Author

DonnaLadd

Date

2011-05-31T18:39:00-06:00
ID

163706

Comment

Is public safety really the No. 1 issue in Jackson, as Whitwell states? What about poverty, lack of jobs, schools, roads, outdated water and sewer lines, etc.? Seems to me that the only people with issues about public safety are the same people who are scared to go downtown from their north Jackson enclaves. Just sayin'...

Author

Ronni_Mott

Date

2011-05-31T19:16:35-06:00
ID

163707

Comment

Good point, Ronni. I hate when politicians try to make fear (which is what "public safety" actually means) the "No. 1 issue." That's how we got Frank Melton, for goodness sake. Of course, it's not the top issue in our city: It is a symptom of ills we need to fix.

Author

DonnaLadd

Date

2011-05-31T19:19:23-06:00
More stories by this author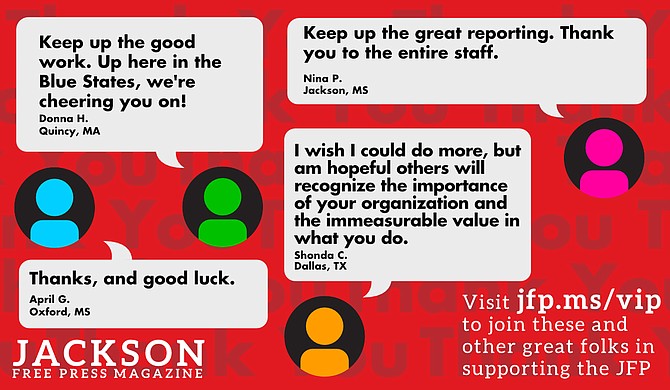 Thanks to all our new JFP VIPs!
COVID-19 has closed down the main sources of the JFP's revenue -- concerts, festivals, fundraisers, restaurants and bars. If everyone reading this article gives $5 or more, we should be able to continue publishing through the crisis. Please pay what you can to keep us reporting and publishing.