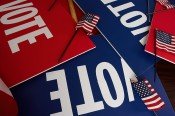 In a televised debate Thursday evening, candidates for governor sought to distinguish themselves from Lt. Gov. Phil Bryant and position themselves as frontrunners ahead of the Aug. 2 primary.
Mississippi College School of Law hosted the debate between five Republicans -- Bryant, James Broadwater, Dave Dennis, Hudson Holliday and Ron Williams -- and two Democrats -- Johnny DuPree and Bill Luckett. Republican candidates repeatedly pointed out where their positions differed from the lieutenant governor's, while Luckett, instead of going after his Democratic opponent DuPree, seemed to already be positioning himself for a race against Bryant.
Most of the candidates tried to strike the right mix of experience in leadership without labeling themselves as "career politicians." Some, like Holliday, Luckett, Williams and Dennis, played up their roles as businessmen, saying their experience could help them lead Mississippi to a stronger economy.
Dennis also challenged Bryant on redistricting, saying he showed weak leadership by going against the Senate Redistricting Committee's plan.
"He went around them, circumvented them and came up with a plan," Dennis said. "That plan was voted down by his own Senate."
DuPree used personal stories about his family to explain his positions on policies, such as how his wife's struggle with breast cancer affected his opinion on the health care bill. He also repeatedly pointed to his record as mayor of Hattiesburg. Holliday used self-deprecating humor and his time in the military to appeal to the audience.
Although they do not have the name recognition or budgets of some of the other Republican candidates, Broadwater and Williams used humor and, occasionally, sensational statements to draw attention to their policies. Williams repeatedly accused what he called the "good-old-boy system" of politics of being heavily influenced by campaign contributions from big businesses and using the voter identification debate to divide Mississippians.
"Here's what a man told me one time ... 'It doesn't matter if you vote Democrat or you vote Republican, when you get to that level in our state, they're all crooks,'" Williams said, prompting laughter from the audience.
Illegal immigration was a hot issue for all the candidates, although they differed on how to solve the problem. Bryant touted the E-Verify system he helped put in place as one of the most effective laws in the nation. Holliday said E-Verify needs improvement, and legislation should focus on providing stiffer penalties for businesses that hire illegal immigrants rather than on the immigrants themselves. Williams called E-Verify a joke, and said local law enforcement should have the authority to arrest people who apply for jobs with falsified documents.
Dennis seemed to favor deporting illegal immigrants and said businesses should not profit from paying illegal immigrants unfair wages. James Broadwater, whose wife emigrated from the Philippines and is now a U.S. citizen, said the government is not doing enough to combat illegal immigration and he would use "all means necessary to put an immediate end to illegal immigration."
DuPree, said he understands why people want to come to the United States, and we should let people come. Luckett endorsed the Southern Baptist Convention's suggested guidelines for dealing with illegal immigrants, which says Mississippi needs both a secure border and a path to citizenship for those already here.
Previous Comments
ID

164129

Comment

Let me try this again. Thanks for a brilliant column, Elizabeth. I agree the republican were comical last night during the debate. They certainly had me laughing. Why do they hate our Latino sisters and brothers so much? I'm more convinced than ever they're nothing more than a party of hate and comedy these days, intentional and unintentional. When they run out of one group to hate they just move to another one. And if they aren't hating they're cheating on their spouses, girlfriends or significant others. And when they're not doing that they got their dirty hands in the pockets of the poor as they preach the sermon on the mount and family values. President Obama is learning right now you can't trust Lucifer's children. Obama is smart but obviously not real smart. When will he learn the republicans aren't trying to work with him, they're trying to destroy him.

Author

Walt

Date

2011-07-22T22:09:16-06:00
ID

164131

Comment

"President Obama is learning right now you can't trust Lucifer's children." Comical. You need to let that hate go Walt.

Author

RobbieR

Date

2011-07-23T12:35:08-06:00
ID

164143

Comment

Robbie thanks for reading my commentary. Im not espousing, preaching or teaching hate. Im preaching love. I love my people and the poor so much that Im willing to warm them of the beast. We have some people who are so willing to get along and be accepted they're willing to throw away the good sense God gave them and their parents and grandparents reinforced. The Lord loved us so much he gave his only begotten son. I can't give that but I can give sound advice. That advise is to stay away from republicans for they come to steal, kill and destroy. You're my brother Robbie and there is room for you to at the Democrat cross. Will you come and join us? I luv ya!

Author

Walt

Date

2011-07-27T16:59:20-06:00
ID

164149

Comment

RobbieR, Walt tells his TRUTH in satirical fashion; however, the truth of the matter is, HE TELLS IT LIKE IT IS. President Obama believes in fairness, shared sacrifice, debate, inclusion, compromise, solution oriented discussions, equality, opportunity......... The problem here is that he is dealing with a group of folks who said from jump street that their goal is to defeat him: Make him a one term president. I didn't make this hate-filled stuff up. President Obama could give them a check signed by God to pay off the debt and the answer would still be, "NO". He has spent months trying to use diplomacy: It ain't going to work. He must now put his jacket back on, take out his pen, employ the 14th and sign his name. GAME OVER

Author

justjess

Date

2011-07-27T20:43:10-06:00
More stories by this author
Support our reporting -- Follow the MFP.