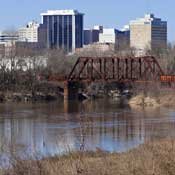 Jackson oilman John McGowan said Monday that his latest lake plan will cost about $150 million and require the use of eminent domain to "condemn" some property into a "public project."
At the monthly meeting of the Rankin-Hinds Pearl River Flood and Drainage Control District, or Levee Board, McGowan told the members that the lake plan would cost the taxpayers about $150 million, all told. The newest plan is essentially the bottom half of his earlier and rejected Two Lakes concept.
His statement came in response to a few moments of apparent confusion on the part of the Levee Board over when and how much of a tax levy the board would have to vote for in August to pay for the new lake project, which it has officially embraced as an alternative to the U.S. Corps of Engineering's plan to build more levees along the Pearl River.
Businessman Socrates Garrett asked his fellow board members about a potential district expansion, which would put more taxpayers in the Levee Board's footprint. "It will have an impact on what we're charging," he said.
Garrett added: "It's such a heavy decision. Some documentation prior to the (August) meeting would be helpful."
Mayor Harvey Johnson Jr., who was chairing the meeting, said that the board anticipates the expansion of the district in 2012. Leland Speed said that the board should figure out what it was going to do first and then figure out how to fund it later.
The board asked McGowan, seated in the audience, to give them a sense of how much the one-lake idea was likely to cost. McGowan stood up, listed off potential expenditures—a dam for $35 million, about $6 million in utility location, the need to buy and improve all the land, about $100 million—and concluded it would be about $150 million.
Johnson responded that the board would need to look closer at financial information after a meeting this Thursday with the Corps in Vicksburg. The board approved a resolution to communicate to the Corps that it is ready to move ahead with study of the foundation's plan.
In an interview in his office right after the meeting, McGowan and several associates said they hope the Corps will indicate this week that the process could move ahead. They also revealed a map of the project, which the Jackson Free Press has been requesting for weeks, to help explain their newest plan to mitigate flooding along the Pearl River, as well as create attractive development property along the east side of Jackson and the west side of Rankin County starting just above Lakeland Drive and extending south of downtown. McGowan says his earlier Two Lakes, which would have started at the reservoir and created miles of lakefront property for development, would have provided a much higher level of flood protection than the more standard levee-expansion plan that the Corps preferred in addition to many miles of prime lakefront real estate for development.
The Two Lakes plan, though, would have flooded Mayes Lake, destroyed numerous wetlands and promised to be tied up in environmental lawsuits for years, should the Levee Board have embraced it as a locally preferred flooding solution. The Corps also warned the plan was likely prohibitively expensive, citing much higher costs than the amount McGowan promised he could do it for.
McGowan's newest lake plan essentially cuts off the top half of the Two Lakes plan and leaves areas such as Mayes Lake and its surrounding park land in place, although it would flood parts of the golf course at LeFleur's Bluff, as well as relocate some hiking trails, he said. It would also require reworking current levees into what he called "super levees," meaning they would be widened so that they would be "wide enough to develop on," McGowan explained.
"We would have to backfill those levees—widen the width—but we don't take away any of the height of the levees," spokesman Dallas Quinn said.
The men said they see no compromise solution between their new lake plan and the new levees that the Corps endorsed last year. They also confirmed earlier statements that the one-lake solution would not interfere with any later efforts to add back the second lake north of Lakeland to re-create the original and controversial Two Lakes plan, should that idea regain momentum at some point.
The new one-lake plan, as McGowan envisions it, would provide some additional river access to homeowners with property that would have benefitted from the earlier plan, however, including some McGowan family members and business associates, they explained. McGowan pointed on the map to small river inlets, or "slews" as he called them, that would receive heavier water flow under the current plan, thus creating places near homes and property for boat ramps and direct access to the river. Thus, the men said, homeowners in the area would see additional benefit from the new plan.
McGowan brought up potential conflict-of-interest questions involving his team and family, which this paper reported about a year ago. He said he owns a large tract of property, called the Fairgrounds Development Company, LLC, near the state fairgrounds. He has put that land in trust, he says, and promises to donate it to the Levee Board, should they move ahead with his plan. His family does not own other property in the new one-lake footprint, he said, although he conceded that his office building at 1837 Crane Ridge Drive would enjoy a higher water level along its back deck than it currently does.
He added, however, that he does not believe that his business associates at McGowan Working Partners should have to give away their property in the new footprint.  "My partners in the business own little pieces of land here and there, up and down through there. We said that's enough. I'll give them the finest piece of land in the whole project; that's all I have. ... That's where we draw the line."
The Levee Board would have to use its eminent-domain powers for his lake plan, he said. "More than likely, you're going to condemn this plan and make it a public project. When you do, everything that anybody that my group owns is going to go with it. What you pay them and how you treat them relevant to anyone else in the project is up to you. It's our duty to tell you everything we have," he said. The Levee Board then could choose to lease or sell the acquired property to developers, he added.
"If the board does decide to condemn to acquire this property, then the property owners will all be compensated at an equal and fair value," Quinn said, adding that the Levee Board would have to ensure that no property owner held out for "an unreasonable amount of money."
McGowan said some property owners would resist the plan. "I imagine as far as getting all this land, you're going to have 5 percent who don't want to do anything," he said.
At the Corps meeting Thursday, which at least one member of the Levee Board will attend, along with representatives from the Pearl River Vision Foundation (the new name of the Two Lakes Foundation, started by McGowan and others), the Corps is expected to discuss a conflict-of-interest policy it asked the Levee Board to write. McGowan said today that he had provided a list of any potential conflicts of him, his family and his partners to the Corps.
Previous Comments
ID

164080

Comment

By the way, both the Corps and McGowan spokesman Dallas Quinn called yesterday to say that this meeting in Vicksburg was postponed -- probably for two weeks. More details as they emerge.

Author

DonnaLadd

Date

2011-07-15T09:48:58-06:00
ID

164083

Comment

Donna, Is there a map of his new proposal on line?

Author

Renaldo Bryant

Date

2011-07-15T14:21:08-06:00
ID

164087

Comment

Not yet, Blackwatch. They are supposed to be getting me one I can post very shortly.

Author

DonnaLadd

Date

2011-07-15T15:16:57-06:00
ID

164106

Comment

Did you ever get that map?

Author

golden eagle

Date

2011-07-19T13:58:16-06:00
ID

164107

Comment

Nope, I'm still waiting. Not sure why a delay. I'm going to start constructing it from memory if they don't hurry! Where you been, golden?

Author

DonnaLadd

Date

2011-07-19T14:00:35-06:00
ID

164108

Comment

Witness protection program, er, hibernating until college football season!

Author

golden eagle

Date

2011-07-19T14:44:32-06:00
More like this story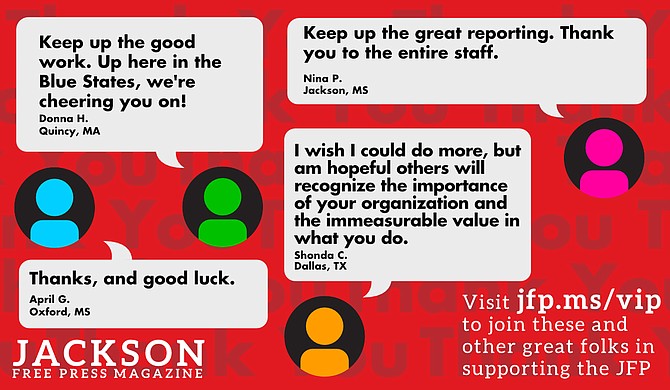 Thanks to all our new JFP VIPs!
COVID-19 has closed down the main sources of the JFP's revenue -- concerts, festivals, fundraisers, restaurants and bars. If everyone reading this article gives $5 or more, we should be able to continue publishing through the crisis. Please pay what you can to keep us reporting and publishing.