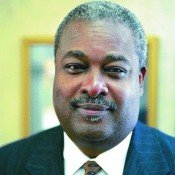 Jackson's first African American mayor has been through it. Since he was first elected to the seat in 1997, he has weathered belittlement, racism, jealousy, direct attacks, vicious media coverage, being labeled "Election Man," being compared to a slow turtle--all while trying to govern a city decimated by its history and white--hen-economic--flight.
Then came the walloping by the extremely unqualified Frank Melton in 2005 when Johnson ran for this third term. The forces had aligned against the Democratic mayor of the state's most progressive city, and were bolstered by cheap, statistically challenged sensationalism spread by most of the city's media. (The JFP tried to bring sense to it all, but we were too young to make a difference then.)
Still, in our 2005 Best of Jackson contest, Johnson pulled what could be described as an upset, or a premonition if you think about it, when our readers selected him the city's Most Under-appreciated Jacksonian, in addition to Best Elected Official. We believed then that Johnson was certainly under-valued and, boy, did the city learn that lesson during the painful four years when Melton was mayor and made a mockery of our city.
But this year's Best Public Figure award isn't about Melton. It is squarely about Mayor Johnson, the son of a cleaner and a garbage collector from Vicksburg, who waged a serious, focused comeback election in 2009, even as donors tried to secretly fund opponents for their own purposes. When we endorsed him--which he well knew was not a foregone conclusion--we believed he was wiser and a bit humbled and more confident at the same time than during his last term.
Johnson's third term is much more peaceful. Sure, the media lunacy over crime (and the finger-pointing at Johnson and whatever police chief was at his side) has calmed, considering that the same media got egg on their faces for supporting Melton. (Ahem.)
But the new detente is also due to Johnson himself. He is more willing to question ideas like the unworkable Two Lakes scheme. He has less of a bunker mentality than he did pre-Melton; he reaches out to serious media and asks to talk; and then he answers questions in great detail (which he always would do, should people have cared to listen closer to his warnings about, say, paying for infrastructure). He has a mess to clean up between Melton's legacy, a shrinking tax base and the recession, and he has the inevitable political firebombs lobbed from Ward 1 and beyond the city limits, which will increase as his re-election campaign approaches. But he is managing it all with aplomb, at least most of the time.
Does this mean he is perfect? No. Neither are his opponents or any of us. But he is passionate about the city, and he takes a whole heck of a lot in stride these days. And it doesn't hurt that a ton of roads are repaved. Let's just say that, for various reasons, a whole lot of people appreciate Harvey Johnson Jr. more than ever these days.
Now, about the turnaround time on public-records requests, mayor ...
--Donna Ladd
Second: Gov. Haley Barbour / Third: Brad "Kamikaze" Franklin / Good Showing: Sheriff Malcolm McMillin, Barbie Bassett
Best Business Owner: Jeff Good
Mangia Bene 3317 N. State St. 601-982-4443
Basketball legend John Wooden's Pyramid of Success includes 15 building blocks, including poise, confidence, team spirit, initiative, enthusiasm, friendship and competitive greatness. If Jeff Good hasn't mastered all 15, he's pretty close. Good, a Salt Lake City, Utah, native, is the co-owner of the Mangia Bene franchise. The company whose name means, "eat well," includes a catering company and three popular Jackson eateries: Bravo! Italian Restaurant & Bar, Broad Street Baking Co. and Sal & Mookie's New York Pizza & Ice Cream Joint. After graduating from Millsaps College and working in technology sales, in 1992, Good went into business with long-time friend and chef Dan Blumenthal. Although each restaurant has a distinct identity with its own menu choices, they share the high-quality food, comfortable atmosphere ,and friendly and knowledgeable staff. All these things don't just happen; they are marks of a great leader.
You never know where Jeff might show up--at the Pepsi Pops as an emcee, modeling for the Diabetes Foundation of Mississippi fashion show or serving drinks at the BOOM fashion show to benefit Dress for Success. Not only does he give his time to better the community, he gives of his resources including the annual Sal & Mookie's Street festival that raises money for the Blair E. Batson Children's Hospital, an endowment contribution to the Community Foundation of Greater and countless other causes.
Good has been married for over 20 years to Debbie and is father to twin-teen daughters, Carly and Alex. --ShaWanda Jacome
Second: Christopher Paige, Custom Cuts & Styles (2445 Terry Road, 601-321-9292) / Third: Whitney Giordano, Material Girls (1000 Highland Colony Parkway, Suite 7005, Ridgeland, 601-605-1605; 182 Promenade Blvd., Flowood, 601-992-4553) / Good Showing: Patrick Harkins (Fondren Guitars, 607 Fondren Place, 601-362-0313); Lacey Norris (Lacey's Salon
 1935 Lakeland Drive, Suite C, 601-906-2253)
Best Rising Entrepreneur: Christopher Paige
Custom Cuts and Styles, 2445 Terry Road, 
601-321-9292
Christopher Paige knows hair. He has been a stylist for the past 12 years, and opened Custom Cuts and Styles last year on Terry Road. Paige's business goes beyond standard haircuts. He wants customers to feel comfortable and strives to create a family-friendly atmosphere where anyone is welcome. His customer base extends to Brookhaven, Clinton and Brandon. In order to be a better communicator, Paige participates in Toastmasters, a public-speaking organization. Paige doesn't just see himself as a business owner; he's a part of the community.
--Lacey McLaughlin
Second Place: Patrick Harkins, Fondren Guitars (607 Fondren Place, 601-362-0313) / Third: Brad "Kamikaze" Franklin (175 Fairfield Drive, 601-317-5444) / Good Showing: John Skelton, Reservoir Wine & Spirits (775 Lake Harbour Drive, 601-856-2712); Erika Montgomery, The AKIRE Company (121 N. State St., 601-497-7028); Brad Reeves, Brent's Drugs (655 Duling Ave., 601-366-3427); Craig and Michele Escude, circa. Urban Artisan Living (2771 Old Canton Road, 601-362-8484)
Best Jackson Writer: Beth Kander
Author, playwright and educator Beth Kander won this title amid stiff competition including Jacksonian Kathryn Stockett, author of the No. 1 New York Times bestseller "The Help." Kander's latest play, "Unshelved" is about a women suffering from Alzheimer's disease, and just finished a run with the Fondren Theatre Workshop at the Eudora Welty Commons. Her life and history shines through her writing, as does her penchant for creative prose, imagery and even the occasional groan-inducing pun. While she acknowledges the importance of writing what you know, Kander believe the imagination can paint just as poignant of a picture. Her muse for "Unshelved" came from family history and the stories of friends. Kander says she's working on multiple projects in her free time, when she's not teaching literature at Millsaps College.
--Carl Gibson
Second: Kathryn Stockett / Third: Jill Conner Browne / Good Showing: Ellen Douglas
Best Arts Organization: Mississippi Museum of Art
380 S. Lamar St., 601-960-1515
Singling out an arts group in Jackson's tight-knit, heavily collaborative arts scene is a bit like picking your favorite child. Still, the Mississippi Museum of Art has distinguished itself since re-opening in a new $14 million facility in 2007. It has boasted crowd-pleasing exhibits--like an exhaustive show on puppeteer and Muppets creator Jim Henson, and selections from Herb and Dorothy Vogel's world-class contemporary art collection--as well as intriguing lesser-known work like Oraien Catledge's haunting photographs of Cabbagetown, Ala. The museum's Art Remix series has become a marquee summer event. And now, a 1.2-acre art garden between the museum and the Arts Center of Mississippi is under construction. -
- - Ward Schaefer
Second Place: Mississippi Arts Commission (501 N. West St., Suite 101, 601-359-6030) / Third Place: Craftsmen's Guild of Mississippi (950 Rice Road, Ridgeland, 601-856-7546) / Good Showing: Greater Jackson Arts Council (255 E. Pascagoula St., 601-960-1557); Jackson Arts Collective (jxncollective.org, 601-497-7454); Mississippi Symphony Orchestra (201 E. Pascagoula St., 601-960-1565); New Stage Theatre (1100 Carlisle St., 601-948-3531)
Best Visual Artist, Best Photographer: Josh Hailey
"Based in Los Angeles, the South, the world," 601-214-2068, [e-mail missing]
joshhaileyphotography.com
Josh Hailey's point-and-shoot camera is an extension of his right arm. A ubiquitous presence at every fun Jackson event (until he relocated to California in December), Hailey rarely bothers to look at those off-the-cuff pictures before snapping the photo. His attention is on the subject, not his camera, believing even a "happy accident" can become a work of art. He takes his effervescence and casual approach to professional gigs as well, putting even the most skittish subject at ease. But personality plus a buck or two would buy him a cup of coffee without talent, and that he has--by the fistful. Whether on assignment or in his personal work, Hailey seems to pull souls, not just images and faces, through his camera lens for all to see.
--Ronni Mott
Best Photographer/ Photo Studio
Second: Will Sterling, Sterling Photography (731 S. Pear Orchard Road, Ridgeland, 601-982-3032) / Third: Robby Followell, Followell Fotography (304 Jefferson Street, Clinton, 601-488-4423) / Good Showing: Christina Cannon, Photography by Christina (2906 N. State St., Suite 107, 601-713-1224); Chris Grillis, Chris Grillis Photography (2727 Old Canton Road, 601-362-9975)
Best Jackson Visual Artist:
Second: Wyatt Waters (307 Jefferson St., Clinton, 601-925-8115) / Third: Ginger Williams ([e-mail missing]) / Good Showing: Ellen Langford (601-316-2944, ellenlangford.com, [e-mail missing]); William Goodman ([e-mail missing])
Best Jewelry Designer: Alex and LeLe
1481 Canton Mart Road, Suite C, 601-206-7720
The childhood photograph on Alex and LeLe's website reveals the love Alexandra Wilkes (pictured, left) and Leslie Decker (right) have for jewelry and style. The discovery of a box of vintage beads led to the start of this artistic jewelry business. The two cousins work hard to create jewelry that mixes "vintage charm with modern style." Every piece is uniquely handcrafted. Though Alex and LeLe started with one location in 2007, there are now multiple stores showcasing their jewelry. Taking care of clients is something Alex and Lele take pride in. In the rare case that you don't find something you like, Alex and Lele will design a piece just for you.
--J. Ashley Nolen
Second: Liz Henry (2906 N. State St., 601-362-8337) / Third: Betsy Liles/b. Fine Art Jewelry (215 W. Jackson St. Ridgeland, 601-607-7741) / Good Showing: Lil McKinnon-Hicks (200 S. Commerce St., 601-259-6461) / Marie's (Stephanie Marie Robertson, 7128 Siwell Road, Byram, 601-346-0027)
Filmmaker: Anita Modak-Truran
From development to pre-production, production, post-production--the cycle--local filmmakers do everything big-time Hollywood filmmakers do to produce films. But they do it the way only those whose feet have touched Mississippi's soil, who have breathed the air here, and seen the city and state through Jacksonians' eyes can: They do it with a southern truthful elegance. Leading the best of the best this year is Anita Modak-Truran. This filmmaker is an authority on cinema and diligently works to share its beauty with us through her films, her pieces about film in the JFP (and formerly The Clarion-Ledger) and on Mississippi Public Broadcasting. Thank you Anita, Robby, Damien, Edward, Jef and Monte for telling our stories, no matter who we are.
--Natalie A. Collier
Second: Robby Piantanida / Third: Damien Blaylock / Good Showing: Edward St. Pé; Jef Judin; Monte Kraus
Live Theater: New Stage Theatre
1100 Carlisle St., 601-948-3533
When my friend answered the phone, I said, "Scrooge is black."
I had gone with another friend to see "A Christmas Carol" at New Stage Theater to get ourselves in the holiday spirit, and my already large eyes grew saucer-sized when a tall, solidly built middle-aged black man stepped onstage when it was time for Scrooge to enter stage left. Or maybe it was stage right.
New Stage is serious about on-stage productions, period. From their opening season as Jackson's first racially integrated theater and audience, to their current productions and provocative Unframed series, the thespians at New Stage wanted to, as Jane Reid-Petty says, bring a "new philosophy of theater to Jackson." Teach us your ways, savants of the stage. We're listening.
--Natalie A. Collier
Second: Fondren Theater Workshop (601-982-2217) / Third: Black Rose Theatre Company (103 Black St., Brandon, 601-825-1293) / Good Showing: Thalia Mara Hall (255 E. Pascagoula St., 601-960-1537)
Best Stage Play: "Revenge"
They say living well is the best revenge. But "Revenge," Jimmie Lee and his J. Lee Production's third premiere staging in the capital city, may tell a different story. The play about love, faith and hot-topic social issues tells how just one decision can affect your entire life. And other's lives, too.
Lee, a Jackson State University alumnus, wrote, produced and directed the play that you, Jackson, loved. We can only imagine what intensely dramatic, quickly comedic, thought-provoking work he'll produce next.
J. Lee Productions isn't the only entity in the city staging work you like. New Stage Theatre's "A Christmas Carol" saw plenty of visitors and filled the hearts of many a tot (and the tots at heart) with holiday wonder. Fondren Theatre Workshop's "Rocky Horror Show" reminded us that live singing, dancing and a little over-the-top makeup goes a long way for out-of-the-box entertainment. --Natalie A. Collier
Second: "A Christmas Carol" / Third: "Rocky Horror Show" / Good Showing: "Cabaret";
"Miracle Worker"
Best Columnist: Rick Cleveland
Rick Cleveland has been writing for 42 years. The University of Southern Mississippi graduate has spent the last 30 of them writing for The Clarion-Ledger. For many, Cleveland has put a face and voice, through the use of words, to Mississippi sports. His ability to write about sports and make you feel like you were in the stadium is one of the things most appealing about his writing. Cleveland was the first sports writer to influence me, and his c"Notes, Quotes and an Opinion or Two" columns were always my favorite. The National Sportswriters and Sportscasters Association selected Cleveland as the Mississippi Sportswriter of the Year in 2010. He will be honored in May of this year at the group's 52nd Annual Awards Weekend. --Bryan Flynn
Second: Brad "Kamikaze" Franklin (Jackson Free Press) / Third: Sid Salter (Clarion-Ledger) / Good Showing: Donna Ladd (Jackson Free Press); Sherry Lucas (Clarion-Ledger)
Best Project Under Construction: Farish Street
Nothing seems to be able to stop the construction on Farish Street. So far, the entertainment district's promised renovation has survived a national economic downturn, a former developer's bad checking account, tough historical building regulations and a flurry of bad information and poor construction assessments. David Watkins, if you get it through this, we'll erect a statue in your honor on Farish's picturesque brick streets.
Keep your fingers crossed, everyone. --Adam Lynch
Second: Mississippi Children's Museum, (2145 Highland Drive, 601-981-5469) / Third: Fondren Park (corner of Northview Drive and Dunbar Street.)
Best Radio Personality, Best Radio Station: Nate and Murphy, Y101
265 Highpoint Drive, Ridgeland, 
601-956-0102
Nate and Murphy together once again claim the coveted title of Best Radio Personality. The two have only been on the air for roughly a year and a half at Y101. Nate West (pictured, left) is a Clinton native who injects his west Jackson roots into the program, and his counterpart Tim Murphy (right) is a transplant from Virginia who gives listeners his classy, well-rounded academic opinion on current issues. Both of them are known for making bets whenever a celebrity gets arrested. The odd couple is undoubtedly the jewel on Y101's crown for Jackson's Best FM Radio Station once again. And maybe next time Busta Rhymes gets busted in Brooklyn for a suspended license, someone will be $5 richer. --Carl Gibson
Best Radio Personality
Second: Scott Steele (U.S. 96.3, WUSJ-FM) / Third: DJ Unpredictable (Hot 97.7 WRBJ-FM)/ Good Showing: Bo Bounds (SuperSport 930-AM); Rick Adams; Brad Stevens (Rock 93.9, WRXW-FM); DJ Jonasty (99 Jams, 99.7/WJMI-FM)
Best Radio Station
Second: WJMI-FM (731 S. Pear Orchard Road, Suite 27, Ridgeland, 601-957-1300) / Third: WRBJ-FM (745 N. State St., 601-944-9885) / Good Showing: WLEZ-FM (916 Foley St., 601-948-7018); Mississippi Public Broadcasting (3825 Ridgewood Road, 601-432-6565)
Best TV News Reporter: Maggie Wade
Many Jackson Free Press readers tune to WLBT-TV to see co-anchor Maggie Wade's charm and warm smile as she recounts the day's news. Wade, who takes top honors in Best of Jackson every year among local TV broadcasters, is as friendly and humble as they come. Wade has a long list of accomplishments since she started her career at WLBT as a college senior. She has won more than 500 awards, and in 2001, the U.S. Congress recognized her for her role in "Wednesday's Child," a weekly segment where she features foster children who need permanent homes.
--Lacey McLaughlin
Second: Barbie Bassett (WLBT) / Third: Bert Case (WLBT) / Good Showing: Megan West Allen (WAPT) / Howard Ballou (WLBT)
Best Visionary: David Watkins
When David Watkins talks about the future of Jackson, he might remind you of a small child who is eagerly anticipating Christmas. Watkins has a unique vision and doesn't look at developments solely in terms of dollar signs. He wants a city where his grandchildren can prosper and that more families will call home.
He's one of the biggest players in Jackson's Renaissance with the renovation of the King Edward Hotel and the Standard Life Building. What does the future hold for Watkins? We hope to see the fruits of his labor soon with the Farish Street Entertainment District and the revitalization of the Metrocenter Mall. While Watkins' recent project, Whitney Place, has met mixed reviews from Fondrenites, if anyone is going to listen to and work with neighbors to keep Fondren's unique charm intact, we think he's the man to do it.
--Lacey McLaughlin
Second: Jeff Good / Third: Ben Allen / Good Showing: Mark Wilson / Harvey Johnson Jr.
Best Change to the City: The King Edward Hotel
235 W. Capitol St. 601-353-5465
Rejuvenation never fails to touch our hearts, and few things in Jackson have captured our imagination like the King Edward Hotel downtown. Once the home-away-from-home for cigar-chomping state legislators during the annual session at the Capitol, lawmakers abandoned the King en masse when it dared register its first African American guest in the 1960s. The old hulk stood abandoned and decaying for decades, a constant reminder of the city's ignominious past and questionable future, until David Watkins, Deuce McAlister and friends rescued it from oblivion, reopening its doors as a Hilton Garden Inn and apartments in December 2009. More than the sleek glass Convention Center, the Manhattan-esque Standard Life Building or any other new development, the King's re-ascension to downtown's throne is simply the best.
--Ronni Mott
Second: Paved roads / Third: Downtown revitalization / Good Showing: Fondren; Mississippi Children's Museum
Best Community Activist: Brad "Kamikaze" Franklin
In 2010, Kamikaze spoke out passionately on topics ranging from the aftermath of Haiti, the effects of Katrina, race, becoming a parent, Mississippi musicians and his beloved Jackson. He used the word "rebirth" in several of his JFP columns as he's spoken about rising entrepreneurship and development in Jackson.
Most recently, he helped light a firestorm of outrage over a (now fired) Ruth's Chris manager who called a black customer "ghetto" in a work e-mail, apparently based on her name. "In 2011, I urge you to 'Buy Jackson' and to 'Eat Jackson.' ... Don't spend money where it doesn't benefit you. Speak up where you see wrong. Call out hateful speech immediately. Refute propaganda with facts. Organize. Act. Identify leaders in your community. Train them and urge them to act.
--ShaWanda Jacome
Second: Jeff Good / Third: Rims Barber / Good Showing: Knol Aust, Ben Allen
Best High School Band: Murrah High School
1400 Murrah Drive, 601-960-5380
When it comes to blasting eardrums, Murrah High School's band tops the charts. It's clear that the school has dedicated some serious resources to the band department when you watch band members march by in full uniform on a Christmas parade. For the students, who take considerable pride in the horn and drum section, it's a matter of priorities.
--Adam Lynch
Second: Madison Central High School (1417 Highland Colony Parkway, 601-856-7121) / Third (tie) Jim Hill High School (2185 Fortune St., 601-960-5354) and Northwest Rankin High School (5805 Mississippi Highway 25, Brandon, 601-992-0290)
Best Curmudgeon: Kenneth Stokes
We're not sure why Ward 3 Councilman Kenneth Stokes won Best Curmudgeon. He's not a classic grump; he is usually jovial and shakes hands with just about everybody during council meetings, especially Clarion Ledger reporters. His opinion is certainly out there. Nobody is as good at broadcasting their opinions better than Stokes. He has no problem taking as much time as he needs during City Council sessions to get across his point. And, yes, his fellow council members and city employees notice. You can see it in their faces, usually at the meeting's three-hour mark.
--Adam Lynch
Second: Bert Case / Third: Chris Jones / Good Showing: Vince Falconi
Best Local Cop: Trena Yarber
When the Jackson Police Department took away Trena Yarber's car and put her on the walking beat in Fondren, she first interpreted it as an insult.
But now, the 31-year-old friendly neighborhood cop loves the gig so much that she gives her cell phone number out to residents. "When people drive by and honk their horn, and I hear, 'Thanks for all the work you're doing.' That makes it all worthwhile," Yarber says. The Fondren neighborhood, once known as a haven for run-down property and illegal activity, is now the hub of Jackson's creative scene and home to dozens of thriving, small businesses.
Officer Yarber believes it is important to know community stakeholders and business owners as well as enforce the law. "Everyone in Fondren is so supportive," Yarber says. "Whether on a bike, in a car, on a horse, or on foot, I love what I do." Yarber has been a member of the JPD force for two years. When she's not at work, she's at home taking care of her three children, ages 4, 5 and 11.
--Carl Gibson
Second: Malcolm McMillin / Third: Colendula Green / Good Showing: Lee Vance
Best Community Garden: Mynelle Gardens
4736 Clinton Blvd., 601-960-1894
In the spring, this seven-acre site surrounds visitors in lush shades of green as the first life of the year begins budding. Even in the winter, this peaceful abode captures its patrons with its still serenity. Once visitors pay the $4 entry fee and make their way past the outer facade just off Clinton Boulevard, they're treated to a quaint scene reminiscent of a colorful postcard; hand-built wooden bridges, cascading waterfalls, and rich history surrounded by some of the rarest, most lush plants in existence. Community volunteers and City of Jackson employees care for the garden. Mynelle was an easy choice for JFP readers in 2011; the gardens took the Best Community Garden crown in 2010 as well.
--Carl Gibson
Second: Rainbow-Tougaloo Garden (500 W. County Line Road) / Third: Belhaven Park (Poplar Boulevard and Kenwood Street)
Best TV Preacher: Chip Henderson
Pinelake Church, 6071 Highway 25, 601-829-4500
Not only have I seen Chip Henderson on TV, but I visited Pinelake Church last year after a friend who had been attending the church invited me. I later asked her what she liked about the church, and she said: "Pastor Chip Henderson never ceases to deliver such an incredible, inspiring message every week. Chip's passion for Christ is evident; his leadership has impacted my spiritual life in many ways. His messages leave you craving more--more scripture, more knowledge, more evidence of Christ in your life!"
Henderson, who has a doctorate in New Testament Studies, came to Pinelake in 1999 and shepherds a church flock of more than 7,000 people. The church has a 170-acre main campus off Lakeland Drive in Rankin County and satellite campuses in the Madison/Ridgeland area, Clinton and Starkville.
When Henderson is not preaching or serving in the community, he hunts or hits the pavement for a run. He also co-created the L3 journal, which is a scripture reading and journaling tool to help believers connect with the Bible. He lives in Flowood with his wife Christy and their three children, Rachel, McKenzie and Reagan.
-- ShaWanda Jacome
Second: Stan Buckley, First Baptist Church of Jackson (431 N. State St., 601-949-1987) / Third: Connie and Joey Shelton, Galloway United Methodist Church of Jackson (305 N. Congress St., 601-353-9691) / Good Showing: Dwayne K. Pickett, Sr., New Jerusalem Church of Jackson (1285 Raymond Road, 601-371-6772); Dr. J. Ligon Duncan III, First Presbyterian Church of Jackson (1390 N. State St., 601-353-8316)
Best Non-Profit Organization: Stewpot Community Services
1100 W. Capitol St., 601-353-2759

The Bible urges us in 1 John 4:7 to love one another. Since 1981, Stewpot Community Services has put love in action by helping the less fortunate in our city. The organization provides food, clothing, shelter, and care to children, elderly and the disabled in the Jackson metro area. Almost 1,000 people benefit from the food pantry at the Stewpot every month, and more than 60,000 meals are served each year in their community kitchen.  Stewpot's goal is to feed people, both physically and spiritually. It has recently embarked on its first-ever capital campaign to raise $4 million to upgrade its current infrastructure to better serve the community.
--ShaWanda Jacome
 
Second: CARA (960 N. Flag Chapel Road, 601-922-7575) / Third: Operation Shoestring (1711 Bailey Ave., 601-353-6336) / Good Showing: The Good Samaritan Center (114 Millsaps Ave., 601-355-6276); Junior League of Jackson (805 Riverside Drive, 601-948-2357); The Salvation Army (110 Presto Lane, 601-982-4881)
Best Local Professor: Jean Powers, Holmes Community College
412 West Ridgeland Ave., Ridgeland
Jean Powers is calm and seeks serenity in her yoga class, but in her speech class at Holmes Community College, her expectations are a bit different. She has been teaching for 25 years, and was a business professor for Hinds Community College and Belhaven College before she began teaching at Holmes. While she has taught business classes before, she enjoys teaching speech the most. Most college students, no matter their age, are fiercely intimidated when they first walk in a speech classroom, but Powers works to inject laughter and reward good behavior in her classroom. She maintains a positive outlook in life and encourages her students to do the same.
--J. Ashley Nolen
Second: James Bowley, Millsaps College (1701 N. State St.) / Third: Bob Pennebaker, Belhaven University (1500 Peachtree St.) / Good Showing: Jay Long, Hinds Community College (3925 Sunset Drive)
Best Wedding Venue: Fairview Inn
734 Fairview St., 601-948-3429
Every bride searches for the best location to have her unforgettable day. Fairview Inn vows to help accommodate any size wedding. The venue offers indoor and outdoor wedding spaces partnered with small or large reception areas. The folks at Fairview Inn want their clients to feel comfortable on what can sometimes be a stressful day. To help ease the bride, groom and bridal party, the historic inn in the Belhaven community also offers the opportunity to relax at their on-site day spa. Out-of-town guests can also stay in luxurious rooms and suites. For the couple that wants to stay close, Fairview Inn even offers honeymoon suites.
--J. Ashley Nolen
Second: The South (627 E. Silas Brown St., 601-968-0100) / Third: The Cedars (4145 Old Canton Road, 601-366-5552) / Good Showing: Luckett Lodge (214 Clark Creek Road, Brandon, 601-829-2567); Old Capitol Inn (226 N. State St., 601-359-9000); Mississippi Craft Center (950 Rice Road, Ridgeland, 601-856-7546)
Best Place to Hold a Party or Shower: The South
627 E. Silas Brown, 601-968-0100
The South's inventory is sure to impress collectors and admirers of antiques. Hand-crafted furniture, home accessories, luxurious fabric, china and glassware are just a taste of what retail part of the mammoth warehouse space holds. The South is also a fabulous place to hold an event. Weddings, receptions, rehearsal dinners, corporate luncheons, holiday parties, business receptions and fundraisers are all events that are nicely accommodated at The South--as was the huge 2010 Best of Jackson party last January. Guests of any party are sure to be impressed. Ours sure were.
--J. Ashley Nolen
Second: Fairview Inn (734 Fairview St., 601-948-3429) / Third: The Cedars (4145 Old Canton Road, 601-981-9606) / Good Showing: Easely Amused (7048 Old Canton Road, Suite 1002, Ridgeland; 2315 Lakeland Drive Suite C, Flowood , 769-251-5574); Duling Hall (622 Duling Ave., 601-362-8440)
Best Real Estate Agent: Don Potts
Nix-Tann & Associates (1776 Lelia Drive, 601-982-7918)
Don Potts has his name all over Jackson. Literally. It's not just those Nix-Tann signs, either. The city's best real estate agent (again) is also a native son and a stalwart community member. Catch him on the board of your favorite local nonprofit: Rainbow Cooperative Grocery (he's vegan), the Jackson Bike Advocates and the Mississippi Opera, to name just a few. Or check out his own delightful Fondren residence, with a vibrant backyard garden and a miniature white horse named Willow, complete with a little barn. A man with a manse like that must know real estate.
--Ward Schaefer
Second Place: Hayley Hayes (The Overby Company, 2630 Ridgewood Road, Suite A, 601-366-8511) / Third Place: John Skelton (601-540-8099) / Good Showing: Eugenia Hines (P.O. Box 1116, Madison, 601-291-0232)
Best New Slogan: The City With Soul
Our winning slogan this year could be considered "new" only in a city that still calls a building finished in 1903 the "new" Capitol. It's relative, of course, to your point of reference. Some southerners will argue for days that nothing implemented after the Civil War ... er, the War of Northern Aggression is worth a Yankee damn. On the other hand, slogans bemoaning a grievance (Fix Fortification; Don't Shoot) ran neck and neck with ambivalence (Thankfully Not Madison; Better Than Bovina; At Least It's Not Detroit) and the moderately hopeful (Barbour Will Be Gone Soon; We're Working On It). Overall, though, suggestions emphasized the positive, with only a few being downright nasty. But you know who you are, and you're going to hell.
--Ronni Mott
Second: (Four-way Tie) Jack is Back; Best of the New South; Crossroads of the South; Fix Fortification / Third: Mississippi on the Rise
Best Veterinary Clinic/Veterinarian: North State Animal & Bird Hospital/Dr. Adrian Whittington
208 North State St., 601-982-8261
My middle cat ("2 of 3" we call him sometimes), King Edward, is my JFP boy, whom I rescued after I heard his tiny little guttural self yowling from under the hedge across Fortification Street when three of us were (inappropriately) starting the JFP in a two-bedroom apartment in 2002. (He was named for our then-obsession with a certain hotel revival, and a fabulous local bluesman.) I rescued tiny Eddie, gave him wet food, and he's never let go of me since. This little mama's boy exploded into a humongous puma fit for the zoo when he was a year old, and has since been a favorite target of (smaller) brothers Willie and the irascible Deuce (long story).
The last time I found Eddie with teeth marks on his butt, I stuffed him into his box and rushed up North State to North State where they know and somehow love my little monsters. They still marvel about my felines' great adventures, and they calm my sometimes-imaginative fears (we rushed Deuce to ER one night for biting into a praying mantis). Last time I picked him up, Dr. Jed Cade referred to him as "Big Ed" as if he was his next-door neighbor. I just love me some vets who give my crazy cats nicknames and who, so obviously, love their work and their wards. Thank you, North State, for making our often-animal-unfriendly city a bit safer for all God's critters. Y'all are bona fide angels.
--Donna Ladd
Second: Briarwood Animal Hospital (471 Canton Mart Road, 601-956-5030) / Animal Medical Center/Dr. Troy Majure (995 S. Frontage Road, 601-354-3622) / Good Showing: Jackson Animal Clinic (1740 S. Gallatin St., 601-355-5113); All Creatures Animal Care Center/Dr. Amanda Camp (262 New Mannsdale Road, Madison, 601-856-5333; Hometown Veterinary Service, (1010 Highway 471, Brandon, 601-825-1697)
Most Unappreciated Jacksonian: Bill Kehoe
When I think of under-appreciated Jacksonians, I see visions of working moms who juggle children and careers, or maybe firefighters and emergency room doctors. However, voters in Jackson took a more musical approach. Bill Kehoe's fans must not think enough people come to hear him play in The Common Ground Blues Band and his jazz trio. Kehoe, 62, has been playing drums professionally for more than 40 years and plays the guitar for fun. He was Jimmy Buffett's first drummer, but now Kehoe takes the lead. Currently, he is working on his first album. You can often find Kehoe at Hal & Mal's, Burgers and Blues, and the annual Fondren Arts, Eats, and Beats.
--J. Ashley Nolan
Second: Funmi "Queen" Franklin / Third: David Watkins / Good Showing: Leo Huddleston
See more 2011 Best of Jackson winners
Previous Comments
ID

161844

Comment

The following corrections are made above and will appear in the print edition next week: The first name of Erika Montgomery of The AKIRE Company, who earned a Good Showing nod for "Best Rising Entrepreneur" was misspelled. A photo of the wrong Christopher Paige ran with the "Best Rising Entrepreneur" write-up. This includes the correct photo of the winner. We apologize for the errors.

Author

DonnaLadd

Date

2011-01-28T16:31:12-06:00
More stories by this author
Support our reporting -- Follow the MFP.