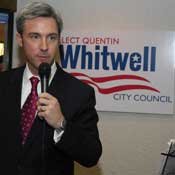 For one, Whitwell' lobbied for legislation allowing power companies to buck the state's years-old process for funding new energy development. For decades, power companies could only charge ratepayers for the cost of building new energy plants after the plants were up and running.
Whitwell's company served Entergy Mississippi's interest in passing legislation that would allow utility companies to charge ratepayers for new power plants, even before the plants broke ground.
In 2008, they succeeded in convincing legislators to pass SB 2793, a bill that empowered the Mississippi Public Service Commission to allow power companies to charge customers before construction commences on new plants, "whether or not the construction of any generating facility is ever commenced or completed, or the generating facility is placed into commercial operation."
Meadowbrook Strategies said the law "offers protection to customers from future rate shock associated with new nuclear or coal plant construction," and "ensures ... clean, affordable power for the future," from "more diverse and stable fuel sources."
Whitwell's firm also says it is one of the leading proponents of a new bill to create a taxpayer-funded charter school in the state. The company effectively sold the idea of a charter-school system to Mississippi legislators and set up a website (mseducationoptions.org) that contains a petition to push legislators and Barbour to support a new charter-school law.
The result last year was the passage of SB 2293: The New Start Conversion Charter School Act of 2010. The law allows the Mississippi Recovery School District to act as a state body in taking over habitually failing schools. The district can then turn the failing school into a school sharing some charter characteristic, such as a hiring and firing policy independent of that mandated by the state Department of Education, and more freedom when building the curriculum. Under SB 2293, more than 50 percent of parents or guardians of students attending the school must approve the decision to adopt a charter format.
Critics such as the NAACP claim charter schools undermine public education by siphoning limited public-school funds into new schools, leaving existing schools with new shortfalls. Senate Bill 2293 imposes more restrictions upon any charter schools created under the law. Many charter schools, such as the Knowledge is Power Program, known nationwide as KIPP, follow an open enrollment policy, but have the option of sending the child back to his former school if he or she violates the school's contract. Senate Bill 2293, however, forces any new charter school arising from a failed school to enroll the same student body from the original school.
Whitwell said the final look of the bill was not to his liking. "I've worked with the National Alliance for Public Charter Schools in the past. ... I am unsure whether they will continue the fight in Mississippi due to the fact that they were disappointed in the final bill last year, and are concerned that the legislation will not work for public charter schools."
Whitwell said he still believes "very much in the need for charter schools."
"In the public-school arena, they instill competition, and they allow for families that are dissatisfied with their current status to have options. That's important, because at the end of the day, schools are not about administrators but its students," Whitwell said.
Barbour championed another Meadowbrook Strategies project in 2006, approving a bill allowing Hurricane Katrina-devastated casinos to leave coastal waters and move 800 square feet ashore into a presumed storm buffer zone. Whitwell said the new law was a careful balance between the interests of the casino industry, which hoped to expand further, and those who wanted no casino expansion to areas not inextricably tied to water. Native American-owned casinos such as the Choctaw-owned Golden Moon casino, in Philadelphia, were already exempt from the law.
"We wanted to be sensitive to both sides, but (the Talon Group was) hired basically to fall in line with the governor's position in the legislation," Whitwell said, adding later, "I'd like to think that most of the issues we take a stand with are reasonable."
No other candidate has officially declared his or her intention to run for the Ward 1 position vacated by Jeff Weill, who took his new Hinds County Circuit judge seat this month. Would-be contenders, which include Marcus Ward, chief of staff under former Mayor Frank Melton, have until Jan. 26 to qualify.
Monday, Jan. 17, is the last day for voters to register to be eligible to vote in the special election. The city of Jackson will extend the hours of city clerk's office between Jan. 10 and Jan. 14 from 8 a.m. to 7 p.m. for voter registration, and will be open Saturday, Jan. 15, from 8 a.m. until noon.
Previous Comments
ID

161595

Comment

Quentin Whitwell's cozy relationship with the energy sector is pretty scary stuff. However, I don't see his support of charter schools as a bad thing. President Obama supports charter schools b/c he knows that they have succeeded in providing quality education to children at a time when a good education is extremely hard to find.

Author

Dave Coleman

Date

2011-01-12T22:21:49-06:00
ID

161604

Comment

These revelations should scare you, Dave. Just wait till soon-to-be Councilman Whitwell votes on pivotal issues such as renaming city streets and libraries and what size the scissors should be at the next ribbon-cutting ceremony. Then you'll know the true Whitwell and be able to link his voting record to passages in "If By Whiskey."

Author

jbreland

Date

2011-01-13T09:34:44-06:00
More stories by this author
Support our reporting -- Follow the MFP.