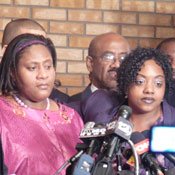 Also see: Let My Daughters Go
Barbour Suspends Scott Sisters' Sentence
Editorial: Free the Scott Sisters
Scott Sisters Story Goes Viral
Newly free sisters Jamie and Gladys Scott are on their way to Florida to be with their mother, Evelyn Rasco. At a press conference in Jackson this afternoon, the sisters thanked the coalition of advocates and ordinary citizens who pressed for their release, and they vowed to speak for friends still behind bars.
"It's like a dream," Jamie Scott told reporters about being released from prison after serving 16 years of a life sentence for armed robbery. "I feel like I can't wake up right now."
Jamie said that seeing her three children, who are now 23, 20 and 17, will make her freedom seem more real.
"I believe when I see them—that's when I'm going to break down," she said.
It would be "weird," too, to meet her grandchildren for the first time, Jamie said. Her two grandchildren, ages 5 and 3, know her only as the reason that her mother—their great-grandmother—Evelyn Rasco spends hours on her computer corresponding with supporters.
The sisters entered the conference room at the Mississippi NAACP headquarters on Lynch Street surrounded by a throng of security guards and television cameras. The crowd of supporters in attendance erupted in applause and chants of "free at last, free at last, thank God almighty, free at last."
The Scott sister maintain that they are innocent of the 1993 armed-robbery charges that sent them to prison, but thanked Gov. Haley Barbour, who indefinitely suspended their sentences with a Dec. 29 executive order.
"I'm not bitter," Gladys told reporters. "We couldn't have made it in that prison being bitter."
"A lot of people say that governor did this for political reasons. Well?" attorney Chokwe Lumumba said, to laughter. "You know what? We did it for political reasons, too."
Lumumba said that advocates were aware of the political liability that the sisters' incarceration could present for Barbour if he decides to run for president.
Gladys confirmed that she has volunteered to donate a kidney to Jamie, who suffers from kidney failure and requires regular dialysis. Barbour stipulated that the donation was a condition of Gladys' release, but further tissue tests are necessary to confirm that Gladys can serve as a donor.
The sisters said that they hope to advocate for friends and acquaintances they've made in prison.
"I left people in that prison that I love with my heart," Jamie said. "I will be their voice."
Previous Comments
ID

161506

Comment

A comment via e-mail: comments: I think the Mississippi naacp showed a lack of class for not taking the question about Nancy Lockhart the lady did so much to free the sisters. She worked on the case since 2005 if not for her a lot of people would not of heard of the case.

Author

DonnaLadd

Date

2011-01-07T18:25:25-06:00
ID

161507

Comment

BTW, Ward said he didn't hear the NAACP reject a question about Ms. Lockhart and that one of the sisters talked her. Regardless, it bears to be emphasized that she was the first person that Ms. Rasco called after Ward gave her the news, and that she along with Ms. Rasco clearly deserves the most credit for keeping this alive over the years. The NAACP got involved last year, and Lumumba got back involved after it started drawing national attention. There is a lot of shared credit to be had, but this is really the story of two women: Evelyn Rasco and Nancy Lockhart. Nothing should get in the way of that fact.

Author

DonnaLadd

Date

2011-01-07T18:27:58-06:00
More like this story
More stories by this author