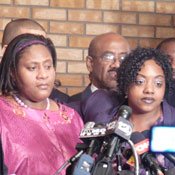 Jamie and Gladys Scott thanked Gov. Haley Barbour and the supporters who pressed for their release.
Stories this photo appears in:
Justice
Less than three weeks after her release from prison, Jamie Scott has been hospitalized. Activist Nancy Lockhart, who worked for more than five years to free Jamie and her sister, ...
Justice
Also see: Let My Daughters Go