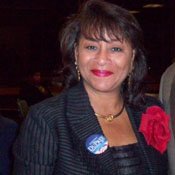 CORRECTION: In an earlier version of this story, we spelled Nettie Stowers wrong. We apologize for the error.
Nettie Stowers is not your ordinary dip-in, give a little and dash-out person. She began her ambitions with the Farish Street-Main Street Project while attending Farish Street Baptist Church and connecting with two other women, Dorothy Stewart and Alfertine Harrison. Stowers said she began helping with the Kwanza celebration while attending the church. She admits that she does everything on Farish Street from attending church to exercising and walking.
Right now Stowers is busy organizing the Farish Street-Main Street Project's lighting of the Christmas trees, a Jackson tradition for five years. She is also working on the upcoming Kwanza Celebration, a 10-year community tradition.
"Kwanza is about black people's history--an oral history--all the way from Africa," she said. "We are beautiful people with a beautiful history.
Both events are at Farish Street Park on the corner of Farish and Hamilton streets. The lighting of the Christmas trees is Monday, Dec. 19, at 4 p.m. The Kwanzaa Celebration is Monday, Dec. 26, at 3 p.m.
Stowers was raised in Scott County on a farm where her family made a living. She attended Jackson State University, receiving a bachelor of science in education degree in only three years. She graduated cum lade of her class in 1971.
One year later, in 1972, Stowers graduated from Howard University with a master's degree in education. She worked as an admissions counselor at Tuskegee University, and later she worked in television in Nashville, Tenn., where she remembers Oprah Winfrey was a radio reporter, Pat Sajak was a news announcer and she taped shows in the same studio where Dolly Parton and Porter Wagoner taped their programs.
Stowers prides herself on not looking a woman of her age, although she didn't tell the Jackson Free Press how old she is. She believes "age is a matter of mind," and she is "old enough to care." She is not married, nor does she have children of her own, but she did raise others' children.
For information about the lighting and the Kwanza events, call 601-941-3230 or 202-256-6021.
More like this story
More stories by this author