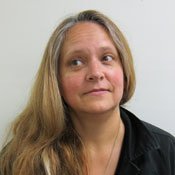 I crossed the street quickly and hurried under Interstate 55 to catch the bus. The gray, concrete columns stood silent, holding up tons of speeding commuters. The underpass space is pretty expansive. It is mostly clean and blank space with enough room for a parking lot. Right now, its only function is engineered bridge support.
Getting on the bus and rolling along the frontage road, I imagined what the city might look like if the Jackson Free Press graphic designers took over. I had asked them the other day if they could rule the world, what would change? The common response was more color. No blank walls. No more all-black outfits. (This was probably directed at me, since almost all the clothes I own are black.)
I wonder what the designers and the artists would do with these blank and sometimes dreary underpasses. Actually, I already have a few ideas of what they are thinking. Erin Hayne of NunoErin told me recently that she and her husband and partner, Nuno Goncalves Ferreira, had proposed some kind of wavy, finned art display to go under some of the railroad bridges in downtown Jackson. Erin is expressive and seems to lift to her toes when talking about the innovative and fun projects NunoErin is developing. It's contagious.
NunoErin has more ideas for public art. The design studio proposed an egg-shaped playground feature for the Mississippi Museum of Natural Science. The couple also proposed a photographic montage with LED lights for Jackson Medgar Wiley Evers International Airport. That's not all--they had proposed an infinity mirror for the Art Garden at the Mississippi Museum of Art, but it didn't make it to the final cut. That hasn't stopped NunoErin from coming up with new ideas or from approaching the concept from a different angle. They've talked about installing the tall futuristic, round mirror in another park or making it part of another installation.
I really love the idea of NunoErin's finned art displays in underpasses softly moving along city streets. My imagination has taken off, probably far, far away from the actual idea NunoErin is perfecting. I imagine this flapping structure that seems to breathe along with the city and its shifting clay and active surface. NunoErin uses light in much of its work, so I wonder how this unusual project might light up Jackson.
The idea is only a proposal, and like lots of arts projects, leaders are supportive in theory, but the reality is these things take money.
The city of Jackson does embrace art and support public-arts projects. An inaugural program to have artists paint more than 300 traffic boxes throughout the city is an example. We just got word last week that Kimberly Jacobs with the Greater Jackson Arts Council is designing the first traffic box cover. After the city primes the traffic box on Pascagoula Street, Jacobs will paint it. GJAC is using this first box as a test of its process. I am so curious about how Jacobs will decorate this utilitarian piece of metal.
Of course, one person's vision of a public-arts project is another's nightmare. I still am recovering from the invasion of the swans in Hattiesburg. The Area Development Partnership in my hometown oversaw this 2006 campaign to push businesses and institutions to purchase large, simplistic swan sculptures designed in Louisiana and manufactured in Italy. (Ahem: the ADP should have given some Mississippians that work).
The idea in theory was to give local artists the honor of painting the swans with different themes. The results are kaleidoscopic at best. Some people love the swans. They take their grandchildren on tours to find all the remaining invading birds, some with cracked paint, some faded, and all of them lacking context for south Mississippi.
Biloxi understands public art and native birds. The city of my birth still brings me to my knees with its poignant bird sculptures along U.S. 90, also called Beach Boulevard. Trees in the highway median that pretty much died after Hurricane Katrina were left in place. A sculptor turned each piece of twisted wood into Mississippi wildlife. The sculptor, like a Michelangelo with marble, saw seagulls and pelicans trapped in the wood grain and brought them to life. Dolphins and turtles also adorn the Gulf Coast in similar sculptures and occasional topiaries.
Two magnificent bridges along U.S. 90 are the new landmarks on the post-Katrina Coast. One connects Bay St. Louis with Pass Christian. The other one spans from Biloxi to Ocean Springs. Wide with low walls for amazing views of the Mississippi Sound and the bays, the bridges include secure paths for walkers, runners and bikers. The Mississippi Department of Transportation included lots of art in the bridges. MDOT placed metal plaques with bas-relief images of the Coast's wildlife at key points along the bridge. It makes you want to walk across both bays to make sure you take it all in.
Other artists used pieces of the old Biloxi bridge to make new art, to tell a story about Katrina's destruction. I'm one of those who is still not over it, no matter how many times I'm encouraged to leave 2005 in the past. Maybe that's why I find the work of photographers H.C. Porter and Gretchen Haien so fascinating. They created a multi-media sculpture based on images of floor slabs Katrina wiped clean. You can see their work at the Mississippi Invitational exhibit now on display at the Mississippi Museum of Art.
Lots of dreary infrastructure waits for artists to transform it all into landmarks. I'd love to see the possibilities come to life and make us optimistic, curious and proud.
Previous Comments
ID

165539

Comment

Great column Valerie. Do you know if the city is actually putting a percentage of capital improvement funds into its public art program? I know that was proposed can't remember if the program ever got funded.

Author

Lacey McLaughlin

Date

2011-12-07T13:41:35-06:00
More stories by this author
Support our reporting -- Follow the MFP.