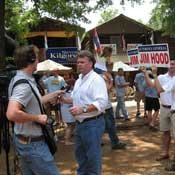 The Neshoba County Fair has a Ferris wheel, deep-fried food, livestock shows and 4-H exhibits, but the best entertainment is the political theatrics that take place under the pavilion in Founder's Square.
Political candidates—each with an accompanying entourage—promote their platforms in short speeches. In addition to outlining policy, they must be entertaining enough to lure potential voters from their shady porches and along roads that alternate between muddy and dusty to see the show. Political enthusiasts come out in force, hanging 4-foot-tall signs on cabins and donning matching T-shirts to represent their "teams." For once, political rivalries take precedence over those of sports, with signs for candidates outnumbering even Bulldogs or Colonel Rebs.
Speeches by candidates for statewide positions began July 27. Some campaigns offered T-shirts, fans and flyers, and some candidates attracted standing-room-only crowds.
In the campaign for attorney general, Republican challenger Steve Simpson devoted most of his time behind the podium to blasting Democratic incumbent Jim Hood and challenging him to a debate.
"Mississippi has not had a conservative Republican attorney general since Reconstruction, and I think it's time for that to change," Simpson said.
Hood seemed at ease behind the podium, barely acknowledging his opponent. He touted his efforts to prosecute and prevent domestic violence and Internet crimes, making sure to draw attention to a group of women and girls in bright pink shirts marked "Women for Jim Hood."
"The Internet has become the crime scene of the 21st century," he said, adding that Mississippi must educate young ladies on the dangers of sexting, sending sexually explicit messages or photos via text messages.
After speaking, Simpson and Hood gathered with supporters and reporters behind the pavilion to reinforce what they had said during their 10-minute speeches and pose for photographs. When the cameras turned on Hood, members of his campaign held up signs behind him, smiling, to form a backdrop.
Later, he took a break in talking about cybercrime to greet acquaintances passing by and commiserate with them about the heat. "You're not hot, are you?" one of the women asked, laughing. "Well, now I'm soaking wet, so I can kind of handle it," Hood said before turning back to talk about policy once more. Sometimes it's good politicking to put on hold the statements and speeches for a few minutes to greet an old friend's grandson in a stroller.
Two of the most popular events Wednesday were the back-to-back speeches by the Republican candidates for lieutenant governor, state Sen. Billy Hewes and state Treasurer Tate Reeves. With no Democrat in the race, Hewes and Reeves worked hard to seal the deal ahead of the Aug. 2 primary. The matchup attracted several rows of sign-wielding fans who planted lawn chairs directly in front of the stage to lend their energy to the speeches.
Reeves' campaign offered a ride and lunch to those who wanted to join him at the fair. Reeves accused Hewes of lying by claiming Reeves had only gotten a hunting license to run for lieutenant governor. Reeves held up what appeared to be several hunting licenses and assured the audience that wasn't true.
"A man who would lie about another man's hunting license is liable not to tell the truth about other things, too," he said, to great applause from supporters.
A hunting license is a strange prerequisite for holding public office, but at the Neshoba County Fair, politicians work overtime to demonstrate Mississippi credentials, slipping university allegiances and anecdotes about their children in between self-deprecating humor and jabs at their opponents. At "Mississippi's Giant House Party," it's important to strike the right balance between bold attacks on unpopular policies and folksy humor.
Hewes, a Senator from Gulfport, assured the audience he was not a "career politician"—a harsh epithet in this year's campaigns.
Several times during his speech, he tried with mixed success to teach the audience to chant, "It's your money!" along with him as they waved fans to ward off the late-July heat.
By the end of the day, discarded campaign signs littered the sawdust floor and wooden benches in the pavilion, along with paper fans advertising political parties, businesses, door prizes and ballot initiatives.
Hood said his goal at the fair was just to get back out and visit with people. "People just like to see you and talk to you, see how you're doing," he said. "People in Mississippi vote for who they like, you know?"
To read more candidate interviews and more political news, visit http://www.jfppolitics.com and follow @jfppolitics on Twitter.
More like this story
More stories by this author
Like independent media outlets around the world, the Jackson Free Press works hard to produce important content on a limited budget. We'd love your help! Become a JFP VIP member today and/or donate to our journalism fund. Thanks for considering a JFP VIP membership or one-time support.