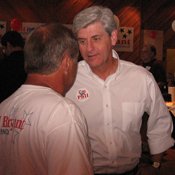 Republican candidate for governor Phil Bryant said he had no regrets at a cookout he hosted for supporters and volunteers Monday evening at the Mississippi Agriculture and Forestry Museum in Jackson. He called the last days before the primaries the most exciting time in his political experience.
"You get that sense of satisfaction that we've done all we can do," he told the Jackson Free Press. "Looking back, I don't think there's anything else I wish I could go back and redo."
Bryant told the people there he is touched that people helped his campaign without being asked or paid. "They are getting ready for the next governor to be elected, and they'd like him to be one of their friends," he said. Bryant asked supporters to finish the campaign strong by emailing and texting their friends to remind them to vote.
The Republican lieutenant governor went to Hattiesburg Monday, then to Lamar County for a press conference about school bus safety. He then went to Magee to talk to people in businesses downtown. He planned to be at polling places in DeSoto County early Tuesday morning.
Several people at the cookout, including Gary Clark, said they had known Bryant for 20 to 30 years or more. "He's one of us," Clark said. "I mean, some of the Republicans have their noses up in the air; he doesn't. He's one of us."
Some knew him from his time on the board of Mission Mississippi, a Christian racial-reconciliation group, or from earlier in his political career.
Mary Hailey Sinyard, 15, said Bryant was a very nice guy who would do anything and everything he can to do what is right for the community and Mississippi as a whole. Sinyard got involved in politics a few years ago, and has been knocking on doors this year as a volunteer with the Bryant campaign.
"I need to know stuff about politics so that when I get older I can know what to do to help my country and my state progress," she said.
Dave Dennis, also a Republican gubernatorial candidate, was at Top of the Hops Beer Festival Saturday in Jackson, apparently courting the under-35 age group the festival attracted.
Brian Perry, Dennis' campaign manager, said Dennis was visiting businesses and restaurants on the Gulf Coast Tuesday and would be at the Ingalls Shipbuilding yard for the shift change. The Coast resident plans to watch the election from the Marriott Courtyard in Gulfport.
Democratic candidates for governor Johnny DuPree and Bill Luckett were both on the road Monday, making their last appeals to voters before Tuesday's primary elections.
Sam Hall, DuPree's campaign manager, said his candidate was finishing up a weekend tour Monday, working his way back from DeSoto County to Hattitesburg, campaigning all throughout the day. Hall said DuPree plans to vote Tuesday morning before making get-out-the vote calls and attending to city business. Tuesday evening he plans to watch the election results from the Historic Train Depot in downtown Hattiesburg.
Julienne Uhlich, Luckett's campaign manager, said Luckett was hitting six different counties Monday, stopping by locally owned restaurants and businesses to talk about his plans for improving education and growing the economy. In addition to voting, Luckett plans to spend Tuesday shaking hands and talking to voters one last time. Tuesday evening he plans to be at Ground Zero Blues Club in Clarksdale to watch election results.
Previous Comments
ID

164222

Comment

I have to say this, it's gonna be interesting to see how the next governor approaches things in and for Mississippi? I don't see any of these candidates steppin' up in the national arena unless its in the house or senate, anything more than that - its a head scratcher and Haley learned that the hard way. Of course my biggest concern, is how do they start addressing the issues in the biggest and most populated area in the state? North Mississippi, the Coast and a few other areas have received some economic assistance with packages to attract job growth. Are any of them concerned with Jackson? We'll have to wait and see.

Author

Duan C.

Date

2011-08-02T14:24:30-06:00
ID

164225

Comment

@Duan - Poor Haley. :)

Author

lizwaibel

Date

2011-08-02T18:55:51-06:00
More like this story
More stories by this author