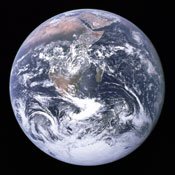 "If we do not change our direction, we are likely to end up where we are headed." —Chinese Proverb.
The first Earth Day, April 22, 1970, came in reaction to an oil spill. Today, bigger, more damaging man-made disasters have eclipsed the January 1969 blowout five miles from the beaches of Santa Clara, Calif. At the time, though, the debacle demanded America's attention. More than 3 million gallons of crude oil pumped into the Pacific under Unocal's drilling platform Alpha, washing waves of crude onto pristine beaches and killing untold numbers of seabirds, seals, dolphins and other marine life.
Founded by former Wisconsin Sen. Gaylord Nelson, a Democrat, Earth Day became a rallying point for environmentalists of all stripes: Seemingly disparate groups fighting air and water pollution, toxic dumps, loss of habitat, species extinction and other damage to the environment found common ground and strength in numbers. An estimated 20 million Americans took part in that first Earth Day, marching, rallying and speaking out to protect the planet. It was the beginning of the modern environmental movement.
"Earth Day 1970 achieved a rare political alignment, enlisting support from Republicans and Democrats, rich and poor, city slickers and farmers, tycoons and labor leaders," the Earth Day Network website states. "The first Earth Day led to the creation of the United States Environmental Protection Agency and the passage of the Clean Air, Clean Water, and Endangered Species Acts."
Like so many authentic grassroots movements, the idea began with one person who was simply fed up with an untenable situation. Fortunately, as a U.S. senator, Nelson had a platform where he could reach millions. But it doesn't take millions of people to make a difference.
This 41st annual Earth Day gives us an opportunity to re-evaluate our commitment to a clean, healthy environment for our own benefit and that of future generations. One perfect place to begin is by understanding how our home and work environments and the products we use affect our health and the health of our planet. Each of us, in small and large ways, can make lasting contributions in the all-important effort to create and maintain a sustainable environment.
Indoor pollution can trigger allergic reactions such as sneezing, eye and skin irritation to causing asthma and other chronic problems even in otherwise healthy people. Here are some of the more common pollutants that you may find in your house and a few tips to deal with them.
Molds just love a damp, warm environment to grow in, making Mississippi the ideal place for them to grow. The Centers for Disease Control recommend the following ways to prevent mold:
• Keep humidity levels between 40 and 60 percent.
• Use an air conditioner or a dehumidifier during humid months.
• Be sure to provide adequate ventilation, including exhaust fans.
• Add mold inhibitors to paint before application.
• Clean bathrooms with mold-killing products.
• Do not carpet bathrooms and basements.
• Remove or replace previously soaked carpets and upholstery.
If you already have a mold problem, fix any leaks first, then clean hard surfaces with soap and water, or a solution of one cup of bleach to a gallon of water. Find more information at http://www.cdc.gov/mold/.
Lead paint is not a problem in homes built after 1978 (the U.S. banned the use of lead in paint that year), but most houses built before then probably still have some lead-based paint somewhere. Most at risk for lead poisoning are children aged 6 and younger. Once ingested, "lead can interfere with the production of blood cells and the absorption of calcium that bones need to grow healthy and strong," according to the Nemours Foundation, a non-profit group dedicated to children's health.
If you have reason to suspect your home contains lead-based paint, have your children tested for lead exposure. Then, contact the Mississippi Department of Health at 601-576-7690 to find out how to have your home tested, too. Here are a few other tips from Nemours' Kids Health website (http://www.kidshealth.org):
• Be wary of old plumbing. Homes built before 1970 may have copper pipes and lead solder. Only use cold water from your faucets for drinking and cooking, and let cold water run for 30 seconds before drinking it.
• Keep your home and family clean. Wash your kids' hands and toys frequently, and wipe any dust from surfaces with a wet cloth.
• Provide sufficient iron and calcium and regular meals. For children exposed to lead, good nutrition can reduce the amount their bodies absorb.
• Know where your kids play. Keep them away from busy roads and the underside of bridges.
Chemicals found in many common household products can irritate and damage skin, eyes and lungs, and some can even be deadly. To rid your home of toxins, take on an Earth Day chemical purge, making sure to dispose of the products safely. Then, turn to natural products and solutions as you need them.
If you must use hazardous chemical products, the CDC recommends the following safety tips (more at http://www.cdc.gov/HomeandRecreationalSafety/Poisoning/preventiontips):
• Read the label before using a product that may be poisonous.
• Keep chemical products in their original bottles or containers. Do not use food containers such as cups, bottles or jars to store chemical products.
• Never mix household products together. For example, mixing bleach and ammonia can result in toxic gases.
• Wear protective clothing (gloves, long sleeves, long pants, socks, shoes) if you spray pesticides or other chemicals.
• Turn on a fan and open
windows when using chemical products.
Greening Yourself
It's easier than you think to go green. First, think local. Check out Rainbow Green Services inside the Fair Trade Handicrafts store at 2807 Old Canton Road for green products, books and all kinds of other resources. Rainbow Whole Foods, in addition to providing Jackson with healthy, organic foods for decades, has sections devoted to green, natural household products and another to cosmetics.
The Internet has tons of information readily available to help you make yourself and your home healthy and environmentally safe. Here are a few favorites:
• Sustainable Baby Steps (http://www.sustainablebabysteps.com)
• Big Green Purse (http://www.biggreenpurse.com)
• Green Living (http://www.greenlivingonline.com)
More stories by this author
Support our reporting -- Become a JFP VIP.
The news business has changed dramatically in the past year, and we need your help more than ever to keep bringing you important stories about Jackson and the Metro. Become a JFP VIP with an annual membership or you can Sign up as a monthly supporter. Thanks for anything you can do to empower our journalism!