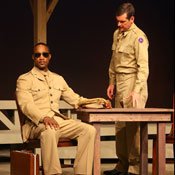 When a black sergeant dies at Fort Neal, La., near the end of World War II, a complicated murder mystery begins. Was it a lynching or something more? The segregated Army of 1944 is the backdrop for Charles Fuller's 1982 Pulitzer Prize-winning play, "A Soldier's Play."
New Stage Theatre's production of the play runs April 5 through 17. The company's artistic director, Francine Thomas Reynolds, directs the drama.
"It is a tough, penetrating exploration of racial tensions and ambiguities among blacks, and between blacks and whites that gives no easy answers and assigns no simple blame," Reynolds says in a release.
"The play's explosive examination of self-acceptance, traditional ideology, toughness and hope calls for a strong ensemble of actors ready to portray the drama's complex characters. "
New Stage has planned several post-show forums to create a dialogue between the audiences and cast about the social issues and controversy the production addresses.
New Stage Theatre presents "A Soldier's Play" April 5-17 at Jane Reid-Petty Theatre Center (1100 Carlisle St.). Tickets are $25. For specific times and ticket information, call 601-948-3531 or visit http://www.newstagetheatre.com.
More like this story
More stories by this author