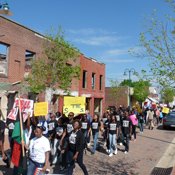 Paroled sisters Jamie and Gladys Scott deserve a full pardon for their alleged 1993 crime, protesters argued today. A crowd of more than 100 marched this morning from Farish Street Park to the Governor's Mansion to the state Capitol today, chanting, "Off parole / On with the life." Attorney Chokwe Lumumba, who has represented the sisters since their 1996 appeal, called on Gov. Haley Barbour to issue a full pardon for the sisters, who have been on probation since Barbour indefinitely suspended their life sentences for armed robbery in December.
Since their release from prison in January, Jamie and Gladys have had trouble finding work and housing because of their 1994 conviction for an armed robbery near Forest.
"When we looked for apartments, they were interviewed by people who were very taken by them, wanted them to stay in their (units)," Lumumba said. "But once they said they had a felony conviction, then they couldn't get the apartment. And there's so many other ways it affects them: the way people react to them, the way businesses react to them. And there are restrictions on their travel. They can't travel like they need to, to tell their story."
Lumumba reiterated his belief that the sisters are innocent. In appeals and post-conviction filings, Lumumba has pointed out evidence suggesting that the sisters were not involved in the Christmas Eve, 1993, robbery of Johnny Ray Hayes and Mitchell Duckworth.
Prosecutors never said how much money the sisters allegedly stole, and estimates in witnesses' testimony ranged from $11 to more than $200. Duckworth and Hayes offered differing versions of the alleged crime. Moreover, one of the Scott sisters' alleged accomplices testified that sheriff's deputies threatened him with imprisonment and rape by other inmates if he did not sign an affidavit implicating the sisters. Another alleged accomplice later swore in a 1998 affidavit that the sisters were not involved in the robbery at all.
Regardless of the Scott sisters' guilt or innocence, though, Lumumba said that the double life sentences each received were grossly out of proportion to their alleged crime.
"Even those who don't join us in (believing that the sisters are innocent) recognize that their sentence was far in excess, way disproportionate to what it should have been," Lumumba said. "There's no reason that they should be serving a continued sentence outside of prison, where they're on parole; they have restrictions. It should be pointed out when the governor made his statement issuing the suspended sentence—and we do appreciate that—he indicated that they were, according to him, no threat to the community."
Jamie Scott suffers from kidney failure, and supporters blame the lack of proper medical care at Central Mississippi Correctional Facility in Pearl for exacerbating her health problems. Barbour's original order for the sisters' release stipulated that Gladys must donate one of her kidneys to Jamie, which Gladys had volunteered in their petition for pardon. Doctors have since instructed both to lose weight before they can be tested for compatibility in an organ transplant. Lumumba said today that he expects doctors to conduct a tissue compatibility test later this month.
"We have run into doctors that have told us that they can make the transplant at the weight that they're at," Lumumba said.
In comments to the Associated Press yesterday, Barbour appeared unlikely to be swayed by the rally and calls for a full pardon.
"I wouldn't hold my breath," Barbour told the AP. "Tell 'em don't save any space in the newspaper for that to be announced."
Barbour has pardoned five prisoners over the course of his two terms in office. As previously revealed by the Jackson Free Press, four of those five were convicted of killing former wives or girlfriends.
"Under those kinds of criteria, under that yardstick, the Scott sisters more than deserve to be pardoned," Lumumba said.
Previous Comments
ID

162971

Comment

These sisters, after being capably defended by counsel, were sentenced by a jury of their peers to prison for a length of time consistent with sentencing guidelines. Regardless of the amount of money taken, the case was made and adjudicated. The Governor has released them from prison for medical reasons. When does our association with these women end? Let them serve the remainder of their sentence as is and preferably in Florida where they will be a financial drain on another state's healthcare system. Lumumba, please stop. You got them released...go back to trying to credibly run the City of Jackson. Save the legal wranglings for others...

Author

Darryl

Date

2011-04-02T11:39:15-06:00
ID

162974

Comment

What's the deal with Haley Barbour and the Scott Sisters? Could he really be this committed to making life outside of prison a living hell for these two women? How can Barbour require, as a condition of their parole, that one sister give the other a kidney? This is cruel! More and more, this story sounds like a slave master on a plantation and he is flexing his muscle to prove that he owns the lives of these two slaves, Jamie and Gladys. Also, he seems to be making a statement to black folks that he does not give a dang about what they want, think or feel. I guess Barbour doesn't need any black support for his possible run for Republican candidate for the presidency. This is one example for people of all races, creeds and colors to take notice. Just as his unfair, cruel, dictator style is working against the Scott Sisters, it will spill over on you unless you are Republican and super wealthy. Certainly, if this Gov. can pardon five (5) murderers, one who actually cut up the body of an elderly woman, he could pardon these two women who have been model prisoners and whose crime is without blood.

Author

justjess

Date

2011-04-03T12:00:57-06:00
More stories by this author
Support our reporting -- Follow the MFP.